New Releases For April 10, 2012
The return of the true Teutonic Terrors leads the charge this week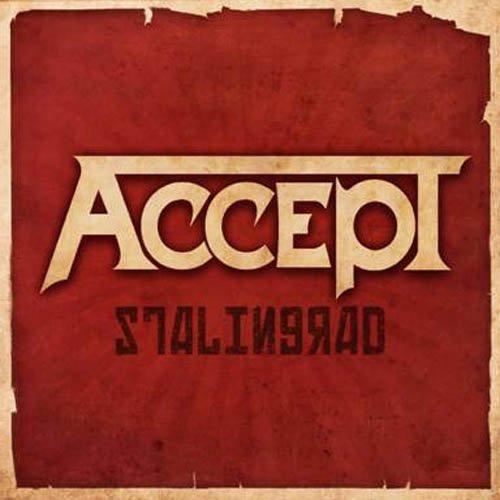 Album of the Week:
Accept, Stalingrad (Nuclear Blast)
As good an album as 2010's Blood of the Nations was, a big reason it made such a splash was because nobody expected Accept to rebound the way they did. They'd been inactive for a number of years, they hadn't made a new album since 1996, and singer Udo Dirkschneider was only interested in making new music with U.D.O. So when Accept returned with a new singer in Mark Tornillo and a new record that made a point of evoking the feel of the band's seminal pre-1986 albums, it was no wonder that many metal fans worldwide were elated. Accept was back, they had a new frontman who had his own identity yet could nail those classic songs, and best of all, they were making new music that sounded like Accept was supposed to sound. Never mind the fact that the album was maybe one or two songs too long; everyone was so happy to have Accept back, that any small slip-up was excused.
With the follow-up, though, expectations are a lot more realistic. The sense of novelty is over, and it's time for the German metal veterans to show that Blood of the Nations was no fluke. Interestingly, the band wasted no time getting back in the studio with producer Andy Sneap, and they've returned with their 13th album a year and a half after the last album's release. Clearly they're the most creatively invigorated they've been in ages, because Stalingrad is a significant improvement over the last album. More importantly, it finally feels like a proper follow-up to 1985's Metal Heart, mining that distinct Teutonic metal sound the band did so well 27, 28 years ago. It's been decades since we last heard Accept sound this biting, this ferocious, as guitarist Wolf Hoffmann leads the charge on such standouts as "Hung Drawn & Quartered", "Shadow Soldiers", "Flash to Bang Time", "Us Against the World", and the terrific closer "The Galley". And the title track pushes all the right buttons for longtime Accept fans, from the martial gallop of Hoffmann and Herman Frank's riffs, to the chanted backing vocals that evoke "Balls to the Wall" so brilliantly without ripping it off.
Tornillo continues to fit in very nicely as the band's lead singer. Going back to his days with TT Quick he's always had a gravely voice, so his affectations are not a put-on just to sound like Dirkschneider. And if anything, despite possessing such a rough-hewn voice he's capable of vocal melodies far better than Dirkschneider ever was, so he's able to lend the songs a little more depth than his predecessor ("Twist of Fate" is a great example"), which in turn expands Accept's classic sound without compromising it.
In the end Stalingrad is a big late-career achievement for Accept, and deserves to be regarded in the same light as Iron Maiden'sBrave New World, not exactly a classic album but a late-career peak by one of the most important metal bands of the early-1980s. While Blood of the Nations was a very welcome return, Stalingrad is a powerful statement by a veteran band that's made it clear they're back in it for the long haul.
Also out this week:
Acephalix, Deathless Master (Southern Lord): The San Francisco crust punk band had always dabbled in metal, but their second full-length is a much more even balance of the genres, resulting in a sound that's as filthy as it is crushing.
Ancestors, In Dreams and Time (Tee Pee): The Los Angeles band continues to refine their hybrid of doom, stoner, and psychedelic rock on their spellbinding third full-length. Their intent with this record was to create epic compositions with a real sense of discipline and dynamics, and they succeed mightily, especially on the beautiful "The Last Return" and the incredible, 19-minute closing track "First Light".
Graf Orlock, Los Angeles (Vitriol): There's no grindcore outfit as fun as Graf Orlock, and the cinematically-obsess​ed band is back with a blistering, ten-song EP that draws inspiration from Michael Mann's great film Heat. Absolutely unrelenting and accentuated by the expected movie samples, the new tracks nevertheless display a better knack for dynamics, best exemplified by the four-minute (who do these guys think they are, Opeth?) "Quick on the Trigger".
Halestorm, The Strange Case Of... (Atlantic): The Pennsylvania band came from seemingly out of nowhere to become a favorite of the Revolver magazine set in 2010, but when you look beyond all the pin-ups of singer/guitarist Lzzy Hale, you'll find a good hard rock band. The self-titled 2009 debut was a winning combination of vibrant active rock and pop sensibility, and while The Strange Case Of… overreaches like your usual heavily-hyped second album by a young band, there are nevertheless enough good moments to earn a recommendation. Ironically, the harder tunes are outshone by the power ballads this time around, as "Beautiful With You", "In Your Room", and "Here's To Us" showcase Hale's remarkable voice.
Inverloch, Dusk | Subside (Relapse): Featuring two former members of seminal Australian band diSEMBOWELMENT, whose 1993 album Transcendence Into the Peripheral broke new ground with its stunning, unholy marriage of doom and death metal, Inverloch's debut EP continues right where that classic album left off. Although the band continues to create music that's effectively crushing and atmospheric, this style of music is hardly new anymore. Thankfully the three tracks here nevertheless hold up very well, and it'll be interesting seeing how the band fleshes out their music in the future.
Jeff Loomis, Plains Of Oblivion (Century Media): The former Nevermore guitarist is back with the follow-up to his 2008 solo debut Zero Order Phase, and again it's loaded with compositions that play to Loomis's strengths, bridging extreme and traditional metal, and featuring much more texture than your usual vanity project by a flashy metal guitarist. Of note are the three tracks with guest vocals: "Surrender" sees Ihsahn deliver a fascinatingly schizophrenic performance, while Christine Rhoades transforms "Tragedy and Harmony" and especially "Chosen Time" into gorgeous pieces of work.
Job For A Cowboy, Demonocracy (Metal Blade): A lot of skeptics, including myself, slammed Job For a Cowboy early on for their forgettable take on deathcore, but now three albums into their career they've turned themselves into quite a good death metal band. Demonocracy offers the kind of slick brutality and technical dexterity that goes over well with young audiences, but better yet the songwriting continues to improve by leaps and bounds.
Municipal Waste, The Fatal Feast (Nuclear Blast): As musically strong as Municipal Waste's 2009 album Massive Aggressive was, it was nevertheless kind of a bummer that the band was attempting to tackle darker subjects rather than the usual stuff about beer and horror flicks. This band is at their best when offsetting their expertly performed crossover thrash with a healthy dose of immaturity, and The Fatal Feast does just that, bringing the fun back to Municipal Waste's music. Typical of the band, the songs are short, catchy, and fast ("Unholy Abductor" brings the speed like they've never done before), with the one-two punch of "Covered in Sick – The Barfer" and "You're Cut Off" set to become fan favorites.
Pelican, Ataraxia/Taraxis EP (Southern Lord): The most overrated band in post-metal returns with an EP that attempts to broaden their sound, and while I do like it's more rock-oriented direction ("Lathe Biosas" is halfway decent), these instrumentals nevertheless continue to lack the grace of the late, great Isis.
***
Note: I'll be away this week and early next week, in the Netherlands covering the 2012 Roadburn Festival, and I'll have a gigantic recap posted after I return on April 18. I hope to post as often as I can from the prestigious metal fest via Twitter, so be sure to follow meif you're interested.
live local music on
Enter your ZIP code to see concerts happening in your area.
Data provided by Zvents
follow msn music