25 @ 25: Megadeth, 'So Far, So Good...So What!'
A minor classic created amidst chaos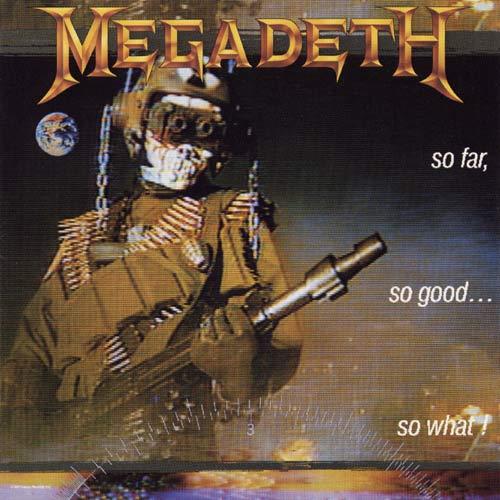 Megadeth's career was skyrocketing at the beginning of 1988. The title track from their second album Peace Sells…But Who's Buying? had broken the band in a huge way in 1987, and were now regarded as one of the most cutting-edge bands in the metal world. Little did we teenaged metalhead know at the time just how big of a mess Megadeth was, and little did we care, because in January of 1988 the band would release a psychotic, raging, 34-minute album that, for all its flaws, would remain very near to our hearts for good.
Dave Mustaine won't deny it: he and his band were thoroughly dysfunctional, and deep into substance abuse when it came time to record album number three in 1987. Drummer Gar Samuelson and guitarist Chris Poland had by then become very unstable – Mustaine famously claims Poland had pawned the band's gear for drug money – and they were eventually fired. Taking Samuelson's place was his drum tech Chuck Behler, while Jay Reynolds of Los Angeles speed metal band Malice was recruited to take Poland's place, and the new lineup headed to Music Grinder studios in LA to record with producer Paul Lani. However, in an hilarious story, Mustaine says when it came time to record his guitar parts, Reynolds wanted his guitar teacher to teach him how to play them. Typical of his mercurial nature at the time, Mustaine swiftly hired that teacher, a flashy GIT graduate named Jeff Young ("cutting the middle man," in his own words), and the new version of Megadeth was ready to go.
Mustaine never minced words when it came to So Far, So Good…So What! He loathed that album, going as far to say in an interview, ""For all intents and purposes, that album was a f***ing disaster. I wanted to kick [drugs], I didn't want to kick, I wanted to kick, didn't want to kick, I was up at Woodstock and I was sick and everything was really crazy." Indeed, the record was buried in reverb, and Mustaine could barely scrape together enough material for an album, merely eight songs, six of which were new and one being a cover. But despite Mustaine's own personal situation and the total mess that Megadeth was at the time, that instability has somehow harnessed just enough to create an angry, wildly unstable album whose energy still resonates a quarter century later.
The instrumental "Into the Lungs of Hell" kicks the album off in suitably arrogant fashion, with Mustaine and Young trading scorching leads, but it's an odd false start, as another flamboyant overture kicks off the second track. Originally titled "Megadeth", "Set the World Afire" was the very first song Mustaine had written after he was fired from Metallica in 1983. That it took that long to make an album is stupefying, because it's an incredible thrash song, intricate and hooky, but then again, its complicated arrangement mirrors the rest of the album's manic mood, and kicks it off in phenomenal fashion.
The cover of "Anarchy in the UK" follows, and to this day is a weird one. On one side, it's a spirited, metallic take on the Sex Pistols classic, with a fantastic vocal performance by Mustaine, who spits out the lyrics venomously. On the other side, it's a totally calculated move, hopping on the "thrash bands covering punk songs" bandwagon led by Metallica – not the first nor last time Megadeth would follow Metallica's lead – and even worse, Mustaine gets the lyrics wrong, egregiously substituting "another Council tenancy", Johnny Rotten's greatest and most sardonic line in the song, with the awkward and blunt "and other c***like tendencies". Nevertheless, the video for the song was a big hit among the teen crowd – 17 year-old me loved it at the time – and played a huge role in building Megadeth's popularity that year.
The album's two weakest tracks end side one and kick off side two respectively. Although the subject matter of the creepy witch tale "Mary Jane" is well-worn territory, it is bolstered by some of those great time signature changes Mustaine was so good at back then. On the other hand, for all its flashy fretwork, "502" is on total autopilot, and even worse, Mustaine's glorifying of drunk driving is off-putting. That said, I've always thought the muting of the song at the 1:42 mark is a brilliant touch.
Mustaine totally redeems himself, though, on the last three songs. "In My Darkest Hour" remains one of his greatest achievements as a songwriter, an emotionally charged epic featuring some of the most haunting metal guitar passages on the 1980s, from that intro to the spine-tingling descending riff that you hear prior to the first verse. Mustaine always says the song was written in the wake of the death of former Metallica bandmate Cliff Burton, and you can hear that mournful quality in the music, but the lyrics muddle his message somewhat as he chronicles a bitter break-up. Nevertheless, the song's transition from a slow 6/8 rhythm to a furious second half is a thrilling one, climaxing as the beat shifts to double time as Young and Mustaine engage in dueling solos that arc skyward before returning to that sad, lonely opening riff. It is masterful, an all-time metal classic.
Dedicated to Chris Poland, "Liar" is a vicious and often hilarious three minute and 20 second prolonged insult spit out by Mustaine. Sure, he oversteps with a tasteless line "your brother's a gay singer in a stud leather band", but that blind rage, one of the best characteristics of this album, fuels the song brilliantly, a vitriolic "diss track" that few, not even Axl Rose, could equal.
But that's all a set-up for the stupendous "Hook in Mouth". Songs about the PMRC are now awfully dated, but back then it was a huge issue as musicians – metal or otherwise – fought vehemently against the committee bent on controlling access to explicit subject matter in music with warning stickers, and Mustaine's take was not only topical, but eloquent and eerily prescient, painting an indelible Orwellian portrait.
A cockroach in the concrete, courthouse tan and beady eyes

A slouch with fallen arches, purging truths into great lies

A little man with a big eraser, changing history

Procedures that he's programmed to, all he hears and sees

Altering the facts and figures, events and every issue

Make a person disappear, and no one will ever miss you
Sure, spelling out "freedom" in a chorus is a little corny, but in a genre that had little to no protest music, "Hook in Mouth" showed that metal did have a social conscience, and Mustaine and Megadeth – I cannot forget to mention Dave Ellefson's wicked basslines on this song – get that point across in stunning fashion.
The version of Megadeth you hear on So Far, So Good…So What! would not even make it to the end of 1988, as both Behler and Young would be fired by the fall. The album has come to be a somewhat ignored record in the Megadeth discography; aside from "In My Darkest Hour" the band doesn't play tracks from it very often, and a lot of critics tend to pan its inconsistency today. But for so many of us who experienced this album firsthand 25 years ago, it kicked off a year that would prove to be a very special one for heavy metal, a frantic, fleeting blast of rage by a band that was just starting to take off. Mustaine would recruit two new members and get his act together just long enough to write and record Megadeth's masterpiece fourth album, but that crazed, flawed classic record that preceded it should not be overlooked.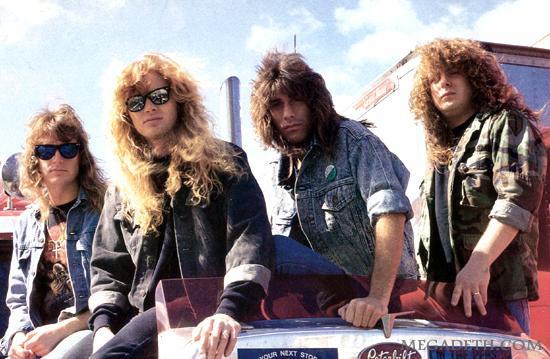 live local music on
Enter your ZIP code to see concerts happening in your area.
Data provided by Zvents
follow msn music