25 @ 25: Exodus, 'Pleasures of the Flesh'
From groundbreakers to followers in three short years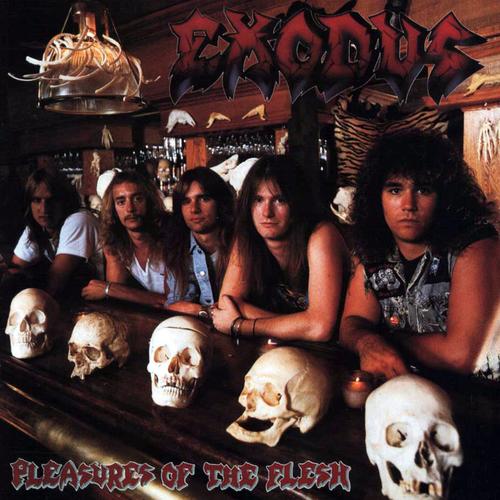 Despite being one of the true progenitors of thrash metal, Exodus's timing was awful in the 1980s. With the perspective of a quarter century later, the influence of the band is undeniable, but back when Exodus's records were new, for many of us kids they always seemed a step behind their peers. Had their debut album Bonded By Blood been released in in 1984 instead of being delayed for a year, it would have been universally heralded as every bit as important as Metallica's Kill 'em All, but by the time it did come out in April 1985, Metallica's epochal Ride the Lightning had already been out for quite a while and had eclipsed anything thrash metal had spawned, including that record. Meanwhile fellow Bay Area bands like Testament, Death Angel, Vio-lence, and Possessed were bringing creative new ideas to the sound.  Despite their efforts Exodus were perpetually, hopelessly passé, and by 1987 they desperately needed a big statement of a second album.
Unfortunately, inimitable vocalist Paul Baloff, whose charismatic, psychotic persona set Exodus apart from their rivals, was fired not long after the tour in support of Bonded By Blood. His replacement would be Steve "Zetro" Souza, formerly of local band Legacy – who in turn would hire singer Chuck Billy, rename themselves Testament, and become huge – and his vocal style, much like Baloff's, was rather unique, a gravelly, nasal snarl that sounded like a cross between Bon Scott and Bobby "Blitz" Ellsworth. The band headed into Alpha-Omega Studio in San Francisco with co-producers Marc Senesac and Mark Whitaker in 1987, and emerged with their second album.
The band needed an album that would make a serious impact, but Pleasures of the Flesh would not be that record. Instead, it would be a frustratingly milquetoast effort, lacking the savagery of Bonded By Blood, not to mention the innovation that other Bay Area bands were bringing to the thrash metal genre. For a band that should have been hungry – who knows, they likely were – Pleasures felt simply like a holding pattern, neither bad nor great, the sound of a band that seemed more complacent than anything.
Technically there's very little wrong with this record. Guitarists Gary Holt and Rick Hunolt remain one of the best thrash guitar tandems ever, and on Pleasures they're in good form, their rhythm riffs taut, heavy on that palm-muted crunch, while they trade leads nimbly. Drummer Tom Hunting shows a lot more range than on Bonded by Blood, propelling the speedier songs as deftly as expected, but also bringing a strong sense of groove to the music as well. And Souza, while lacking the menace that Baloff brought in spades, grunts and snarls his lyrics to good effect.
That said, there's something missing from many of these songs. They're good exercises in thrash aesthetics, but are sorely missing hooks, something that the debut had in abundance. And when it comes to thrash especially, without a good hook a song is worthless. Several tracks come close, such as "Parasite", "'Till Death do us Part", and "Faster Than You'll Ever Live to Be", but compared to past work like "A Lesson in Violence" and "Strike of the Beast", these new songs are completely dwarfed.
Three songs on Pleasure of the Flesh do get it right, however. At seven and a half minutes, the title track is unusually long for circa-1980s Exodus, but they create a great little epic here, Souza's vocal delivery offset by those gang vocals that would become an Exodus calling card, and featuring a fantastic break where Holt and Hunolt's guitar interplay is at its finest. Compare to the somewhat rote style of "Pleasures of the Flesh", "Chemi-Kill" is a real oddity. Not unlike Megadeth, in fact, in the way it shifts from dexterous rhythms, to lurching sections, to a pure, gliding – not to mention very melodic – groove during the choruses. The one keeper, though, is the fabulous "Brain Dead". One of the most straightforward songs in the entire Exodus discography, it benefits immensely from its simplicity. All it consists of is a snappy little riff, a mid-tempo groove by Hunting that comfortably rides the cymbal bell, and a terrific call-and-response moment led by Souza: "Ber-raaaiiin…DEAD!" If only the rest of the album was this catchy.
Just like Bonded by Blood, Pleasures of the Flesh was hampered by controversy about the album artwork. The original art was a cartoonish illustration of the band portrayed as cannibals in the jungle, but Combat Records decided to go with a much safer photo of the band lined up at a bar. In the end, neither cover would have been a good choice. In addition, no music video was shot for this album, which for 1987 was huge. Slayer and Metallica could get away with ignoring MTV, but Exodus could have, and should have followed Megadeth's and Anthrax's leads and embraced the medium. With a cool video "Brain Dead" just might have been a sizeable hit for the band. Instead, Exodus would languish while the rest of the thrash scene exploded, and it wouldn't be until two years later that they'd finally put out the great album everyone knew they had in them.
live local music on
Enter your ZIP code to see concerts happening in your area.
Data provided by Zvents
follow msn music