New Releases For June 26, 2012
Gojira's much-anticipated fifth album leads the charge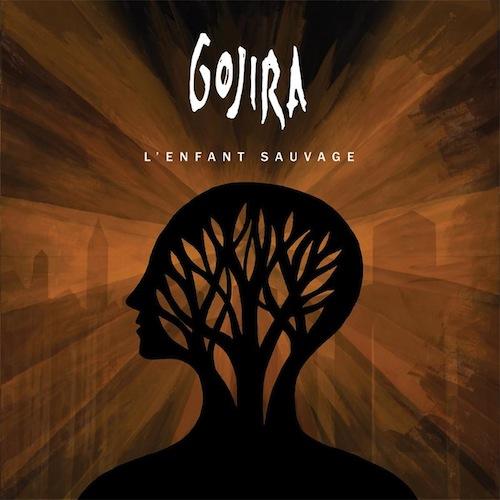 Album of the Week:
Gojira, L'Enfant Sauvage (Roadrunner)
It takes Gojira's new album all of eight seconds for the band's trademark pick scrape makes its first appearance. Eight seconds. That cool little atonal sound that guitarist Joe Duplantier did accidentally and stuck on the band's 2005 song "Flying Whales" has since become A Thing, and ever since not only has every metal band from Behemoth to Periphery swiped the idea, but Gojira has since made it seem as if every album now had to feature that pick scrape. Which is all fine, mind you, but after waiting four long years for the follow-up to the incredible, adventurous The Way of All Flesh, to hear the band use that gimmick so quickly on their fifth album L'Enfant Sauvage practically felt lazy and underwhelming.
After letting the album sink in over a period of weeks, the fact that it isn't nearly as musically bold as The Way of All Flesh or 2005's From Mars to Sirius was initially a disappointment. After all, the French band was approaching Voivod-style levels of experimentation on a track like "The Art of Dying", and hearing a song like that it's easy to assume that the sky's the limit as far as metal innovation goes. Instead, from start to finish L'Enfant Sauvage is stubbornly simple, complexity tossed aside in favor of accessibility.
Many metal bands have done this before. They'd spend years creating their own formulae, and once they'd reached a certain comfort level they would start to simplify their music a touch without betraying the sound that earned them their audiences. The Black Album, Seasons in the Abyss, Countdown to Extinction, right up to Mastodon's The Hunter last year, many popular bands have pulled it off with great success. Gojira has done the same on L'Enfant Sauvage, and after letting the music settle in more it becomes apparent that the band's experimental tendency is indeed there, only this time around they're looking inward instead of outward, trying to see how they can tweak their musical template without stepping outside it.
The tactic is subtle but ultimately very effective. This is a much simpler Gojira than before, the songs more straightforward in structure. Instead of tossing in as many ideas as they can into a song, each track is constructed around one riff or maybe two, the tempos almost always a laid-back groove by drummer Mario Duplantier. Instead of tinkering with structure the band simply lets those riff and grooves develop naturally, and coupled with Joe Duplantier's steadily improving knack for vocal melodies it's a very appealing combination, with not one song feeling out of place. You've got the Meshuggah-style cadences and Machine Head atonality of "Explosia", the furious double-kicks and tremolo riffs of "The Axe", and the contrasting mix of stomping riffs and blastbeats on "Planned Obsolescence". "Liquid Fire" and "L'Enfant Sauvage", which are already familiar to fans, are monstrous jams yet are also the two catchiest songs the band has ever recorded. The best of the lot, though, is "The Gift of Guilt", which alternates between a gentle hammer-on riff – like a slowed-down version of Iron Maiden's "Flash of the Blade" – and an absolutely wicked, doomy glissando riff that feels nicked from the toolbox of Tom G. Warrior. Part pulverizing, part introspective, it's the most perfect example on this record of what Gojira is all about.
Sometimes as a metal fan you get so used to hearing unexpected things from your favorite bands that you tend to lose sight of the forest for all the trees. Some bands can only take their music so far. After years of progressing, Gojira is now at a place in their career where nobody in metal sounds like them, and for any band to hit that level is a special thing. What they do so well on L'Enfant Sauvage is play to all of their strengths while at the same time showing even more discipline than ever before. Save for the Ennio Morricone-style guitar interlude on "Explosia" there aren't many surprises on the record, but when a band is writing and performing with the confidence that Gojira is right now, in its own way it's a significant feat.
Listen to L'Enfant Sauvage via Soundcloud here.
Also out this week:
The Body, The Body (At A Loss): While nowhere near as daring as 2010's acclaimed All the Waters of the Earth Turn To Blood, The Body's 2004 debut album, which has been re-released, is nevertheless a trance-inducing exercise in sludge/doom. I've never been a fan of Chip King's shrieked vocals – if you're going to be this creative, why not extend that to the vocals? – but instrumentally the duo of King and drummer Lee Buford are often phenomenal.
Bosse-De-Nage, III (Profound Lore): Like Krallice, Castevet, and Liturgy, the enigmatic San Francisco foursome Bosse-De-Nage keep one foot inside the black metal template and the other in seemingly disparate territory, and manage to combine the two sounds seamlessly on their third album. The one band name that's continually referenced when describing this band is Slint, and indeed that early-'90s indie rock influence is huge, as the black metal screams, tremolo picking, and blastbeats are offset by a tendency to veer into more angular, melodic territory. Throughout the entire album that give-and-take between the two sides, along with some truly peculiar, poetic lyrics, make for a spellbinding experience, highlighted by "The God Ennui" and "An Ideal Ledge".
Desolate Oasis, When Dreams Become Reality (Broken Limbs): Clearly inspired by Alcest, this self-described "post-black metal/shoegaze" project from Boulder Creek California does achieve some moments of real grace, but multi-instrumentalis​t Dimitri Kuzbyt has plenty of catching up to do to achieve the transcendent beauty of the great French band. This is a good start.
Dig Your Graves, Majesty (Dig Your Graves): It was only a matter of time before more young Canadian bands started to follow the lead of the popular Cancer Bats, but not only does this Vancouver foursome nail that metal-friendly hardcore sound, but vocalist Courtney Karg lends the music an even more feral edge with her vicious snarl. This being their first EP, there's plenty of room for improvement, but with songs like "Dark Passenger" and "Lust" Dig Your Graves are already off to a roaring start. Stream and purchase Majesty via Bandcamp.
Evocation, Evoked From Demonic Depths: The Early Years (Century Media): 14 years after splitting up, the Swedish band came back in 2007 and finally released their debut album Tales From the Tomb, and have since followed suit with two more albums since. This new anthology collects Evocation's demos from 1992 as well as rehearsal recordings from the same era, and it all holds up extremely well, the band finding a comfortable middle ground between the original pulverizing Swedish death metal and the more melodic style of the Gothenburg sound of the time. These tracks are so strong it's obvious that had they stuck around to make an album in the early-'90s, Evocation could have had a similar impact as Dismember and Grave did.
Memphis May Fire, Challenger (Rise): The Dallas post-hardcore band treads familiar, harmless territory on their third album, and it pushes the buttons their fans want them to: metalcore breakdowns, bubblegummy choruses. This'll go over well with the Warped Tour crowd, but while harmless, everyone else need not make the effort to hear it.
Morgoth, Cursed To Live (Century Media): The influential German death metal band has been doing the reunion thing as of late, most recently playing Maryland Deathfest in celebration of the 20th anniversary of their classic album Cursed, and fans will love what they hear on this special live album. Recorded at the Way of Darkness Festival in Germany last year, it's a 15-song set that spans the band's discography, but pays special attention to Cursed, and the band still sounds phenomenal.
Old Man Gloom, NO (Hydra Head): The much-loved sludge collaboration between Isis's Aaron Turner, Converge's Nate Newton, Cave In's Caleb Scofield, and Zozobra's Santos Montano is back with their first new album since 2004's Christmas. As expected the band lives up to their name once again, the music bleak and very often harrowing, but what Turner and Newton also do so well is great a great deal of tension in the music, as on "Common Species" and "Shuddering Earth", both of which draw from the musicians' hardcore backgrounds as much as the metal influences that dominate the record. Alternately cathartic and moody, this album is good as anything Old Man Gloom has ever put out.
Titan, Burn (Hypaethral): Not to be confused with the psychedelic band Titan from Brooklyn, this Toronto band specializes in sludge of the epic variety, and their debut full-length is monstrous. Mind you, this is nothing we haven't heard before, but these guys do it at a very high level. For all its extremity it appeals to a wider range of people you're your typical metal crowd, as crushing doom riffs give way to subtle black metal influences, expansive post-rock melodies, and hardcore angularity. After making serious waves in underground circles for the past couple years it's great to see Titan come through with an album that delivers, but better yet, in such standout tracks as "Feast", "Warmer Months", and "Telepaths" you can hear the potential for something even bigger and better. Download it for free via Bandcamp, or name your price if you're feeling generous (it will also be available on LP via Hypaethral on August 3).
live local music on
Enter your ZIP code to see concerts happening in your area.
Data provided by Zvents
follow msn music