Mares of Thrace Announce Line-up Changes
New drummer joins noise-doom duo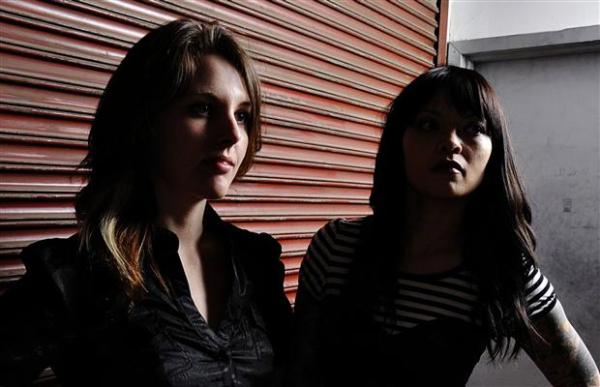 In quite a surprising move, Canadian noise-doom duo Mares of Thrace announced that drummer Stefani MacKichan has amicably left the band and will be replaced by Boston-based drummer Rae Amitay, formerly of Woods of Ypres. Here's what guitarist/vocalist Thérèse Lanz had to say the departure of her musical partner of ten years, via a Facebook statement:
Hello Everyone. So. Due to getting into the educational program of her dreams and its subsequent conflicts with touring, Stef has decided to step down. She is, as the Dothraki from Game of Thrones say, blood of my blood, I love her very very much and I promise I will keep you posted on her future musical projects, which will probably be very Meshuggah-like. However. I am very happy to announce that Rae F**king Amitay will be playing in Mares of Thrace going forward. She is a Berklee School of Music-trained, metal session-playing, former aspiring Lovecraftian scholar and giant nerd, so please fling all your most unflattering granny panties at her.
A big reason why Mares of Thrace's music works so well is because of the chemistry MacKichan and Lanz display onstage and on record. There's no doubt the talented MacKichan will be missed, and we wish her well in her academic endeavors. However, Amitay herself is a phenomenal drummer – check out her YouTube page to see for yourself – and it should only be a matter of time until she and Lanz form their own chemistry as Mares of Thrace join Pilgrim and Primitive Weapons on a tour of the Northeast next week (dates below) in support of their brilliant new album The Pilgrimage (Sonic Unyon).
Interestingly enough, there'll be another new tweak to the band on this tour, as they'll be experimenting with a bass player for the first time. Said Lanz on Facebook:
My long-suffering touring drummer and cover art painter, Scott [Shellhamer] of American Heritage, will be playing bass on the east coast tour, so everyone can stop yelling "YOU NEED A BASS PLAYER" at us.... for now anyway.
As a duo Mares of Thrace is already a crushing band live, so that added dimension could make the band even more imposing.
Purchase Mares of Thrace's The Pilgrimage on vinyl here.
Mares of Thrace, Pilgrim, Primitive Weapons tour dates:
7/31/2012 O'Briens – Boston, MA
8/02/2012 Cherry St. Station – Wallingford, CT
8/03/2012 Saint Vitus – Brooklyn, NY
8/04/2012 Broadway Bar – Amityville, NY
8/05/2012 Ottobar - Baltimore MD
8/06/2012 Kung Fu Necktie – Philadelphia, PA
8/07/2012 The Depot – York, PA
8/08/2012 Pirates Cove – Cleveland, OH
8/09/2012 Ruby Tuesday – Columbus, OH
8/10/2012 Cobra Lounge – Chicago, IL
live local music on
Enter your ZIP code to see concerts happening in your area.
Data provided by Zvents
follow msn music