Heavy MTL, Day Two
A big day in store...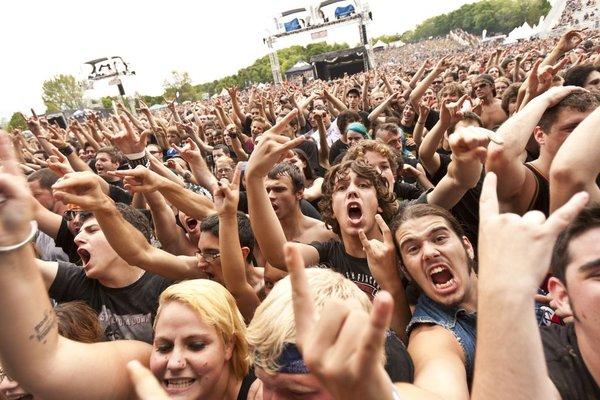 Photos by Tim Snow
12:45 PM ET:
We're back up and running in the media tent for the second day of Heavy MTL, and it's certain to be an even better day than Saturday. Tonight we have Slipknot, Marilyn Manson, In Flames, and Voivod among others, but first a very busy afternoon. The Dillinger Escape Plan, Gojira, Suicidal Tendencies, Overkill, and Trivium are all to come on the main stages starting in a few hours, but first up a smattering of various bands including Protest the Hero (or "
Proteste de 'ero
" as the locals call them), The Agonist, Iwrestledabearonce, and something that calls itself B.A.R.F.
More rain is forecast for later this early evening, but the grounds actually held up very well after yesterday's downpour, only minimally muddy. Unlike Heavy T.O. yesterday in Toronto, which was
the most ungodly mud bog you'll ever see.
Still, the main pit area smells like a garbage dump today. Not that the fans will mind, as they've already started staking out spots at the barrier.
1:51 ET:
Quebec City's Dance Laury Dance is an odd band. They address the crowd in French, then they sing in a total redneck American accent. Despite coming off as false and contrived, their blue-collar hard rock (think The Four Horsemen) is very contagious, a very fun way to kick off Day Two.
Blind Witness, on the other hand, is nothing but
lowest-common-denomi​nator
metalcore, obnoxious, overly loud, and instantly forgettable. Still, they have a large contingent of fans at the Jagermeister stage.
As I always say, variety's a good thing, and it's nice to walk away from the terrible sounds of Blind Witness to see the corpsepainted Hollow do their black metal thing. It's not much more than a straightforward Dimmu Borgir rip-off, but at the very least a nice change of pace. Up next, Protest the Hero and The Agonist...
2:30 ET:
Protest the Hero is a band I've always found inconsistent on record, but they're a very, very good live band, and they're proving it on the Heavy MTL stage. When their set is compressed to a half hour or so, they leave a more lasting impression, as they pretty much play fan favorites. Needless to say it goes over extremely well, singer Roddy Walker an engaging frontman, perfect for a festival crowd. Terrific set.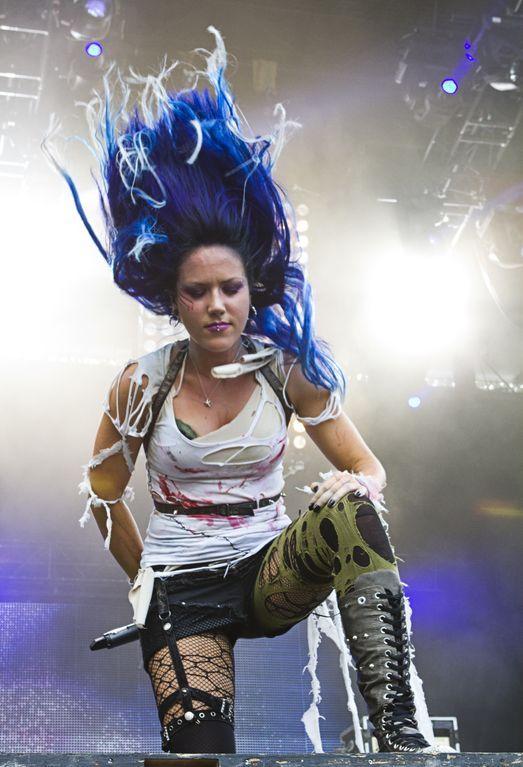 Meanwhile, a very big crowd is at the Apocalypse stage for Montreal melodeath band The Agonist. Whether they're fans, or merely there to gawk at azure-haired knockout Alyssa White-Gluz (above) is anyone's guess,  but they're putting on a good show nevertheless. Like Protest the Hero, they cut out the filler in concert, making for a more bearable experience than on their albums. As for young Ms. White-Gluz, the former Canadian Idol contestant shows tremendous vocal range, doing the "good cop bad cop" shtick well.
Up next, the main stages get very, very good, first with thrash greats Overkill and France's Gojira, one of the better bands in metal today.
Overkill's explosive thrash is the first true heavy metal of the day. Finally. They're still as potent a live band as they ever were, vocalist Bobby "Blitz" Ellsworth (above) and bassist D.D. Verni leading the charge on "Wrecking Crew", "Hello from the Gutter", and "F*** You". If that wasn't awesome enough, Blitz's between-song chatter sounds like Rockso the Clown from Metalocalypse.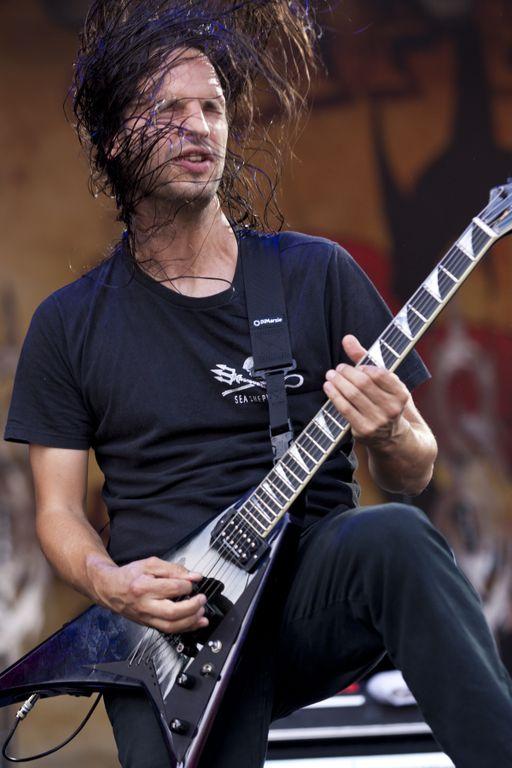 I'm writing the Gojira post from smack dab in the pit, and it's absolutely jammed, a clear indication of just how big Gojira has become. Joe Duplantier (above) is more than happy to speak to the crowd in his native French, and the band is churning out a beastly yet precise sound, anchored by the phenomenal drumming of Joe's brother Mario. And yes, plenty of those trademark pick scrapes. "L'enfant Sauvage", "Flying Whales", "Explosia" highlighted easily the best set of the festival so far. Incroyable. And just look at the crowd it drew: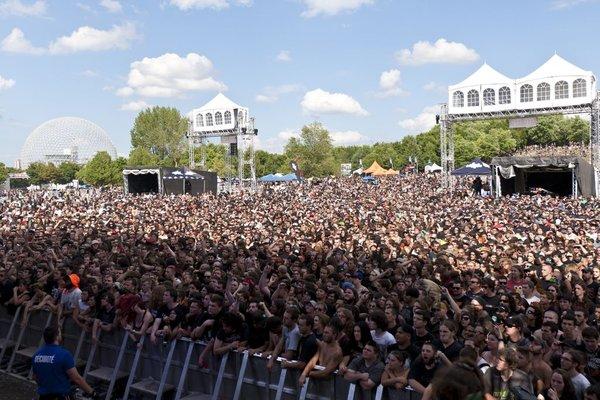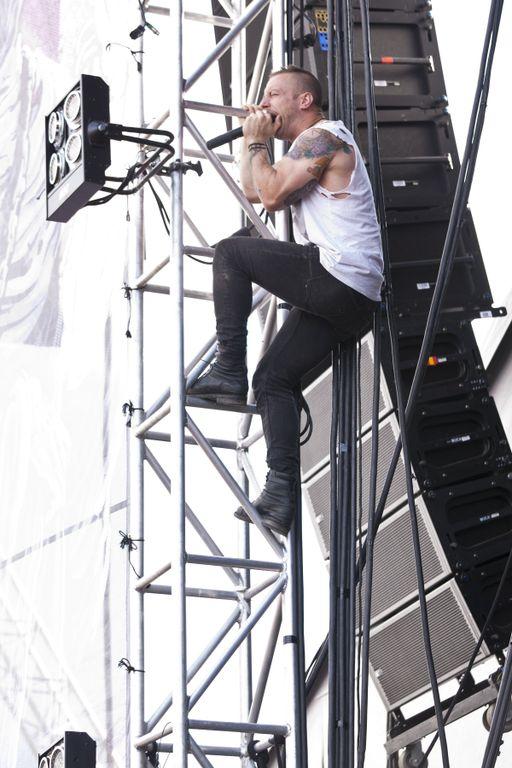 6:15 ET
After a much-needed break during Trivium's main stage set, which sounded good enough and drew a raucous reception, I headed back for The Dillinger Escape Plan, who have NOT attracted a big crowd at all. Genius proggy crossover doesn't sit well with metal/hard rock fans, I guess. But what a performance, led by a manic Greg Puciato, who flung himself everywhere, climbed the lighting rig (see above), and did everything he could to make an otherwise impersonal festival setting as confrontational as possible. Once the scorching, guitar-flinging, band member crowd surfing (see below) performance was seen on the big screens, the crowd finally came, drawn to the mayhem.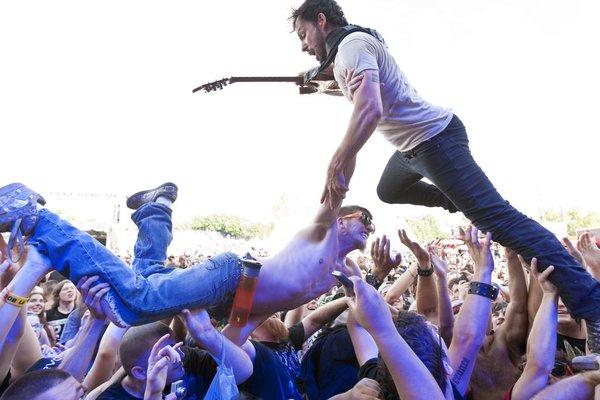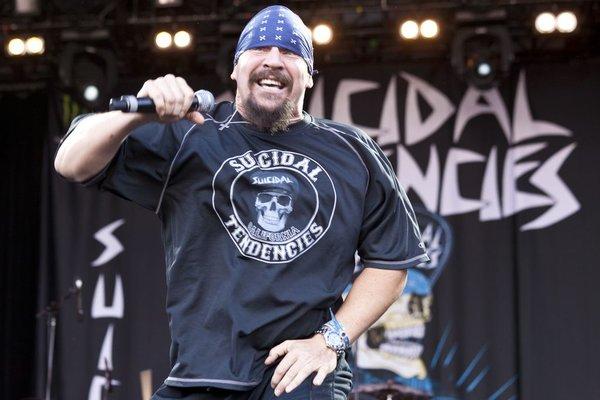 I don't know whom Mike Muir (above) has hired these days, but Suicidal Tendencies sound fantastic. Compared to Gojira and Trivium it's a smaller, older crowd as most under the age of 30 have left for some food, but those of us old schoolers there are blown away as the Venice legends pull out "You Can't Bring Me Down", "War Inside My Head", "How Will I Laugh Tomorrow", "Possessed to Skate", and the timeless
"Institutionalized".​
If that wasn't enough Muir brought dozens of fans up to have a little mosh pit during the last song. That set was a blast.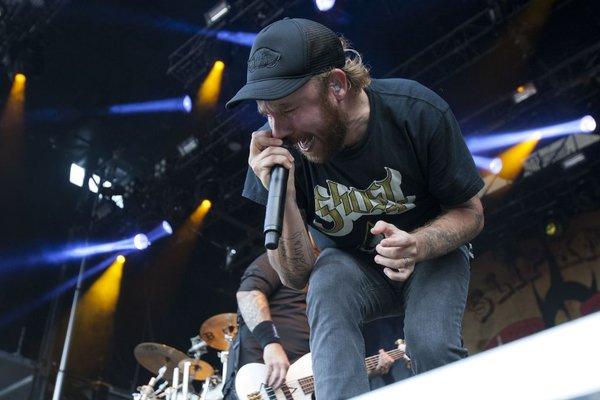 In Flames followed, a last minute inclusion after Lamb of God was forced to cancel. Lead singer Anders Friden (above) made light of the situation, saying he was enjoying his vacation in Sweden, happily barbecuing. But playing a festival this big was too good an offer to refuse, and the band came through with the best live show I've seen from them in years. Among the highlights were "Cloud Connected', "Trigger", "Where the Dead Ships Dwell", "The Mirror's Truth", and "Take This Life", as Friden continually teased all the Marilyn Manson fans on the other side of the pit.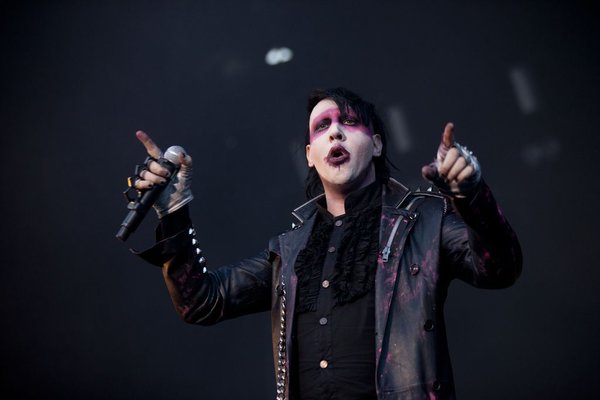 As for the inimitable Manson (above), he arrives with loads of fanfare, plenty of visual bells and whistles, but when you boil right down to it his music is patently weak and artificial sounding in a live setting. Couple that with the fact that his singing leaves a lot to be desired even on record, and you're left with a set that's all flash with little to no payoff. I'm writing this as I watch his garish set and I'm left thinking, is that it?
Two more big acts remain: Voivod's performance in their adopted hometown, and of course, Slipknot, which should have tens of thousands of people going nuts.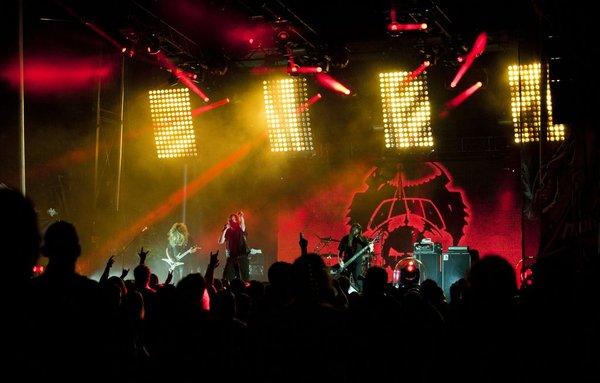 It was a very tough choice which headliner to see the most of, but I chose to go with the metal innovators instead of the band in clown masks who bang on garbage cans. Darkness had descended on the Apocalypse stage, and at that side of the park, that means really, really dark, with only the dim lights of food trucks providing any light. In front of a dazzling screen and light show, this was the most psychedelic-looking Voivod show I've ever seen, and arguably the best. Sure, the standards were carted out - "Voivod", "The Prow", "Ripping Headaches", "Tribal Convictions" - but the Quebec metal legends also threw a few curveballs. "Psychic Vacuum" was dusted off again, and sounded a lot better than at the Roadburn Festival in April where the song was played for the first time in forever, as was another Dimension: Hatross track "Chaosmongers". Not only that, though, but they also played new song Target Earth" and debuted another new one, whose title I don't know, but opens with Inuit throat singing and turns out to be a ferocious one, propelled by Michel "Away" Langevin's d-beat inspired drumming and featuring a harsher chorus than we've come to expect from the band as of late. They band also played Nothingface fave "The Unknown Knows" and concluded with their requisite tribute to the late guitarist Denis "Piggy" d'Amour, Pink Floyd's "Astronomy Domine". From sound, to the visuals, to the band, to the quaint setting, this was near-perfect.
As for Slipknot, they were busy inciting chaos amidst a mind-boggling crowd of 40,000 people. Well, carefully orchestrated chaos. It was all well and good, they're a great choice of headliner, as pretty much everyone stayed to see them. I arrived for the last third of their set, which was dedicated to their late bassist Paul Gray, his number two serving as a gigantic backdrop. Pretty much a greatest hits set, the usual venom was spewed, garbage cans we clattering - Shawn Crahan's sledgehammering during "Duality" proved surprisingly effective actually - Corey Taylor went on about the community of their fans, while the rest of the band dutifully played their roles. After the ungodly power ballad "Snuff" - essentially a Stone Sour-style song - the set hit a fitting high note with "Spit it Out", during which Taylor did the usual audience participation thing by getting the crowd to crouch down and leap up in unison and go nuts. Trust me, when you see 40,000 people do this, you can't help but say, "Wow." The delightfully misanthropic gem "People = S**t" and "Surfacing" closed out the night, the tens of thousands of maggots more than happy with what they'd witnessed.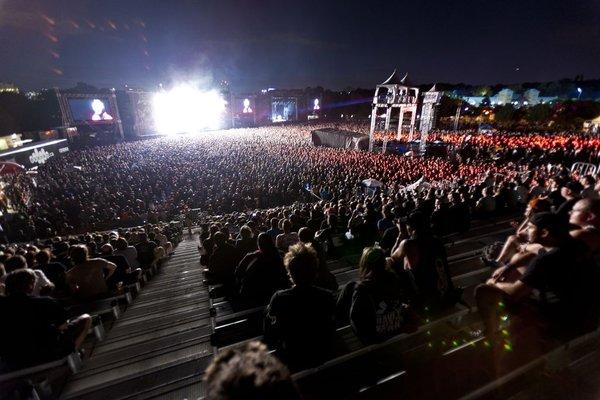 The last couple hours of Heavy MTL served as an appropriate climax for a fantastic weekend of eclectic bands, sunshine, rain, beer, Jagermeister slushes, poutine, mud, merch, and moshing. It was indeed an exceptionally run event, as huge crowds were kept comfortable and happy, the media was well taken care of, and getting in and out via the Metro was astonishingly fast and hassle-free. Thanks to Heavy MTL for an unforgettable two days!
Heavy TO was the most messy show I have ever attended and the only festival I left early because I was so sick of being covered in mud and staying soaking wet!!!!!!!!!! Shame on the organizers for not post poning this event or not covering the very messy grounds on Thursday and Friday. I will make sure I go back to Montreal where they know HOW to host a festival. This was a very large embrasment to a city already hurting for tourism dollars. Bunch of idiots!!!!!!
Are you sure you want to delete this comment?
live local music on
Enter your ZIP code to see concerts happening in your area.
Data provided by Zvents
follow msn music