25 @ 25: Faster Pussycat, 'Faster Pussycat'
The summer sleaze rock broke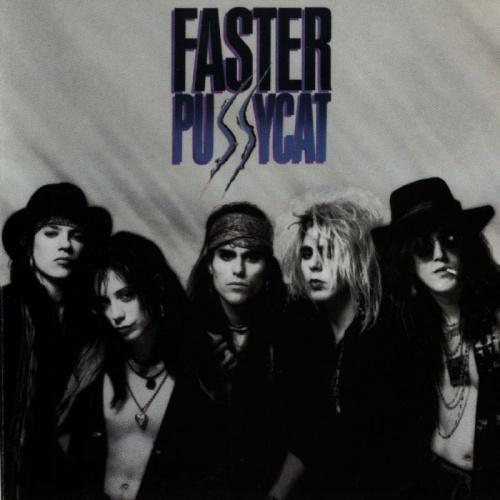 When Motley Crüe put out the woefully underachieving Girls, Girls, Girls in the spring of 1987 it was only a matter of time that they'd be rendered passé by the new crop of bands proliferating on Hollywood's Sunset Strip. Glam metal was at its peak in 1987: along with Crüe, Bon Jovi had exploded, Cinderella and Poison were riding their coattails, Christian rockers Stryper were huge, Dokken had scored a hit that summer. Even seasoned veterans like Whitesnake, KISS, and Y&T were desperately trying to keep up with the times by wearing all the spandex, lame, and Aqua-Net they could find.
For all the glitter, though, something slightly different was bubbling under the surface in LA, as a handful of bands took that glam style and put an old-school spin on it. Their sound had more of a classic gutter rock 'n' roll influence, brash and full of attitude, what would quickly come to be known as "sleaze rock". While the first wave of glam metal bands was derived from KISS, these new bands were more like The Heartbreakers. And of course, the record companies were all over them, especially three bands in particular. One band signed with PolyGram. Another with Elektra. And another was scooped up by Geffen. All three bands would experience success in the following years – the Geffen band especially, but more on that next week – but the one I'm singling out this time around is the Elektra band, a quirky five-piece that called itself Faster Pussycat.
Rock 'n' roll owes a lot to visionaries like Jack Kerouac, William S. Burroughs, and Russ Meyer. All three artists were masters of wordplay, and when you're a young band that's too dumb to come up with a band name of your own, why not nick it from your favorite writer or filmmaker? Meyer, one of the greatest B-movie directors of all time, has inspired many a rock 'n' roll band name: Mudhoney, Motorpsycho, Vixen, Mondo Topless, and The Carrie Nations all got their names from Meyer's movies. Even The Go-Go's put out a greatest hits package named after his best movie. But Faster Pussycat snagged the best Russ Meyer title for themselves.
Named after the classic 1965 film Faster, Pussycat! Kill! Kill!, a gloriously twisted black and white cult fave that saw three women – led by the immortal Tura Satana – terrorize people in the Mojave Desert, Faster Pussycat had a great hook long before they even put out a note of music. Formed in 1986 by singer Taime Downe, and rounded out by guitarists Greg Steele and Brent Muscat, bassist Eric Stacy, and drummer Mark Michaels, the band was a fixture on the Sunset Strip circuit when their self-titled debut came out in July 1987, and while they were every bit as glammed up as the next LA band, they stood out. Not only did they sport a gypsy look that differed greatly from garish bands like Poison, but their musical influences were a big reason why Faster Pussycat felt so refreshing 25 years ago.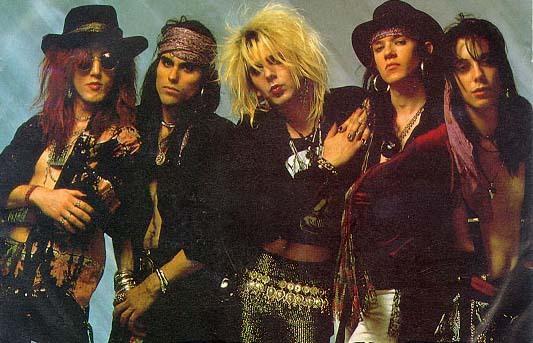 The album was savaged by a lot of critics when it came out, but to this day it hold up as a very solid rock 'n' roll record. Four bands in particular had a massive influence on this album: Hanoi Rocks, Aerosmith, The New York Dolls, and The Rolling Stones. The first single "Don't Change That Song" – whose video was directed by Meyer himself - oozed sleaze, built around a clever lead riff swiped from the Hanoi Rocks book and made distinct by Downe's peculiar yet fitting nasal sneer. Even better was the similarly Hanoi Rocks-ish follow-up "Bathroom Wall"; the first song to break Faster Pussycat into the mainstream consciousness, it's a riotous garage rocker boasting a wicked twin harmony hook by Steele and Muscat and featuring wryly funny lyrics courtesy Downe.
Dig deeper than the two singles, though, and you've got some very fun tracks that still hold up well. The gritty "Smash Alley" has a badass groove nicked from The Cramps and a menacing vibe similar to Aerosmith's Rocks album, while "Bottle in Front of Me" is so similar to the Joe Perry/Steven Tyler dynamic that it should qualify as outright theft. While it's basically a glam rock version of a Beastie Boys song, "Babylon" is nevertheless a funny little tune thanks to Downe, whose line, "Livin' in LA is so much fun!!!" drips with sarcasm. Although "City Has No Heart" and "Ship Rolls In" are fairly rote, "Shooting You Down" skillfully echoes Draw the Line-era Aerosmith well enough for listeners to let the lack of originality slide.
If only the band had worked on that Stones influence a little more before writing this album. The bluesy, bleary-eyed "Got No Room For Emotion" is an inspired track, which despite the weak production by Ric Browde nevertheless captures that early-'70s Exile on Main St. vibe back when the Stones ruled so hard, right down to those Keith Richards-style backing vocals. "Cathouse", meanwhile, is more "Rip This Joint" than "Sweet Virginia", a rollicking tribute to the famous Hollywood club that featured Faster Pussycat as its house band and which became incredibly trendy in 1987 and 1988.
While Faster Pussycat would soon be overshadowed by another debut by a certain Hollywood band – again, more on that in seven days - they would eventually experience success. The 1989 follow-up Wake Me When it's Over would turn out to be brilliant, featuring one of the greatest sleaze rock songs of all time ("Where There's a Whip There's a Way") and a ballad ("House of Pain") that would become a mainstream smash. That 1987 album, though, despite its inconsistency and inferior production, remains quite the charmer. Sure, it was trite, and still is, but it thoroughly had fun doing so.
live local music on
Enter your ZIP code to see concerts happening in your area.
Data provided by Zvents
follow msn music