Author & Punisher premieres new song "Magnetik"
Industrial doom project gets even weirder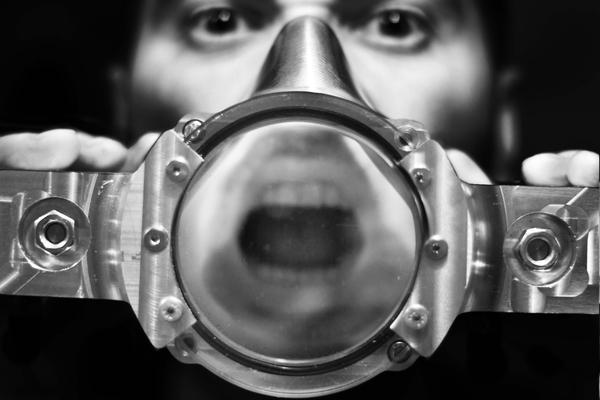 For a music writer, fall is year-end list making time, with print magazines asking for ballots in October, web publications usually in November, so over the course of the last six weeks I've been hemming and hawing over my various metal magazine ballots. With metal expanding and crossing over into new territory each year, be it extreme or otherwise, you're always left wondering about a few albums, is this actually metal enough for a metal list?
For my own top 50 list at Headbang - which should go up the week of Monday, December 17, I figure – there have been a few albums I've covered here that in retrospect venture a little too far outside the metal realm. One album whose inclusion some might argue with is Author & Punisher, whose astounding album Ursus Americanus, bears very little similarity to what would be described as "heavy metal". But musician/engineer Tristan Shone, who plays this music on specially designed equipment that requires him to use significant physical force, insists his thudding, hellish, dissonant music is indeed directly inspired by metal. He tells me, "Metal will always be the basis of my work, no question. I dabble in some electronic here and there, as that is half of what I listen to, but when I am writing music, or walking around campus, or in airports, etc. etc. I am humming sounds of drones and clangs. I like the intensity of performing this type of stuff over the electronic that I have made, it somehow balances my mellowness out."
That's good enough for me. It's official, Ursus Americanus will be on the list.
The real reason I'm writing about Author & Punisher today, though, is to mention the brand new track "Magnetik", which surfaced online late last week. Slow, murky, and immense, it sounds like Satan covering a Tricky song, low rumbles, a slyly seductive melody, and harsh blasts of noise interweaving atop a swinging trip-hop beat. Listen to it below:
 The interesting thing about "Magnetik" is that it was created with another invention of Shone's called the Mute Mask, which was profiled on a recent
YouTube mini-documentary
. Here's what
Shone
has to say about the track, and how the mask will inform his music in the coming year:
This track is sort of a segue into a new body of work utilizing these voice modulating masks that I have been working on over the last year or so. The mask I used in the mini-doc video and track Magnetik, is called "Mute", simply because it does exactly that: mute your voice. This mask seals around your mouth and using 2 air pistons, powered by a nitrogen tank and solenoid valve, opens and closes the air gap to create a mute effect as you sing scream or bellow. I have a control box with buttons, knobs and whatnot to create momentary or adjustable period rhythmic pulses. The physical effect sort of takes the wind out of you as you are singing, but the sonic effect works together with the music rhythmically in an odd way. I have about 4 other masks that I have developed: Mute, Gate, Dither, Human Cud Bag, Bass and more to come.
 

You can see some pictures from the art show I did at the Athenaeum in La Jolla, CA entitled "Mute/Gate/Dither" which involved an exhibition of the masks as well as a performance where 5 performers wore these masks and performed 2 songs along with grand piano...the masks were used as a rhythm and bass section and a woman sang the lyrics through a mask.  These songs will be released in 2013 as an LP called "Woman & Children" although they have been reworked in a different way than that night.
If it's anywhere near as mind-blowing as the most Author & Punisher album, then we cannot wait to hear it. In the meantime, if you don't own Ursus Americanus yet, stream it via Bandcamp, and buy it on CD and vinyl from Seventh Rule.
live local music on
Enter your ZIP code to see concerts happening in your area.
Data provided by Zvents
follow msn music