25 @ 25: Def Leppard, 'Hysteria'
One lump or two?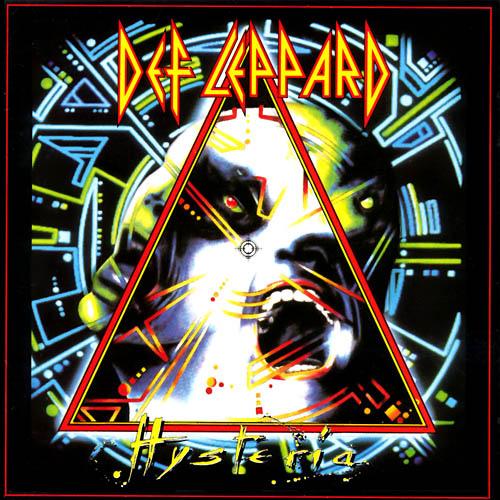 The thought of following up an album as wildly popular as Def Leppard's mega-selling Pyromania had to be a daunting one, to say the least. Here was a British band absolutely bent on success in America, and lo and behold they did it on their third album, a slickly produced, stripped-down, cunningly crafted collaboration with Robert John "Mutt" Lange, the man responsible for breaking AC/DC and Foreigner into the mainstream. Initially lumped in with the burgeoning New Wave of Heavy Metal at the turn of the '80s, the Sheffield band wanted to transcend that tag, and they did so with an album bolstered by three of the most brilliant rock singles of the decade. And now with it being the middle of the 1980s, the next step was to put together something even bigger and more lavish. The only problem was getting all the right pieces to fall into place, and as the band, their management, and their label would find out in the years that followed, there would be so many obstacles to get over, that it would become the stuff of legend.
If you kept up with hard rock and heavy metal in the 1980s, the progress of Def Leppard's follow-up to Pyromania was always being followed. Every time it was delayed, you were rolling your eyes, and the longer it went on the more you started to feel bad for them. Once a batch of new songs were finally written in 1984 with Lange, who was too busy at the time to commit to producing a new record with Leppard, the band started off recording with Jim Steinman, the songwriter behind Meat Loaf's Bat Out of Hell, but those sessions were scrapped because the band, so used to Lange's meticulousness, were apprehensive about Steinman's more spontaneous approach. They then teamed up with Lange's engineer Nigel Green, but those sessions were scrapped as well. And most famously, on New Year's Eve 1984 drummer Rick Allen crashed his Corvette and lost his left arm. Undeterred, Allen rehabilitated and learned to play drums using triggered foot pedals. Meanwhile, all those delays enabled Lange to find the time to return, and over the course of the next two years they meticulously worked on the new record, first titled Animal Instinct, which was eventually changed to Hysteria.
When all was said and done, Def Leppard was so deep in the hole that they had to sell five million copies of the album just to break even. And for the longest time it didn't seem that they'd ever get to that point. When Hysteria finally came out on August 3, 1987, it arrived with an enormous amount of hype, but while it proved to be the band's first significant commercial breakthrough in the UK, album sales in America were sluggish, and months later it didn't look like the band would ever recoup their losses. It's incredible in this day and age to think that an album could sell three million copies and be deemed a commercial failure, but that was the case for the band at the beginning of 1988.
The '80s were all about excess, and Hysteria was far and away the most excessive hard rock album of the decade. It arrived at a time when rock music and mainstream metal couldn't have sounded glossier, where Bruce Fairbairn was becoming a ubiquitous producer, where veteran artists like Judas Priest, Whitesnake, and Aerosmith were trying to keep up with the times by creating huge-sounding albums, where LA glam metal was at its absolute peak. Yet everything paled in comparison to the astonishing sound of Hysteria. Some critics bristled at its hour-plus length and complained about how its production practically robbed it of any humanity. Fans from the hard rock side of the fence complained that the edgier side of the band, so endearing on 1981's High 'n' Dry and so brilliantly manipulated on Pyromania, had been abandoned in favor of pure contemporary pop music.
It can be argued that Hysteria was the first mainstream hard rock album created specifically for the CD age. Prior to its release much was made about the technology Mercury Records had to use to put all 63 minutes of the album on one vinyl LP, but 1987 was the year that CD sales were truly starting to spike, and people who owned CD players, including yours truly, wanted to pay extra for CDs that truly sounded great on that specific format. And indeed, Hysteria sounds better on CD than vinyl to this day. That huge drum sound, those heavily layered backing vocals, those multiple channels of guitars, those massive hooks aren't made for the warmth of vinyl, nor the hiss of cassette tape. They're made for the cold precision of the laser-read compact disc.
To fully appreciate Hysteria, it's best to not view it from a hard rock/metal perspective, but rather a pop point of view. For years hard rock bands had been trying to achieve that perfect crossover into the mainstream, and Hysteria is as perfect a balance between hard rock and pop music that's ever been crafted. Sonically it felt cutting edge yet it didn't completely betray the band's roots, and most importantly, its songwriting was so impeccable and savvy that it yielded seven singles, nearly all of them worldwide smashes. Like the band boasts now, it was a veritable greatest hits package on a single new album. Riffs were nowhere near as important as hooks, and Hysteria was saturated with hooks.
The fascinating trajectory of Hysteria can be examined through its series of North American singles. The brooding "Women" was a disastrous choice as lead-off single, bombing commercially, but for all its dopiness it was a great example of the way guitarists Phil Collen and Steve Clark fed off each other, Clark with his swaggering riffs, Collen with his highly refined, technical approach to playing. "Animal" was Def Leppard's first chart-topper in the UK, and despite being the best song on the album – a perfect pop song but with just enough bite to hold the interest of hard rock fans – it only peaked at 19 in America. "Hysteria", an absolutely gorgeous tune that benefitted immensely from Lange's richly layered treatment, fared a little better, peaking at number ten.
By the spring of 1988, sales of Hysteria were stagnating. The band was on tour, and Mercury decided to take a gamble and release the shamelessly goofy "Pour Some Sugar on Me". A video was hastily slapped together featuring live footage and plenty of gratuitous shots of pretty girls in the crowd, and Hysteria exploded practically overnight. All of a sudden the song, the video, the album, were everywhere. It was incredible to witness. And all it took was a hastily-written, rap-pandering glam rock homage tacked on to the album at the very last minute. Four million copies of Hysteria were sold during the single's climb up the chart, which peaked at number two. Four million. It took the album a good eight months, but it had captured lightning in a bottle at long last. Def Leppard were now making money by the truckload, and for the rest of the year there was no bigger hard rock band in the world.
The slow-burning "Love Bites" captured that elusive US number one that summer, and deservedly so. For all the bluster of power ballads throughout the '80s, only a few had the guts to show actual vulnerability. Scorpions' "Still Loving You" did, as did Guns N' Roses' "Sweet Child O' Mine". "Love Bites" was equally brilliant; initially written as a country ballad, Lange tacked on dark riffs and a deceptively simple two-beat bassline by Rick Savage, and plenty of electronic touches to create a surprisingly murky atmosphere. For all the subtle darkness of the song, though, "Love Bites" is all about Joe Elliott's lead vocal performance, as well as the sumptuous harmony vocals. Def Leppard were a unique band as they had five guys who could actually sing well, and under Lange's guidance they'd learned how to get the most out of backing vocals – a big reason why "Photograph" was so popular five years earlier - and their collective work on this song is an example of their singing at its very best.
The nonsensical and fun "Armageddon It" was a well-timed sixth single that showed one and all that Def Leppard could still rock. By late 1988 the band could do no wrong, and it was their third straight top three US single. Released in February 1989, "Rocket" was the last single release and a very unusual choice. The most unorthodox song on the album, "Rocket" was inspired by the a loop Elliott had made of "Burundi Black", which had previously had a huge influence on such UK bands as Adam and the Ants and Bow Wow Wow. Over that beat he then created a tribute to all his favorite glam rock artists of the 1970s, referencing everything from T. Rex, to David Bowie, to Lou Reed. Meticulously assembled, it's highlighted by an extraordinary bridge where the band goes nuts with sequencers and backwards playback, at the time a marvel of recording technology. For such a bold six and a half minute song, "Rocket" nevertheless managed a very respectable top 15 showing.
For all the great singles, the real strength of Hysteria is that any of its dozen songs could have been a single, and the five deep cuts on the album are nearly as rewarding as the other seven. "Gods of War" might be a pointless "song with a message" on an album that otherwise celebrates the triteness of pop music, but it's an effectively brooding track highlighted by a fabulous melancholy chorus. "Don't Shoot Shotgun" and "Run Riot" recapture the harder-edged vibe of High 'n' Dry, and are bolstered by Allen's thunderous, arena-friendly beats. "Excitable" flirts with self-parody a little, but the call-and-response between Elliott and the rest of the band is irresistible. Closing track "Love and Affection" should have been a single, a smooth dose of twangy pop in the same vein as "Hysteria". Also worth noting is the "Animal" B-side "Tear it Down", a ferocious Steve Clark rocker that was so good it became a regular song in the band's live repertoire. Perhaps a little too hard for the actual album – Lange was probably smart enough to realize the production would have killed the song's vibe - it's still one of Def Leppard's very best tracks.
If you were to ask me what album best epitomizes the 1980s, without hesitation I'll name Hysteria. Were High 'n' Dry and Pyromania better hard rock albums? Sure. But as far as attention to detail in pop music goes, it's in the tradition of "River Deep, Mountain High", "Good Vibrations", A Night at the Opera, and Tusk, in which an artist made full use of record label money and studio technology to create the biggest, most ostentatious pop music opus imaginable. On Hysteria Def Leppard and Mutt Lange embraced the disposability, contrivance, excess, and unabashed silliness of pop music yet managed to create something of substance thanks to not completely abandoning their rock roots. And all they did in the process was capture the 1988 zeitgeist like no one else. One of the most expensive albums in rock 'n' roll history, it's since sold more than 20 million copies worldwide. What was an incredibly risky gamble at the beginning turned into a classic work that paid off in stunning fashion.

Pour Some Sugar On Me was the first song written in the summer of 1983.  It was also not written by members of Def Leppard.  The song was inspired by the poem "What Little Girls Are Made Of"...sugar and spice.  It was Joe Elliott's idea to name the girl group Spice Girls after the 15 year old American girl he discovered in May of 1983 and wrote PSSOM started writing songs the British girl group would record and imitate Def Lep's style of sporting the Union Flag. 
Are you sure you want to delete this comment?
live local music on
Enter your ZIP code to see concerts happening in your area.
Data provided by Zvents
follow msn music