Review: UFO, 'The Chrysalis Years (1980-1986)'
A five-CD anthology of UFO's post-Michael Schenker period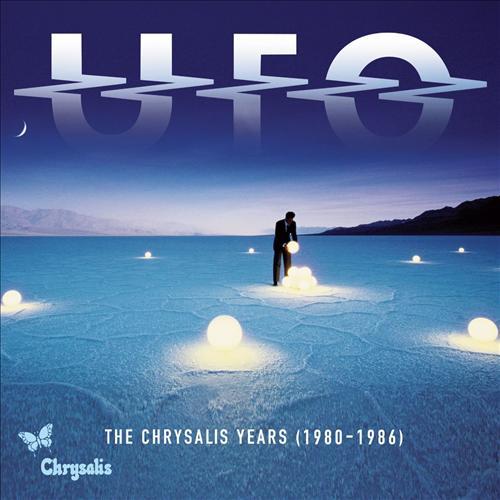 Back in November of last year I reviewed UFO's retrospective The Chrysalis Years (1973-1979), an outstanding, affordable five-CD collection of the band's early output with Chrysalis Records, which includes such classic albums as Lights Out, Force It, and Strangers in the Night and chronicles the UK band's rise as one of the best hard rock acts of the decade. Now comes the follow-up, The Chrysalis Years (1980-1986), which just came out a few weeks ago, featuring five complete albums (all remastered versions from 2009) and assorted odds and sods spread over five CDs. And if you know UFO's history at all, you'll be fully aware that the band didn't exactly maintain that high standard in the 1980s.
The band had enjoyed a phenomenal run over the course of five years and five studio albums thanks to the tremendous dynamic between singer Phil Mogg and young German guitar hotshot Michael Schenker, but by 1978 tensions between the two had come to a head and Schenker left the band, going on to briefly rejoin Scorpions on 1980's Lovedrive album and ultimately forming the Michael Schenker Group. Meanwhile UFO hired Paul "Tonka" Chapman from Welsh band Lone Star as Schenker's permanent replacement, and headed back to the studio to record their eighth album.
Produced by none other than The Beatles' producer George Martin, No Place to Run wasn't as big a commercial success as 1978's Obsession or 1977's Lights Out, and 32 years later it remains a very underrated album. While it severely lacks the energy that Schenker brought to the band, the subtler approach by the new incarnation of UFO does work well, going in more of a Rolling Stones/Small Faces direction, with Mogg leading the way with his raspy, soulful voice on such tracks as "Young Blood", Lettin' Go", "Anyday", and the terrific title track. Recorded in February 1980, the previously unreleased BBC In Concert performance follows, and offers a great glimpse at the band at the beginning of their post-Schenker era. Although Chapman lacks the flamboyance that Schenker brought in spades, his workmanlike, blues-influenced approach shines on a song like "Mystery Train" and the staple "Doctor Doctor". That said, his take on Schenker's calling card "Rock Bottom" doesn't come close to what his predecessor did on the track.
When keyboardist/guitaris​t Paul Raymond defected to the Michael Schenker Group in 1981 UFO hired Wild Horses keyboardist Neil Carter, and consequently the band took a much fresher-sounding approach on The Wild, the Willing and the Innocent. Much slicker than No Place to Run, Mogg shamelessly channels the likes of Phil Lynott and Bruce Springsteen while the arrangements have a more (for then) modern sheen. The end result is something that sounds a lot more dated than UFO's previous work, songs like the brooding "It's Killing Me", the fiery "Main' Moves", and "Lonely Heart" (despite Carter's bland-as-Wonderbread​ saxophone solo – Clarence Clemons he is not) have the band sounding happier and more impassioned than they have in years.
In the liner notes Mogg says UFO was in their own little bubble in 1982, and listening to the album Mechanix, it's easy to see. It' clearly a case of a band losing its way, songs far too polished and contemporary, with far too much window dressing, from synthesizers to backing singers. It has the odd pleasant moment, like the hard-edged "We Belong to the Night" and the shimmering "Let it Rain", but most of the time it's far too generic ("Terri" is a particularly maudlin power ballad), devoid of UFO's charm, and at times unnecessarily petty like on "The Writer". It's no wonder bassist Pete Way, who was not a fan of all the keyboards and saxophone, left to form Fastway with Motörhead's "Fast" Eddie Clark soon after. Incredibly, though, Mechanix was the highest-charting UFO album in the UK since Strangers in the Night.
With Chapman and Carter sharing bass duties, the now-four piece UFO recorded Making Contact, which came out in February 1983 and subsequently bombed. Despite attempts at a heavier, metal-derived sound – as on "Diesel in the Dust" and "When it's Time to Rock" – it failed to connect with the record-buying public, and with hindsight being 20/20, it's easy to see. UFO had now become followers instead of leaders, and why would anyone waste their time with this when a younger band like Def Leppard was playing circles around them? The band toured with former Talas member Billy Sheehan on bass, but they saw the writing on the wall and announced they would be disbanding after a farewell tour. Recorded at their "final show" in 1983, the Headstone live album does sound superior to the last two studio albums, but in a weird move only the first half of Headstone is included on this set.
The desire to keep on going would prove to be far too tempting for Mogg, as he'd resurrect the band in 1985, with Tommy McClendon replacing Chapman and Paul Raymond coming back to replace Carter. Unfortunately, UFO would be a mere shadow of their former selves on 1986's Misdemeanor, an incredibly boring album that went through the motions, crassly recycling MOR rock clichés. It's about as cutting edge as a John Parr record. With not a single track worthy of singling out, it's the moment where UFO hit – 'scuse the pun – rock bottom.
The disaster of Misdemeanor is a strange way to end this series of UFO box sets, and the dodgy quality of the band's output from 1980 to 1986 make it much less of an essential purchase as the first set was, but this installment of The Chrysalis Years nevertheless has enough good material to warrant a recommendation. Besides, if you enjoy UFO's music and do not yet have their post-Schenker material, you can't go wrong with their reasonably priced collection.
After that, if you want to hear how well Mogg and UFO has aged, I highly suggest you check out their very good new album Seven Deadly (iTunes).