Shockwave 2012 Tour Officially Cancelled
All but two bands dropped off, forcing organizers to pull the plug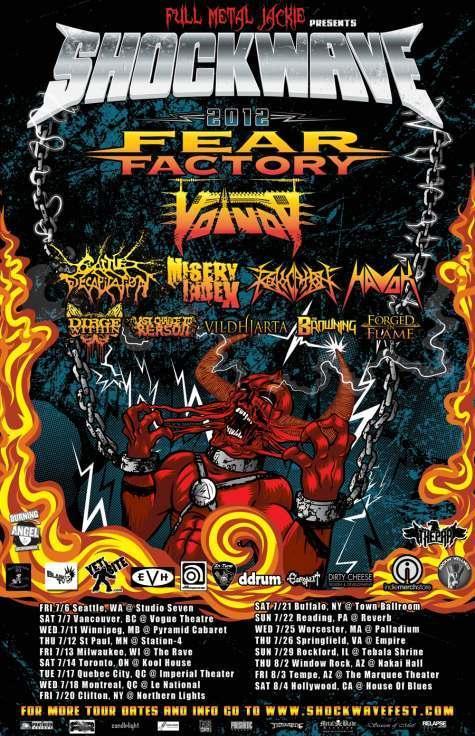 What started off as a promising looking summer metal tour gradually turned into an unmitigated disaster. Featuring the likes of Fear Factory, Voivod, Cattle Decapitation, Misery Index, Revocation, Havok, Dirge Within, Last Chance to Reason, Vildhjarta, The Browning, and Forged in Flame, the month-long Shockwave 2012 Tour was set to trek across North America starting tomorrow, July 6, in Seattle. However, things quickly started to unravel.
First Dirge Within, Forged In Flame, Revocation, and Vildhjarta dropped off the tour in June due to "unforeseen circumstances." Then two days ago Voivod dropped off the tour, posting on Facebook, "Shockwave tour is no longer as advertised, Voivod really wanted to be touring but the situation was out of the band's control and the tour producers could not live up to the promises." Hours later, both Havok and Misery Index followed suit, and then yesterday morning Fear Factory announced they would not take part as well.
Needless to say, it hardly came as a surprise yesterday afternoon that the tour organizers officially pulled the plug on Shockwave, issuing the following statement:
It is with great disappointment that we have to make this announcement. With the recent departure of Voivod from the Shockwave festival lineup, as well as low advance ticket sales, we have decided to pull the plug on the Shockwave festival.

 

For purchases made with a credit card, your card will automatically be refunded. All other refunds are available at point of purchase.

 

We sincerely apologize for any inconvenience this has caused.
Here are the dates that have been affected:
Jul. 06 - Studio Seven - Seattle, WA
Jul. 07 - Vogue Theatre - Vancouver, BC
Jul. 09 - The Republik - Calgary, AB
Jul. 11 - Pyramid Cabaret - Winnipeg, MB
Jul. 12 - Station 4 - St Paul, MN
Jul. 13 - The Rave - Milwaukee, WI
Jul. 14 - The Opera House - Toronto, ON
Jul. 15 - The Armouries - Windsor, ON
Jul. 18 - Club Soda - Montreal, QC
Jul. 20 - Northern Lights - Clifton, NY
Jul. 21 - Town Ballroom - Buffalo, NY
Jul. 22 - Reverb - Reading, PA
Jul. 24 - Revolution - Amityville, NY
Jul. 25 - Palladium - Worcester, MA
Jul. 26 - Empire - Springfield, VA
Jul. 27 - Alrosa Villa - Columbus, OH
Jul. 28 - Mojoe's - Joliet, IL
Jul. 29 - Tebala Shrine - Rockford, IL
Jul. 31 - Summit Music Hall - Denver, CO
Aug. 02 - Nakai Hall - Window Rock, AZ
Aug. 03 - The Marqee Theater - Tempe, AZ
Aug. 04 - House Of Blues - Hollywood, CA