New releases for March 26, 2013
Kvelertak's second album leads the way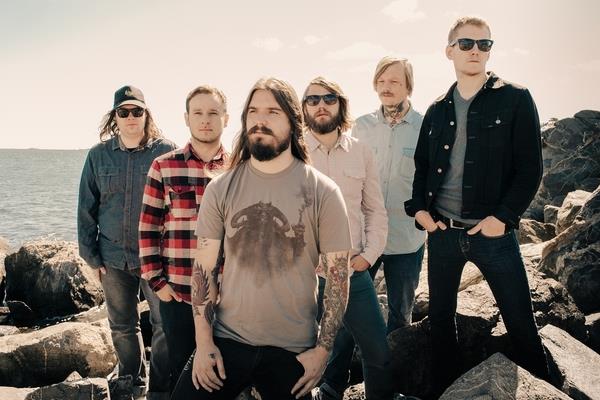 Album of the Week:
Kvelertak, Meir (Roadrunner)
Stavanger, Norway sextet Kvelertak arrived on the metal scene in 2012 like a great big gob of spit, delivering an obnoxious, undeniably exuberant album that smartly bridged punk rock and black metal, with a singer who screamed unintelligible Norwegian lyrics. Nobody, save for Norwegians, knew what the hell they were singing about, but the songs were so good and the energy was so contagious, that nobody cared. Three years after becoming a sensation via bittorrent and two years after finally releasing the record domestically in North America, the band is out to make an even bigger splash thanks to a new deal with Roadrunner, a better publicity machine behind them, and a new record that attempts to build on the surprise success of the debut.
Kvelertak swing for the fences with Meir, an album that expands the band's musical palette a great deal more than the simple black metal punk shtick that made the debut so memorable. The title is Norwegian for "more", and indeed listeners are barraged by more of everything on a record that veers wildly from extreme metal, to hardcore, to classic rock, all in the same song. It's the kind of kitchen sink approach to songwriting that plagues a lot of young bands these days, only instead of seeming like the product of an ADHD-riddled generation, Kvelertak pull it off with great skill. A great example is "Trepen", which in three minutes and 40 seconds flies in about five different directions, but for all that psychotic energy and diversity, it's held together by hooks, and in the end, the hooks are the key to this record's tremendous appeal. These songs, eclectic as they are, stick with you, whether it's the contagious energy of "Bruane Brenn", the audaciously sunny blastbeat sections of "Spring Fra Livet", and the drunken fun of "Kvelertak".
What's especially interesting about Meir, and which might stick in some metal fans' craws, is just how well the record works when the metal is dialed down in favor of a more classic rock 'n' roll approach. "Evig Vandrar" boasts a Zeppelin-meets-White Stripes feel until it explodes into a Turbonegro style groove. "Nekrokosmos" settles into a fantastic garage rock jam, "Undertro" is a fantastic exercise in Stooges-style riffing, and the nine-minute "Tordenbrak" ebulliently treads the same epic territory that F***ed Up have done so ingeniously on their last three albums. Helping make the psychotic pace of Meir manageable is producer Kurt Ballou, who as he did on the last album brings phenomenal clarity as well as a thick bottom end to the music, achieving the right kind of balance between extremity and accessibility that these compositions demand. The songs might be all over the place, but the one constant is the sense of joy that bursts from Kvelertak's music from the first note to the last. They remain one of the most likeable bands around, and this is an excellent follow-up to a near-legendary debut.
Also out this week:
Amaranthe, The Nexus (Spinefarm): Not too far removed from the over-the-top sounds of Japan's Blood Stain Child, the Danish band combines pop, electronic, goth, and power metal, and their latest album is a gleefully garish pleasure, led by singer Elize Ryd. If the slicker side of metal turns you off, stay far away from this one, but if you like good hooks in your heavy music, this one's a winner.
Ash Borer, Bloodlands (Gilead): While not officially the follow-up to last year's excellent Cold of Ages, this two-track vinyl EP is another significant step by the California band. Although the 15-minute "Oblivion's Spring" and the 19-minute "Dirge/Purgation" are aptly bleak as their titles indicate, they're beautifully so, the atmospheric black metal accentuated by subtle goth/post punk influences that lend the music a much more dynamic feel had it been straight-up extremity. In fact, I'd even go as far to say I like these two tracks even more than the album. Ash Borer continue to show tremendous growth with each new release.
Axel Rudi Pell, Live On Fire (SPV): Another year, another Axel Rudi Pell album. The German shredder is back this time with a live recording, and while sonically it's as tepid as any other live album released these days, there's no denying it's well performed. Pell's brand of power metal is unabashedly corny – even more than your average power metal band – but it's well performed, ranging from quick, catchy rockers to self-indulgent epics, with Pell and singer Johnny Gioeli in typical preening form. That eight and a half-minute drum solo has to go, though.
Carved, Dies Irae (Bakerteam): Melodies? Check. Death metal? Check. Slick production? Check. Unfortunately, none of those ingredients coalesce to make a good record: the death metal is clunky, the melodies awkward, the production rendering the music sterile.
Cnoc An Tursa, The Giants of Auld (Candlelight): I have no idea how to pronounce this band's name, nor what it means, but the music is some fairly good pagan metal. Rooted in black metal and loaded with Celtic folk derived melodies, it's not far removed from the work of Ensiferum, but feels less contrived.
Dark Sermon, In Tongues (eOne): Ripping off Lamb of God, Job For a Cowboy, and The Black Dahlia Murder isn't a very original idea, but this young band from Tampa, Florida knows how to balance extremity, aggression, and song craft. The potential isn't fully realized yet, but they're off to a good start.
E-Musikgruppe Lux Ohr, Kometenbahn (Svart): Never mind the fact that this foursome is from Finland; this is some first-rate kosmische musik in the great tradition of Germany's Popol Vuh and Tangerine Dream, synth-heavy, entrancing, and stirring.
High Priest Of Saturn, High Priest Of Saturn (Svart): Old-timey doom that focuses more on grim moods than heavy invocations of the clues, this debut by the Norwegian trip is as intoxicating as it creepy, highlighted by some effective organ accompaniment and bassist Metethe Heggset's detached singing.
Pretty Maids, Motherland (Frontiers): While there's not much here that will win the long-running Danish band new fans – they remain stubbornly, admirably dated – those who have been following Pretty Maids will enjoy the strong melodic hard rock of such highlights as "Mother of All Lies", "Motherland", and "The Iceman".
Saxon, Sacrifice (UDR): Saxon's 20th album has plenty of energy, led as usual by singer Biff Byford and guitarist Paul Quinn, but despite the fact that the band still has plenty of bite to it, this record doesn't quite measure up to 2011's Call to Arms, which was a very impressive return to form. Despite the fact that a few too many of the songs fall flat, such highlights as "Standing in a Queue", "Made in Belfast", and "Stand Up and Fight" are very worthy inclusions to the band's mighty back catalog.
Sevendust, Black Out The Sun (7Bros): The Atlanta band carry on predictably on their seventh album, churning out the same nu-metal as they've always done. Their one ace card remains singer Lajon Witherspoon, one of the only frontmen in the genre that can actually sing well, and not surprisingly this album is at its best when he's delivering the strongest melodies, as on "Faithless", "Cold As War", and "Decay". Those boring, crunching riffs will test the patience of anyone who wasn't 14 years old in 1998, but thankfully there are enough hooks from Witherspoon that makes this Sevendust's strongest album in a very long time.
Suicidal Tendencies, 13 (Suicidal): It's great to have Mike Muir and his long-running band back with their first new album in 13 years (oh, I get it now) and although his days of thrash innovation are long behind him, he still serves up an hour's worth of energetic, self-empowering tunes. Perhaps the best compliment is that these songs will fit nicely interspersed amidst the ST classics when they play live this year.
Victor Griffin's In-Graved, Victor Griffin's In-Graved (Svart): The gifted former Pentagram guitarist never disappoints, and not unlike his former project Place of Skulls, In-Graved brings the classic melodic doom, accentuated beautifully by heavy doses of blues and soul, made even better by Griffin's vocal talent. This is a fantastic record.
Von, Dark Gods: Seven Billion Slaves (Von): When I reviewed Von's album of re-recorded classics back in October of last year, I said that when they started putting out actual new music, I'd pay attention. Well, here it is, and despite the odd weak moment it's some effectively raw black metal that succeeds greatly at creating an unsettling feeling in listeners, especially on the very surprising ten-minute piece "Ancient Flesh of the Dark Gods", made in collaboration with doom band Coffinworm.
Wormed, Exodromos (Willowtip): The arrangements on the Spanish bands' second album are absolutely stunning. Not many bands are able to take some of the most challenging technical death metal and make it dynamic and enthralling – we're approaching Origin and Obscura territory here – but the ten tracks here are so inventive that it pains me to no end to say that the record is completely flushed down the toilet with pointless "pig squeal" vocals. With a charismatic death metal vocalist this could have something special – hell, as an instrumental album this would have been amazing – but instead we have someone pointlessly grunting and gurgling away. What a f***ing waste.
Are you sure you want to delete this comment?
live local music on
Enter your ZIP code to see concerts happening in your area.
Data provided by Zvents
follow msn music