25 @ 25: Anthrax, 'Among the Living'
Bringing moshing to the mainstream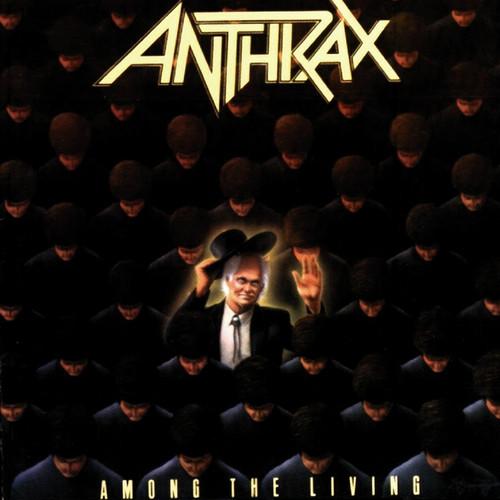 By the time 1987 had rolled around, a new generation of American metal bands was injecting new life into an already exploding genre, and a small handful of those bands were, from a creative standpoint, starting to separate themselves from the rest of the competition. In 1986 Metallica and Slayer put out two of metal's great albums of all time within months of each other, while Megadeth's second album was such a quirky take on the nascent thrash metal genre that it was inimitable.
Compared to those three bands, Anthrax had a bit of a leg up. Their style, a clever combination of the aggression of New York hardcore and the classic metal influence of Judas Priest, was a lot more accessible, aided tremendously by the strong singing voice of Joey Belladonna. Unlike Slayer and Metallica, Anthrax had no problem taking advantage of the music video format, as their second album, 1985's Spreading the Disease, was helped greatly by the video for the catchy tune "Madhouse". As a result, for a good number of kids at the time, Anthrax was the first thrash band they heard.
Needless to say, expectations were astronomical when Anthrax's third album was announced. Unlike Master of Puppets and Reign in Blood, though, Among the Living didn't turn the genre upside-down. Instead, Anthrax stuck to their strengths, and put together a robust collection of songs that balanced hookiness and physicality perfectly. Already by that album Anthrax had a set formula, basing their music around the massive, Agnostic Front-derived crunch of Scott Ian's rhythm guitar riffs and the ultra-tight drumming of Charlie Benante, but what sets Among the Living apart is how mature the songwriting is. Nothing's overdone, as the band utilizes dynamics exceptionally well, and two prime examples are the album's most enduring cuts.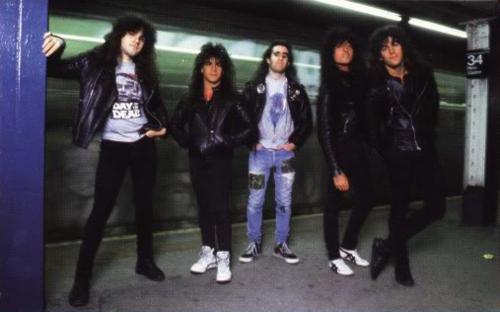 Inspired by the Judge Dredd comic books that were big at the time (this song made me and many other metalheads buy a bunch of issues that year), "I Am the Law" sees the band taking the storyline from the comic and turning it into a rousing little epic that coast along at a comfortable pace for three and a half minutes, only to explode into one of the sickest breakdowns in thrash history, a smart, melodic solo by Dan Spitz propelled by some of the coolest rhythm guitar picking yours truly has heard in 28 years of metal fandom. Unlike the talentless metalcore hacks doing their boring, one-chord breakdowns today, Anthrax's breaks were surprisingly musical, and the one on "I Am the Law" is particularly inspired, a separate song in itself.
Is there any thrash song as genuinely fun as "Caught in a Mosh"? The first 45 minutes resemble an engine warming up and shifting into gear, after gear, after gear, before exploding into a crazed double-time beat by Benante, punctuating the taut palm-mutes by Ian and Spitz. For five minutes the song moves slowly back and forth between grooves, pure blazing speed, and thunderous, mosh-inducing breakdowns, and never mind what the heck Belladonna is singing during the verses, all that matters is the brilliant call-and-response he and the band create: "Can't stand it for another day / I AIN'T GONNA LIVE MY LIFE THIS WAY!" Ian and Benante, with the help of former bandmate Dan Lilker, had already perfected the hardcore/thrash crossover on S.O.D.'s 1985 classic Speak English or Die, but in its riffs and mandatory audience interaction, "Caught in a Mosh" co-opts NYHC in a way that no metal band had yet been able to do prior to that, and remains Anthrax's finest moment on record.
The rest of the album, while not quite hitting the heights of those two songs, nevertheless continues to hold up very well after a quarter century. Despite some rather hackneyed lyrics, "Indians" is a sincere tribute to First Nations, as well as being another song boasting a wicked breakdown. Inspired by Stephen King's great novel The Stand (that's Randall Flagg on the cover), the title track is a an energetic, workmanlike thrash track, as is "A Skeleton in the Closet" and "Imitation of Life". And as sophomoric as "Efilnikufesin (N.F.L.)" is, it's irresistible, and still makes me crack a smile.
Of course, the rest is history. The popular "I'm the Man" would hilariously and smartly fuse metal and rap, predating their famous collaboration with Public Enemy on "Bring the Noise" by a full four years, the band would put out two more successful albums with Belladonna, and would replace him with John Bush in 1992. 2011's Worship Music, the band's first album with Belladonna back in the fold, would be the band's best-received record in years, but as good as the new tunes are, next time you see Anthrax live, watch the reaction when the Among the Living tracks are played. It was potent music then and remains so now, one of the most timeless metal albums to come out of 1987.
Purchase Among the Living at iTunes.

Just seen them at the house of blues in Anahiem. They played 5 songs off that album. It was one of my favs in 87' and love it still. That album just has a heavy crunching sound that they have never really produced again.I saw them live on the 'among' tour with Testament and Metal Church at the Santa Monica Civic. I was moshing then, and was moshing last week. At 41 years I was really feeling it the next day. I've allways believed you can trace the birth of the mosh pit directly to Anthrax and S.O.D. MOSH IT UP!
Are you sure you want to delete this comment?
live local music on
Enter your ZIP code to see concerts happening in your area.
Data provided by Zvents
follow msn music