New releases for February 19, 2013
This week marks the return of the mighty Portal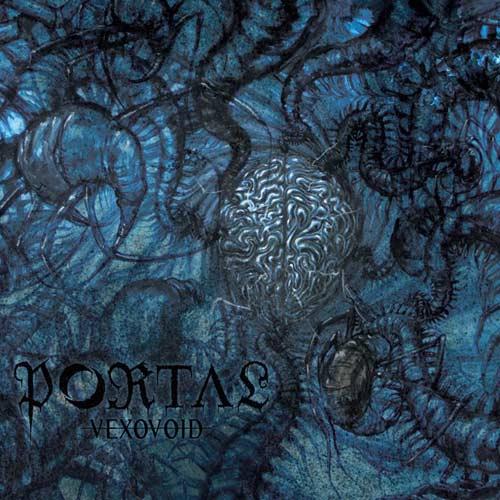 Album of the Week:
Portal, Vexovoid (Profound Lore)
The most violent form of heavy metal, thematically and sonically, the overall effect of hearing death metal either live or on record is to be pummeled without mercy. Even if you're not into the physicality of mosh pits, when you see a good death metal band play you're drawn to the overwhelming physicality of the music, and when it's over you feel beaten up, albeit nowhere near as badly as those in the middle of the floor. When I heard Australian band Portal for the first time in early 2007, what took me aback about their second album Outré was how its approach was completely different than any death metal I knew. Portal don't assault; they smother. The music envelops and suffocates. Death metal reviews love to use hyperbole – and justifiably so, it's tempting to use grandiloquent language to describe bombastic music – and of course, it's all a great exaggeration, but when you immerse yourself in the dense instrumentation and dusty vocals of Outré, or Portal's 2003 debut Seepia for that matter, a part of your imagination wants to come up for air.
While the 2009 follow-up Swarth had its moments, that sense of being overwhelmed by the music on record wasn't as strong as on Outré. More emphasis was made on making the technicality of the music heard, which was all well and good, but the clarity of Swarth took away from the atmosphere, and when it comes to Portal, atmosphere is everything.
One listen to "Kilter", the first track of the new album Vexovoid, and you know instantly that unmistakable, unsettling ambience is back, because you're hit with a barrage of sound so thick its takes a moment to figure out this this isn't just arbitrary noise but something with definite structure. The more the song settles in, the more you detect a groove, not to mention a very unsettling melody that slithers along, creating tension amidst the din. The further into the record you go, the more you start to detect melodies creeping into the music. In fact, listening to "Kilter" on iTunes a couple months ago, upon hearing the very subtle guitar solo that appears at the 3:50 mark, I had to check to see if I had the browser on a website that was streaming music at the same time.
That's a microcosm of the entire album, you think you're firmly ensconced in atonality and harshness when a more accessible sound starts to part the dust clouds the tiniest bit. Typical of Portal, though, just as soon as there's the tiniest, most ephemeral hint of a moment of clarity, they slam that coffin door shut. With music this extreme, tension and release is crucial. Forget the astonishing riffs by Horror Illogium and the demented, dry-voiced incantations of pretentious, portentous poetry by The Curator; to separate and analyze each miniscule aspect of the music is nowhere near as important as taking in the music as a whole. The way Portal manipulates, constantly tightening their grip, then loosening it just enough to let the listener breathe before tightening again, is masterful. After the instrumental "Oblotten" concludes the album, drums punctuating rather than blasting, the clipped, distorted sound of the bass thudding repeatedly, you emerge from the experience weary and haunted, but somehow invigorated at the same time.
Order Portal's Vexovoid from Profound Lore.
iTunes
Also out this week:
The Acacia Strain, Money For Nothing (Prosthetic): A puzzling, six song collection of rarities by the deathcore band, this has been apparently been released by Prosthetic without the band's consent, to which guitarist Daniel Laskiewics has responded by telling fans to download it illegally. Considering how patently forgettable these songs all are, I'd hardly say that's even worth it.
As They Burn, Will, Love, Life (Victory): One minute you're thinking, okay, this could actually be promising stuff, but the next minute the French band is lazily mimicking Meshuggah like every other boring young band on the planet.
Baptists, Bushcraft (Southern Lord): If you derive your sound from Converge and happen to record with Kurt Ballou, you had better measure up. Although the Vancouver band doesn't hop the mighty American band – who could? – Bushcraft nevertheless is an alternately furious and brooding blend of d-beats, crust, and hardcore atonality. Like Burning Love, this is another stellar Canadian signing by Southern Lord.
Buckcherry, Confessions (Century Media): On the surface, the sixth album by Buckcherry is the same trite, sometimes rambunctious, sometimes tepid sleaze rock that they've always done, but with the bulk of the record centered on the seven deadly sins, it turns out to have a lot more heart than you'd ever expect. More often than necessary the band lazily heads into Stone Temple Pilots post-grunge, but such highlights like "Gluttony", the impassioned "Pride", and the first-rate power ballad "Sloth" make this album surprisingly likeable.
Black Boned Angel, The End (Handmade Birds): The final album by the New Zealand noise/doom duo sees them going out in grimly sublime fashion with a three-part, hour-long suite. Named after the Godflesh song, that influence remains obvious, especially when those martial drum machine beats kick in, but there's lot more this record than that, the music slowly, methodically crawl their way from harrowing passages and more tender ones, towards an aptly grandiose, almost operatic climax.  Minimal yet gargantuan, slow yet very dynamic, this is essential listening for anyone interested in the more artful, contemplative side of extreme music.
Complete Failure, The Art Gospel of Aggravated Assault (Season Of Mist): Specializing in the crustier side of grindcore, the Pittsburgh band serve up their typical malevolence on this very concise, not to mention excellent ten-track album.
Devourment, Conceived In Sewage (Relapse): Good, simple Cannibal Corpse-derived death metal that would probably be even more disturbing if you had any idea what Mike Majewski is gurgling about.
Disperse, Living Mirrors (Season Of Mist): Ditch the awful "djent" guitars, and you might have a good little prog metal album. Instead, you have a band that's clearly underachieving, following the lead of other young sound-alike bands rather than doing their own thing. You're much better than this, guys.
Edge Of Attack, Edge Of Attack (Spread The Metal): Hailing from way up north in Grande Prairie, Alberta, this young band has a very good thing going on their debut album. Cut from the same cloth as fellow Western Canadians Unleash the Archers, they specialize in a robust mix of thrash and power metal and feature a strong female vocal presence. It's not without the odd bumps along the way – the keyboards on "In Hell" are distracting – but this is an otherwise very promising first effort.
Eight Bells, The Captain's Daughter (Seventh Rule): Created by former SubArachnoid Space member Melynda Jackson, Eight Bells sees the guitarist adding a strong black metal element to her psychedelic compositions. Although that might strike some cynics as another case of black metal tourism, the band plays it and sells it well, although if you ask me the record is at its best when it goes into full-on drone/psychedelic mode, as on the spellbinding title track.
Kongh, Sole Creation (Agonia): I loved Kongh's 2009 album Shadows of the Shapeless, and it's great to find out that not only dies the band sound as powerful and Yob-like as ever, but there are significant improvements on several fronts: the songwriting is stronger, the guitars often venture into noise-derived atonality to good effect, and David Johansson's vocals are so much stronger than ever. Four tracks, 44 minutes of pure doom brilliance.
Manilla Road, Mysterium (Shadow Kingdom): The American heavy metal masters are back with their 16th album, and although it's not without the odd bump in the road, this is the best, most impassioned-sounding​ Manilla Road album in years. Guitarist/songwriter​ Mark "The Shark" Shelton leads the way through songs that play to the band's strengths, focusing on the classic, rampaging heavy metal of 30 years ago ("Only the Brave") as well as the odd excursion into doom territory ("Do What Thou Will"), capping the record off with the fantastic, 11-minute title track. They're not trying to reinvent themselves, they're sticking to what they're best at, the end result is an album that will make all their fans very happy.
Misery Index, Live In Munich (Season Of Mist): The band's grindcore-tinged death metal is superbly played on this live album, but it's so antiseptic you can hardly tell that a show is happening. You hear no crowd, there's little interaction; they could have achieved the same thing recording in their rehearsal space. I always enjoy Misery Index, they're one of the best such bands around, but this is pointless. If you want to hear a great live album by a death metal band, try Neuraxis's Live Progression instead.
Puscifer, Donkey Punch The Night (Puscifer Entertainment): Tool fans will undoubtedly be interested in the latest release by Maynard James Keenan's project, but for the rest of us, anyone who dares to cover Accept's "Balls to the Wall" just to be ironic does not deserve our attention. A huge thumbs down – and middle finger – just for that blasphemy, kind sir.
Raven Black Night, Barbarian Winter (Metal Blade): At times this is a decent Manilla Road imitation with a singer who sounds scarily like 1990s Geoff Tate, but with a great new Manilla Road album coming out at the same time (see above), why even bother?
Sacred Steel, The Bloodshed Summoning (Cruz Del Sur): The German power metal veterans return with an eighth album that plays the Iced Earth card decently at times, but while all the right buttons seem to pushed, nothing here leaps out at the listener. Power metal is nothing without a good melody, and there's nothing here that sticks with listeners.
Shai Hulud, Reach Beyond The Sun (Metal Blade): Shai Hulud are always better when the hardcore element of their music is dialed down in favor of progressive-leaning thrash, but as usual, that doesn't happen nearly as often enough. As a result those hardcore clichés render an otherwise mildly interesting album tiresome, which for a 34-minute record, is quite a feat.
Spektr, Cypher (Agonia): Has it really been seven years since Near Death Experience? At any rate, the avant-garde French duo is back with their fourth album, and its every bit as peculiar, eclectic, and enthralling as you'd expect. Dipping into black metal, industrial, and jazz, the disparate styles mesh incredibly well – the old light/dark beauty/horror contrasts being executed –  and the entire record flows beautifully as a result.
Suffocation, Pinnacle Of Bedlam (Nuclear Blast): The death metal greats are in splendid form on their seventh album. When they're at their best, the music achieves a perfect balance between primal aggression, dazzling technicality, and melody, and indeed that's on full display here. Led by the inimitable Frank Mullen (one of the best enunciators in death metal), Suffocation continue right where 2009's creatively rejuvenated Blood Oath left off.
Tsjuder, Desert Northern Hell (Season Of Mist):
Who knows why
Tsjuder's
2004 album is being re-released, but if you missed it the first time around, this is first-rate Norwegian black metal, simple, devoutly traditional, and entirely effective. Four sloppily recorded live tracks have been tacked on as a bonus.    
Are you sure you want to delete this comment?
live local music on
Enter your ZIP code to see concerts happening in your area.
Data provided by Zvents
follow msn music