New releases for January 29 - February 5, 2013
Shocking album by a Norwegian band steals the show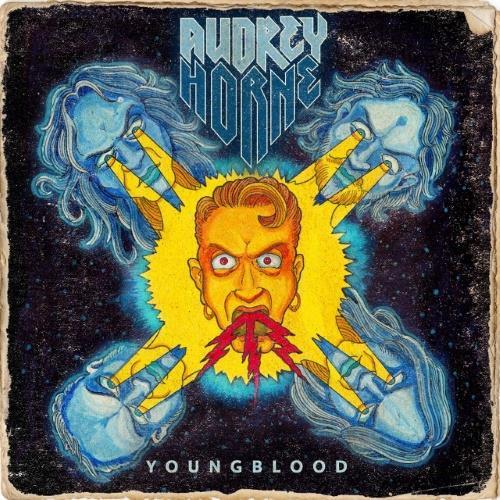 Album of the Week:
Audrey Horne, Youngblood (Napalm)
Instead of churning out yet another album of tepid modern hard rock, a band decides to change things up a little by writing the kind of music they used to listen to as kids, and whaddya know, not only does the end result sound far more genuine than anything they've put out before, but it turns out to be one of the best albums of the young year.
That's exactly what happened with Norwegian band Audrey Horne. They've been coasting along as a fairly popular band in Norway for a few years now, but after deciding to go back to their roots and start playing music they truly love, they've emerged with an album that hearkens back to the glory days of Rainbow. Every track is deeply indebted to Ritchie Blackmore's band, but it always feels more like an homage than a rip-off, whether it's the furious, prog-tinged mini-epics that echo Long Live Rock 'n' Roll ("This Ends Here", "The King is Dead"), to the more pop-oriented fare that will remind many of Down to Earth and Straight Between the Eyes ("There Goes a Lady", "Redemption Blues", "Youngblood"). Whatever the direction the music takes, each song is vibrant and very catchy, led by singer Toschie, who is in full-on Joe Lynn Turner mode all the while.
Who could have possibly seen this coming? Youngblood is the sound of a chronically underachieving band finding their true identity at long last, an impassioned album that embraces the fantasy, power, and above all else, the fun of heavy metal from three decades ago. This is one album you don't want to miss out on.
Also out this week:
Alpha Tiger, Beneath The Surface (Century Media): Fitting somewhere between power metal and the speed metal that preceded it, this is some good, old-timey melodic metal that hearkens back to Crimson Glory and Helloween. The powerful head voice of singer Stephan Dietrich are often reminiscent of circa-1983 Geoff Tate, which is awfully impressive, but I wish the vocal hooks on this record were as strong as the riffs and twin harmonies. Either way, it's a decent try.
Ancient VVisdom, Deathlike (Prosthetic): I really enjoyed A Godless Inferno in 2011, and the new album is more of the same acoustic-driven fare, with some subtle changes. While the novelty has worn and the Alice in Chains similarities sporadically pop up, the arrangements on these new tracks have more depth, showing that the Texas band have plenty of staying power. This is a very worthy follow-up.
Circle II Circle, Seasons Will Fall (Armoury): At its best, the sixth album by the Florida prog/power metal favorites accurately captures the sound pioneered by Savatage ("Diamond Blade"), but at its worst, which is often, it's about as exciting as present-day Dokken. What happened to this band?
Cult Of Luna, Vertikal (Density): If there's one metal subgenre I have very little patience for anymore, it's "post-metal", especially since Isis, progenitors and the very best at it, are no more. However, if there's one band of that ilk that's going to perk my ears up again, it's Cult of Luna, who have returned with their first album in five years. I've never been a fan of their screamed vocals, which feel too monochrome compared to the rich instrumental arrangements, but songs like "I: The Weapon", "Vicarious Redemption", and "In Awe Of" – which is probably the best Cult of Luna song I have ever heard – more than make up for that slight deficiency.
Defeated Sanity, Passages Into Deformity (Willowtip): Although the lead vocals are as plain and bland as Wonderbread, the instrumental arrangements by the German death metal band are good enough to hold your attention.
Destruction, Spiritual Genocide (Nuclear Blast): The great Destruction regained their peak form on 2011's Day of Reckoning, and they've sustained that energy on Spiritual Genocide. Mike Sifringer continues to churn out the wicked, nimble riffs, while bassist Schmier spews his head vocals with the kind of hatred you'd expect. With such highlights as "Cyanide", ""No Sign of Repentance", and the title track, it's yet another essential release by the German thrash legends.
Funeral For A Friend, Conduit (The End): Although the Welsh band have never been able to top the impact their 2003 debut Casually Dressed & Deep in Conversation made, they've been making new music consistently. And surprisingly, their sixth album in ten years is a strong one. Tastefully arranged, playing within the post-hardcore formula but never feeling confined to it, and tautly written, it's an energetic, 29-minute blast of melody and aggression that will floor anyone who might have written these guys off.
Gloria Morti, Lateral Constraint (Metal Blade): Like a more melodically inclined Behemoth, the Finnish band swing for the fences on their lavishly produced third album. At times the record struggles to maintain the momentum set by the throttling opening trio of songs – monotony can set in fast – but for the most part this is a respectable effort that could see Gloria Morti turning a lot of heads in North America this year.
Hammerfall, Gates Of Dalhalla (Nuclear Blast): The press was only given the audio portion of Hammerfall's new live DVD/CD combo, so I can't comment on the quality of the DVD. However, the CD portion is a good live album, featuring lively performances of such power metal faves as "Blood Bound", "Let the Hammer Fall", and "Hearts on Fire".
Hatebreed, The Divinity Of Purpose (Razor & Tie): Motivational speaker lyrics. Gang vocals. Jamey Jasta hollering in the same monotone voice. Solid hardcore/thrash crossover. Yep, they're all there. I can't honestly see how this Hatebreed album is worth buying since this formula has been recycled countlessly already and there's no one track that sticks out above the rest, but fans of the band will likely be happy with what they hear.
Helen Money, Arriving Angels (Profound Lore): Cellist Alison Chesley has made a name for herself under her stage name Helen Money, recording with such artists as Bob Mould, Mono, and Anthrax, but she's also a fascinating composer as well. Recorded by none other than Steve Albini, her latest album takes solo cello performances into strange new territory. Minimalist, moody, but never as tedious as a mere drone album, Arriving Angels ranges from the rhythmic and menacing ("Rift") to the poignant (her gorgeous cover of Pat Metheney's "Midwestern Night's Dream"), as Chesley alternately caresses the strings and saws away at them mercilessly. This won't be one of Profound Lore's most hyped albums this year, but it's one of the label's most daring releases.
Incantation, Diabolical Conquest (Hells Headbangers): Incantation's third album has been re-released on vinyl, and while it's not the towering achievement that 1992's Onward to Golgotha is, it's nevertheless a glimpse of a death metal band that could do no wrong in the 1990s.
The Lord Weird Slough Feg, Twilight Of The Idols / Down Among The Deadmen / Traveller / (Metal Blade): Originally released between 1999 and 2003 when the San Francisco band was known as The Lord Weird Slough Feg instead of today's shortened Slough Feg, these crucial three albums have been packaged into a tidy three-CD box set by Metal Blade. Combining Celtic influences with phenomenal arrangements that mine Thin Lizzy and the NWOBHM, and featuring the impassioned bellow of the inimitable Mike Scalzi, all three albums are essential American heavy metal, but personally the best of the lot is the epic Down Among the Deadmen, on which guitarist John Cobbett unleashes riff after masterful riff that complements Scalzi's bombastic personality perfectly.
My Soliloquy, The Interpreter (Sensory): Featuring Threshold member Pete Morten, the latest by his project is typically flamboyant progressive metal, a skillful combination of arch arrangements and accessible melodies, but I cannot get my head around Morten's vocal phrasing, which is far too overbearing and pretentious than the otherwise tasteful music deserves. What a waste.
Tomahawk, Oddfellows (Ipecac): After the experimentation of 2007's Anonymous, an album that failed far more than it succeeded, the supergroup featuring Mike Patton, Duane Denison, John Stanier, and Trevor Dunn went back to basics on their fourth album. And it was a smart move, as Oddfellows is a simple yet very enjoyable return to the sounds of their first album. Nicely capturing a live feel and bolstered by Patton's always charismatic presence, it's not innovative by any stretch, but then again why does it have to be? These 13 tracks are concise, eccentric without coming off as precious, and in the case of songs like "Stone Letter" and "White Hats/Black Hats", catchy and ebullient.
Zombified, Carnage, Slaughter and Death (Metal Blade): Dense, gore-obsessed death metal that seemingly pushes all the right buttons but wears thin the deeper into it you go.
live local music on
Enter your ZIP code to see concerts happening in your area.
Data provided by Zvents
follow msn music