New Releases For January 31st, 2012
What you need to hear, and what you should avoid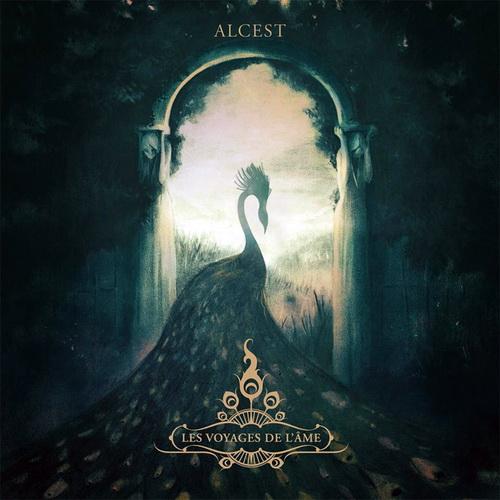 Album of the Week:
Alcest , Les Voyages de L'Ame (Prophecy):
One of the most interesting things about Alcest is that this project was conceived with no particular genre in mind. The goal of songwriter/multi-ins​trumentalistStéphane "Neige" Paut was to bring to life visions of an alternate, dreamlike world he'd had as a child, using the methods of instrumentation he knew, which just happened to be black metal. So although his early compositions had the tremolo picking, heavy distortion, and screams that characterize black metal, his ambition to capture the musical equivalent of those ethereal visions took those sounds into an altogether new realm far outside black metal. Most interestingly, the fact that the Le Secret EP and 2007's astonishing Souvenirs d'un Autre Monde bore an uncanny resemblance to classic 4AD bands such as Slowdive and Cocteau Twins was pure coincidence, as Neige had never heard any bands from the late-'80s/early-'90s​ shoegaze era at all, which lent even more of an innocent quality to his already pristine compositions.
Ever since that revelatory debut, Neige has been subtly refining Alcest's music, still preoccupied with perfectly nailing that otherworldly sound. 2009's sublime Écailles de Lune was a lot more nocturnal than the sun-drenched beauty of Souvenirs, the song lengths expanded, the tones slightly harsher, and on Alcest's new third full-length Neige finds more of a middle ground between those two records.
Now with several releases behind him, Neige has an altogether new challenge: to continue Alcest's understated evolution without sounding too predictable, and he does a magnificent job of it. What makes Les Voyages de l'Âme so successful is that it so gracefully skirts predictability while always retaining the familiarity, that essence that makes this project's music so entrancing. As opposed to the darker tones of the previous album, the new one, whose title translates as "The journeys of the soul", is a lot richer sounding. Neige's balance between distorted and clean-sounding is more even, the juxtaposition of the two sides lending the music depth. Although the harsh vocals are brought out sporadically, as on "Là où Naissent les Couleurs Nouvelles" and "Faiseurs de Mondes", the emphasis is on Neige's singing voice, which has never sounded more confident. "Autre Temps" and "Nous Sommes l'Emeraude" showcase his stronger vocal delivery, backed up by typically lush layers of guitars, both chiming and soaring, while the more straightforward style of the closing track "Summer's Glory" boasts the best vocal hook on the entire album.
If there's one moment that hints at where Alcest might be headed in the future, it's the wistful "Beings of Light". Centered on a simple falsetto melody that brings to mind the delicate tones of Sigur Rós and then repeated to dizzying effect by a swift metallic riff, it's the kind of exercise in simplicity and subtlety that only a disciplined songwriter can pull off. Neige just lets that repeated riff melody carry the song, his gossamer-delicate lead vocals, indecipherable in true My Bloody Valentine fashion, catapulting the song into the stratosphere. We don't need to know what he's singing about, is he's singing about anything at all; with this song he achieves that sense of wonder he's been constantly striving for all this time. As I mentioned in my review in Decibel magazine, Les Voyages de l'Âme is not so much transcendental as firmamental, as Neige compels us to cast their gazes heavenward and let the music transport us to a realm where all we can do is be awestruck at the staggering beauty before us. As he sings during the final, breathtaking moments of "Summer's Glory":
Notre cœur dégèle
Je me sens si léger.
Our heart melts.
I feel so light.
Also out this week: 
Azaghal, Nemesis (Moribund): A fairly consistent, reverb-drenched offering from the Finnish black metal veterans, but it's been overshadowed this week by the considerably superior new Pact album, which is reviewed below.
Black Pyramid, II (Meteor City): Patently unspectacular stoner/doom that doggedly tries to follow in the formidable footsteps of The Gates of Slumber and Slough Feg, but lacks the charisma and swagger of those two bands.
Bleeding Through, The Great Fire (Rise): The California metalcore band's seventh album continues to work that formula decently enough, and while the band typically makes a mistake or two (please, cut out the clean singing right now), fans of the band will gravitate towards this.
Cadaveria, Horror Metal (Bakerteam): When you call your album Horror Metal, you had darn well better make it creepy. Alas, this latest full-length from the Italian band is tedious, plagued by unimaginative songwriting and Cadaveria's decidedly weak lead vocals (both clean and harsh) that are buried in the mix.
Cirith Ungol, Servants Of Chaos (Metal Blade): Originally released in 2001, this die-hards-only compilation of rare and live tracks by the early-'80s cult faves comes appended this time around with a live concert DVD shot in 1984. 
Dragonland, Under The Grey Banner (AFM): The Swedes deliver no surprises on their fifth album, merely reverently paying homage to Helloween, Blind Guardian, and of course Tolkien. Under the Grey Banner has its moments, like the rousing "Shadow of the Mithril Mountain" and "The Black Mare", but there isn't enough here to warrant purchasing.
El Caco, Hatred, Love and Diagrams (Indie): Nestled somewhere between Tool and Helmet (with a little Muse thrown in), this sixth album by the Norwegian band is quite a pleasant surprise to those of us who have never heard them before (yours truly included). Sludgy, mid-paced, and earnestly melodic, it's all so very 1995, which in this band's case is a very good thing.
God Seed, Live At Wacken (Indie): Recorded at Wacken 2008, this live document has all the bells and whistles you'd expect from Gaahl (nude crucifixions, sheep's heads, fire). However, for all the garishness, Gaahl has never struck me as a very charismatic frontman despite his carefully honed persona. As a result the CD portion of this CD/DVD release packs a much bigger punch than the tepid-looking stage show, with guests Nick Barker, Ice Dale, and Teloch rounding out a superb-sounding band that runs through a bevy of Gorgoroth favorites.
I Exist, II: The Broken Passage (Prosthetic): A second album of no-frills sludge by the Australian band, produced by Billy Anderson, who knows a thing or two about recording sludge. Unlike most bands of that ilk, though, there's a hardcore sensibility that permeates this band's work, lending is a level of energy and sense of fun that a lot of straight-up sludge metal bands tend to overlook these days.
King Giant, Dismal Hollow (Graveyard Hill): I always love it when North American bands explore their heritage through their music like so many European bands do, and these Virginians do so in superb fashion on the powerful, Civil war-inspired "Appomattox". And the album just keeps the momentum going with a series of Appalachian-tinged "motorcycle rawk" in the same vein as The Four Horsemen. Stream the album here.
Liberteer, Better To Die On Your Feet Than Live On Your Knees (Relapse): 
The brainchild of
Cretin
bassist
Matthew Widener
, this astounding debut album not only articulately voices the collective frustrations of the working class, but does so while putting a very unique spin on conventional grindcore. All the trappings are there, from the crusty riffs, to the blastbeat drumming, to the
Barney Greenway
-derived vocal style, but what sets
Liberteer
apart is how Widener writes in the major key instead of minor, drawing heavily from the music of the American Revolution and
Wagner
in the process. The end result is a startlingly uplifting album, the ferocious arrangements accentuated incredibly well by sweeping melodies by marching brass, woodwinds, and even banjo. Far from the kind of unfocused "mad at everything" mentality that permeates a lot of extreme music,
Widener
, a former United States Marine, has an actual message, and his eloquence is such a refreshing change from what we usually have to hear from metal bands ("Let not the hounds of the government deny your liberty, or allow statist propaganda to dissuade you from what could be"). There's plenty of vitriol, but a sense of hope as well, and one particular line from this outstanding album has stuck with me the most: "We who plowed the prairies shall plant again."
Stream the album in its entirety here.
Metallica, Beyond Magnetic (Warner Brothers): Released digitally back in December, this stopgap EP of Death Magnetic leftovers has been issued in CD format. The timing of its release certainly appears intended to distract from the critical and commercial failure of Lulu, but these four songs are so much better than the Lou Reed collaboration, a more aggressive counterpoint to Death Magnetic's more accessible tracks. 
Mystic Prophecy, Ravenlord (Massacre): Like Symphony X meets Avantasia, this German band is often very good at creating strong, catchy power metal, and their seventh album is a consistent one. Balancing the melodic with surprising blasts of thrashy aggression ("Die Now"), Mystic Prophecy shows impressive versatility, thanks in large part to the robust singing of R.D. Liapakis. Toss in a cool cover of Ozzy's "Miracle Man", and you've got a record that more people should hear.
Nucleus Torn, Golden Age (Prophecy): Painstakingly assembled over the course of three years with 13 different musicians contributing, Nucleus Torn leader Freddy Schnyder has emerged with a fourth album that combines folk and progressive rock in a way few artists are able to pull off. In fact it can be seen as a blend of the more contemplative sides of King Crimson and Yes with the atmospheric beauty of The Gathering, with Eluveitie's Anna Murphy doing fine work providing lead vocals.
Pact, The Dragon Lineage Of Satan (Moribund): Boasting a NSFW cover that reminds me of the bluntly sinister early Metal Blade covers back in 1983-'84, this debut by the mysterious Pennsylvania band is one of the better black metal albums to be churned out by Moribund as of late. Stubbornly indebted to the primitive Norwegian sounds of the early-1990s, this is filthy, malevolent, fervently Satanic, and bracing. An instantly memorable record.
Ram, Death (Metal Blade): Gothenburg, Sweden's Ram has been around for the last decade with a couple of respectable albums behind them, but their debut for Metal Blade is a knockout, simple, fist-pumping, headbanging heavy metal that's equal parts Tokyo Blade and Jaguar. No "core", no blastbeats, no gimmicks, just good, catchy, exuberant tunes played as if it's still 1984. If you like your old-school metal as much as I do, you're going to love this.
Riotgod, Invisible Empire (Metalville): Featuring the rhythm section from Monster Magnet, the debut album by Riotgod doesn't stray from that band's swinging stoner rock, but the big difference here is Mark Sunshine, whose David Coverdale-style voice adds some welcome flamboyance to the groovy, sometimes grungy arrangements. It's a welcome deviation from the usual über-masculine lead vocals we get in this kind of music.
Vendetta - Feed The Extermination (Massacre): Sure, Vendetta was present during the German thrash scene of the 1980s, but fast forward a quarter century later and the energy just isn't there, the hooks uninspired, the riffs lifeless. Plus "Ovulation Bitch" is the worst metal song title of this young year.
live local music on
Enter your ZIP code to see concerts happening in your area.
Data provided by Zvents
follow msn music