New Releases For June 12, 2012
Pacific Northwest doom, Canadian legends, Norwegian deathpunks lead the way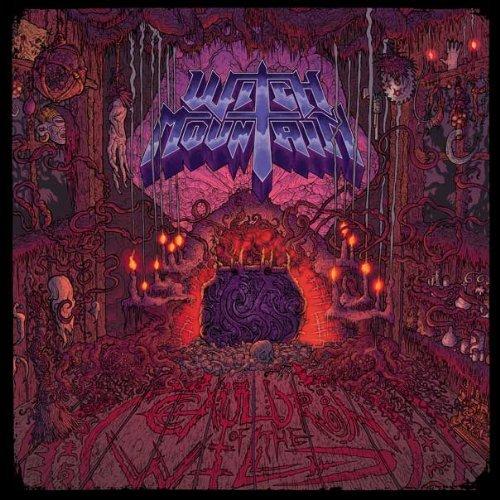 Album of the Week:
Witch Mountain, Cauldron Of The Wild (Profound Lore)
Portland, Oregon's Witch Mountain tuned more than a few heads a year ago with their self-released second album South of Salem, a collection of songs that devoutly followed the lead of Black Sabbath but were made completely unique thanks to the soulful singing of Uta Plotkin. It was all so impressive that it was good enough to make my Best of 2011 list, and not long after it was announced that not only had the foursome had signed with Profound Lore, who would re-release South of Salem, but also another new album was in the works.
What separates Witch Mountain from the majority of doom bands out there is just how much the band, led by guitarist Rob Wrong, incorporates blues influences into the music. For them it's not just about heaviness, but groove and mood as well. After all, Sabbath started out as a blues band, and Witch Mountain is ever mindful of that fact, whether in Wrong's expressive solos or the swing that drummer Nathan Carson brings to each song. But what makes the new album Cauldron of the Wild so extraordinary is not just the instrumental arrangements, but also the presence of Plotkin, who dominates every song with her powerful, at times decidedly un-metal singing style.
As good as South of Salem was, the songs were completed before Plotkin joined the band. This time around she has taken over the lyric writing and contributed her own vocal melodies, and with more of her distinct personality on Cauldron, it's all the more quirky and enigmatic. "The Ballad of Lanky Rae" kicks things off with a ferocious blues jam as Plotkin channels the old murder ballads of more than a century ago ("She didn't like baby dolls / Barrettes or ballet / She thought a gun was much more fun / When she went out to play"), her upper-register singing giving the tune more of a psychedelic rock feel. "Beekeeper", on the other hand, is a lot more ominous, as Plotkin sings lines that echo the cadence of Shakespeare's Macbeth ("Fell, fell / Fetid smell / Something rotting in its shell") in a gorgeous lower tone, injecting well-timed snarls to good effect.
That contrast of Wrong's ominous, blue collar riffs and Plotkin's entrancing singing works especially well on the 12-minute "Aurelia", as the song's languorous pace leaves plenty of room for Plotkin to let that voice soar, which in turn is countered by the simple riff by Wrong that darkens the mood like a storm cloud obscuring the sun. The latter half of the song brings it to an extraordinary climax, Wrong's extended solo eventually giving way to a mournful acoustic guitar coda. The nine-minute "Never Know", meanwhile, closes the album with a brilliantly dynamic performance by Plotkin, who echoes Robert Plant and Ann Wilson at the same time, playing off Wrong's lead guitar. You keep expecting that hushed blues groove to explode, and when it does at the five minute mark it's Cauldron's defining moment, ferocity, darkness, and soul all converging perfectly.
With its unmistakable blues influence and the emergence of Plotkin as a truly unique voice in metal, Cauldron of the Wild is an extraordinary step forward for Witch Mountain. With 2012 nearly half over, I have not heard a doom album so far this year that tops this one, and for anyone who wishes more metal bands put as much effort into the singing as the riffs, for those who wish more bands remembered that doom metal is firmly rooted in the music tradition of the Mississippi Delta, this album cannot be missed.
Stream "Beekeeper" via Soundcloud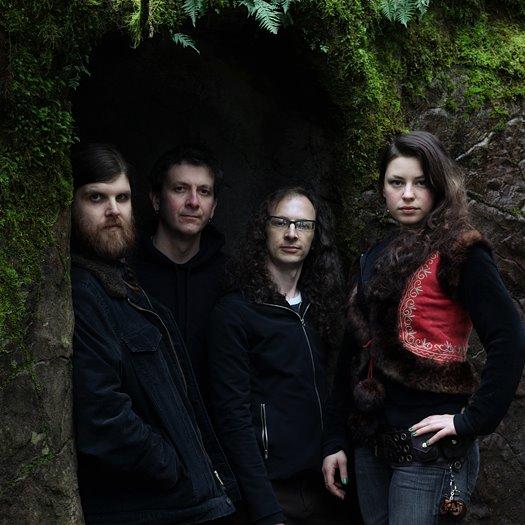 Also out this week:
Bilocate, Summoning The Bygones (Code 666): What an odd thing for a band to release as its third album, a collection of re-recorded songs from 2005's Dysphoria. Nevertheless, the gothic-tinged Jordanian band sounds strong on this release, serving up new, polished versions of old songs along with new track "Beyond Inner Sleep" and a capable cover of Paradise Lost's "Dead Emotion".
Bong, Mana-Yood-Sushai (Ritual Productions): The prolific UK doom/drone band (and perennial Roadburn faves) is back with yet another helping of songs that go well beyond the 20-minute mark, but typical of their work, while it might be epic, it's never for a second arduous. The pace might be incredibly slow, but there's structure in the two songs on this album, with all that space leaving plenty of room for improvisation, which the foursome brings in spades. The combination of lugubriously deliberate jamming, chanted vocals, and jazz-like accents makes the whole exercise feel like a metal take on Can's great 17 and a half-minute piece "Aumgn". For an experimental album it's incredibly accessible, but for the metal set especially this is ideal chill-out music.
Borgne, Royaume des Ombres (Sepulchral): The fifth full-length from the Swiss band is a real slow-burner, a dark and entrancing excursion into atmospheric black metal that artfully marries the primal with the ornate. This one creeps up on you, but it's worth the wait.
Brume d'Automne, Brume d'Automne (Sepulchral): The French Canadian band claims to mix raw and melodic black metal with the influence of traditional Québecois music, and while they have the raw black metal side of their oeuvre down, what's most interesting is when that musique traditionnelle Québecoise influence kicks in, because when both sides of the band's sound commingle, it's a clever and very unique combination. Either way, it's a promising first outing.
Cara Neir/Ramlord, Split (Broken Limbs): An intriguing little split release by the promising Broken Limbs imprint, it contrasts the bold, slightly prog-oriented blackened sludge of Dallas, TX's Cara Neir with the crust sounds of Ramlord. Released both digitally and on cassette, this is well worth checking out. Stream it via Bandcamp. 
Ne Obliviscaris, Portal of I (Code666): If you have a weakness for sprawling prog/power metal that never knows when to quit, this is the album for you. But while this Australian band at times sounds stellar on this debut ("Of Petrichor Weaves Black Noise" is spectacular), does an album really need five songs in the ten to 12-minute range? If they'd left us wanting more this album would have been a lot better than it already is.
Process Of Guilt, Faemin (Bleak): It's one thing to mimic the bludgeoning heaviness of Neurosis, and this Portuguese band does so capably, but without proper song dynamics, which Neurosis have mastered and Process of Guilt have not, you're in for an album that gets awfully boring after ten minutes.
Rush, Clockwork Angels (Roadrunner): As I mentioned this past Friday, Rush's 20th studio album is extraordinary. At times it revisits the heaviness of 2112 and the ambitious song structures of Moving Pictures, but gradually, subtly, the more the concept album's storyline develops the more melody starts to dominate, and by the latter third songs like "The Wreckers", "Wish Them Well", and "The Garden" blindside listeners with their moments of restrained beauty. It seems like an unbelievable thing to say, but the more I listen to Clockwork Angels, the more I'm tempted to call this Rush's best album since 1984's Grace Under Pressure.
Shaped By Fate, I Fear The World Has Changed (Siege Of Amida): For all the metallic bluster of this Welsh hardcore band, their second album is actually at its best when the band it in full Dischord mode, channeling the likes of Fugazi and Jawbox. When songs are simply chugging along complacently like Cancer Bats, it's far too easy to lose interest.
Trepalium, H.N.P. (Klonosphere): The French band clearly wants to follow in the footsteps of Gojira and Hacride, and indeed their songs mine similar territory (groove metal riffs and prog metal arrangements). As good as some songs are, though – including an unnecessary but spot-on cover of Pantera's "I'm Broken" - they have quite a way to go if they want to equal those great bands.
Turbonegro, Sexual Harassment (Volcom): As a longtime fan of these Norwegian deathpunks, I was more than a little skeptical of the band's decision to carry on without the inimitable frontman Hank von Helvete, but that all changed when I heard the new record, their first since 2007's Retox. First of all, the band, led by riffmeister Euroboy, continues to deliver songs that perfectly capture the sleaze and swagger of Hanoi Rocks, while new singer Tony Sylvester more than holds his own. The end result is a raucous, taut album that doesn't waste a minute, highlighted by such rockers as "You Give Me Worms", "Mister Sister", and the hilariously titled "Shake Your S**t Machine".
live local music on
Enter your ZIP code to see concerts happening in your area.
Data provided by Zvents
follow msn music