Heavy MTL Fest Set For This Weekend
Slipknot, System of a Down, Deftones, In Flames among 39 bands appearing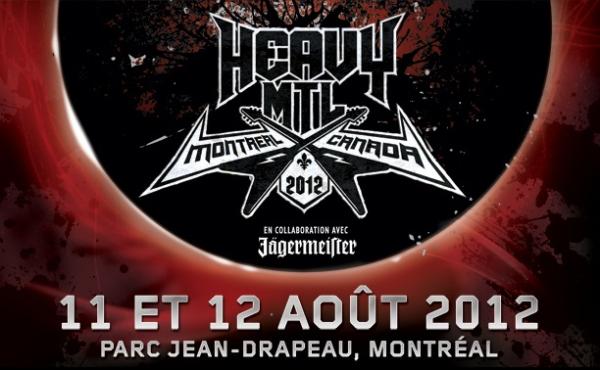 The province of Quebec has long been the most metal-mad region in North America, so it's only logical that the city of Montreal hosts the biggest metal and hard rock festival on the continent. Now in its fifth year, Heavy MTL has grown in popularity and scope, attracting thousands over two days. Along with is sister fest Toronto's Heavy T.O., which started last year, Heavy MTL is the only metal "destination festival" of its kind on the continent, and is set to welcome more than 40,000 fans this weekend to see such bands as Slipknot, System of a Down, Deftones, Marilyn Manson, In Flames, The Dillinger Escape Plan, and Cannibal Corpse.
The brainchild of the organizers of Montreal's popular, more indie-centric Osheaga Music and Arts Festival, Heavy MTL was created with the full knowledge that the demand for a metal/hard rock festival of this magnitude was definitely there. "Osheaga is pretty influenced by a lot of the European festivals, and after a couple years we felt like, we should do this for [metal] as well, so we created Heavy MTL," says Daniel Glick, Director of Concerts and Events at Montreal-based company Evenko. "There's no destination metal festival in North America. We took a cue from what the Europeans do best, which is create enormous, amazing festivals with diverse lineups."
Modeled after such European music festivals as Roskilde and Wacken Open Air, Heavy MTL differs greatly from its counterparts across the Atlantic. Instead of staging it in a field removed from a large city, it's held on the island Parc Jean-Drapeau, right smack in the middle of one of the most cosmopolitan cities in North America. "Montreal's really easy because there's a subway that goes right there," Glick says. "If you're anywhere in downtown Montreal, you can be there in 15, 20 minutes. We do our show with Parc Jean-Drapeau, and they're used to having tons and tons of people coming in and out of there, they do the [Formula One] Grand Prix, the fireworks festivals. The subway is amazing, it drops off right where our box office and entrance is, so getting people on and off the island is a breeze. Plus there are lots of cheaper accommodations in Montreal, people always renting out their places, hostels, so it's not too expensive to come hang out here for a weekend. Last year 46 percent of our audience was from outside of Montreal."
From their experience organizing Osheaga – which wrapped up last week and featured the likes of The Black Keys, Florence + The Machine, M83, and Sigur Ros among many others – Glick and his team of organizers know the best music festivals specialize in variety, and that certainly the case at this year's Heavy MTL, which caters to many facets of the genre, from mainstream acts to more extreme sounds. "The first year we had Warrant, Disturbed, and Iron Maiden play, making it pretty diverse in the hard rock genre, and that's why we called it Heavy 'MTL', and not 'metal'," he explains. "We wanted anything that's hard rock, we've had Alexisonfire and Billy Talent, as well as Slayer, Megadeth, all the thrash bands. We want to be everywhere, a place where people can see all kinds of hard music in one spot. We have two of the biggest headliners in the genre, Slipknot and System of a Down. System was a band we wanted to get from day one when we created Heavy MTL."
For the high-profile international artists, Heavy MTL is still smart enough to pay plenty of attention to Quebec's deep metal roots and current scene, which continues to thrive. Among the many local bands to appear are progressive metal innovators Voivod, death metal veterans Kataklysm, melodic death metalers The Agonist, and a reunion of '80s greats Sword. "We saw a great opportunity, and we saw there's totally a need for it," Glick says. "There are always tours that come around, and they're great, but obviously ticket sales vary from city to city because every city has different tastes. So something we always try to do at Heavy, we add a third stage and concentrate more on the local scene and really push that."
Catering to such a huge metal crowd has been a constant learning experience for organizers, Glick adds. "We learned about diversity, creating the best lineup for your fans. We learned a lot about fan experience, we really try hard to make sure our fans are happy, we make sure there are enough bathrooms, enough food concessions, enough places to sit in the shade, water, beer, autograph sessions, screens so people at the back of the hill can see. We're in a park, so you can just go hide under a tree for an hour if you're tired of standing. Every year we tweak things."
Now that Heavy MTL had brought in such major draws as Iron Maiden, Slayer, Motörhead, Megadeth, Alice Cooper, KISS, Slipknot, and System of a Down, what's the next band they're dead set on having headline next? "That's a good question," laughs Glick. "Metallica is always at the top of our list. When you're doing interviews it's the elephant in the room, of course you want them. Whether it's going to work out, there's a hundred different reasons why it can or can't, so we just have to wait, talk about it, and see what we can do."
***
Heavy MTL will be held at Parc Jean Drapeau in Montreal, Quebec, this Saturday and Sunday, August 11-12. Even though they're expecting by far their biggest crowd to date, tickets are still available, and you can find more info here.
Here's the complete list of bands playing:
Saturday, August 11:
System Of A Down
Deftones
Five Finger Death Punch
Killswitch Engage
Cannibal Corpse
Between The Buried And Me
Job For A Cowboy
Kataklysm
Periphery
The Faceless
Veil Of Maya
Goatwhore
Fleshgod Apocalypse
Battlecross
Rose Funeral
Origin
Exhumed
Diemonds
God Forbid
Dark Century
Sunday, August 12:
Slipknot
Marilyn Manson
In Flames
The Dillinger Escape Plan
Gojira
Suicidal Tendencies
Voivod
Trivium
Emmure
Overkill
Sword(QC)
B.A.R.F.
Blind Witness
Protest The Hero
Cancer Bats
The Agonist
Dance Laury Dance
Iwrestledabearonce
Hollow
live local music on
Enter your ZIP code to see concerts happening in your area.
Data provided by Zvents
follow msn music