New Releases For August 7, 2012
Canadian speed metal leads the charge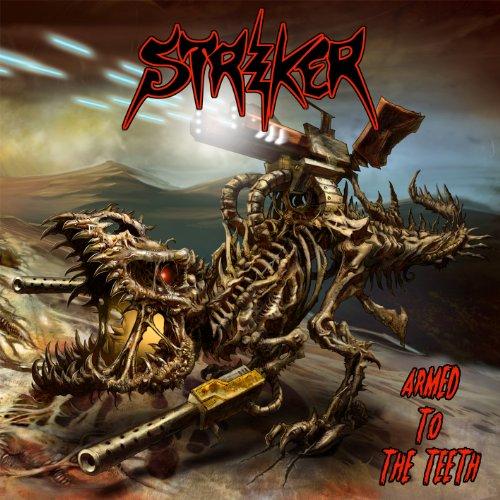 Album of the Week:
Striker, Armed To The Teeth (Napalm):
Two years ago Striker came from out of nowhere – okay, Edmonton, Alberta, which to be honest is pretty darn isolated – with an independently-releas​ed debut album that turned out to be a scorching modern day take on the classic speed metal on the mid-1980s. Inspired by the likes of Agent Steel, Metal Church, and Thundersteel-era Riot, the band brought fast tempos, guitar work that bridged thrash and power metal, and soaring, melodic lead vocals, and as strong as Eyes in the Night was, Striker proved to be even more potent in a live setting, the energy bursting from the amps, frontman Dan Cleary a powerful live singer. With a sound this good, it was only a matter of time before a bigger label caught on, and this past April it was announced that the band had signed a worldwide deal with Napalm Records.
Before their announced deal with Napalm, Striker had been in the studio with none other than Michael Wagener, the man who had produced great 1980s albums by Accept, Dokken, and Raven. Sometimes when you hear a new band you think to yourself, "Wouldn't it be great for this band to work with this producer?" Well, the Striker/Wagener pairing immediately felt like a perfect match, and that was proven when the band posted the new song "Forever" on YouTube early this year. Fast, slick, melodic metal is what Wagener excelled at three decades ago, and it was great to hear him working with a band that completely understands the sound of that era.
Now that the complete new album Armed to the Teeth is out, it's a pleasure to say the rest of the album hold up just as well as that explosive opening track. Typical of a talented young band, Striker's songwriting has tightened up considerably, the arrangements very to the point (ten songs in a tidy 40 minutes), the hooks enormous. "Let it Burn" is built around a brilliant opening riff and an "in the pocket" bassline swiped lovingly from Accept before bursting into a double-time thrasher. "Lethal Force" has a similar Teutonic metal vibe, gang vocals offsetting brooding verses. The contagious "Fight For Your Life" features great twin guitar melodies and palm-muted rhythm guitars that tip the hat to Helloween, "Land of the Lost" darkens the mood for a spell, the cornily titled "Wolf Gang" cranks up the speed to a "Fast as a Shark" level, while "Can't Stop the Rush" is exactly as fun as the title implies.
Armed to the Teeth is a reminder that as exciting as it is to hear bands trying new things in heavy music, there's nothing quite as satisfying as a record by a band that excels within a set formula. We've heard these riffs, these song structures time and again, but there's a reason they work. On a visceral, instinctive level classic speed metal is a pure, headbanging, fist-pumping blast, and Striker, with the help of Wagener, absolutely nails that feeling on this exuberant album.
Also out this week:
Deadly Remains, Severing Humanity (Deepsend): Death metal so precise in its physicality it can only be described as clinical, the second album by the Santa Rosa, California foursome is very strong, loaded with nimble riffs and driven by quirkily complex rhythmic patterns. The bass playing, which will remind a lot of people of Alex Webster of Cannibal Corpse, is especially exceptional.
Dust Bolt, Violent Demolition (Napalm): Similar to Havok, this German band specializes in taut, catchy thrash metal on their debut full-length, with a few obvious homages to Kreator tossed in for good measure. Considering how excellent the recent albums by Havok and Kreator are, though, in no way is this album superior, but if you're into the "retro thrash" wave, this won't disappoint.
Hour of 13, 333 (Earache): The doom project by North Carolina multi-instrumentalis​t Chad Davis is back with a third full-length, and it proves to be every bit as good as 2010's The Ritualist. Singer Phil Swanson is back as lead singer after leaving the band two years ago, and his haggard, nasal howl only enhances this record's NWOBHM-tinged take on traditional doom, highlighted by "Deny the Cross", "The Burning", and "Lucky Bones".
Laster, Wijsgeer & Narreman (Dunkelheit): A Dutch black metal band so indebted to Burzum they've signed to a label that shares its name with a track off Filosofem, their debut recording is nevertheless a mildly impressive one. Shrouded in dark, smothering guitars yet capable of some disarming melodies, and featuring the kind of tortured lead vocals you'd expect, Laster is doing nothing new here, but they operate within this template with confidence. The title track is a real keeper. Download it for free via Bandcamp.
Natur, Head of Death (Earache): Devoutly old-school in approach, the Brooklyn band attempts to follow the lead of Christian Mistress and Cauldron on their debut album, and while the guitar work can be scorching at times, the songwriting and especially the lead singing feels too amateurish – and in the case of the vocals, detached - to warrant a recommendation.
Rob Zombie, Mondo Sex Head (Universal): Not the first compilation featuring remixes of Mr. Zombie's tunes – Supersexy Swingin' Sounds, anyone? – this 13-track collection serves up an impressive array of tunes. Sure, some of the remixes here pander to the dubstep crowd (like Jonathan Davis's skronky take on "Thunderkiss '65"), but for the most part these are some very clever and creative reinventions of Rob Zombie/White Zombie favorites, led by Photek's brooding "Living Dead Girl", a pulsating retooling of "Burn" by Bloody Beetroots, and a stunning Giorgio Moroder-esque take on "Dragula" by Chino Moreno's Three Crosses. Metal remix albums rarely work well, but this one does.
Saccage, Death Crust Satanique (Maltkross Productions): A crazed debut album by the Quebec band, one that veers back and forth between thrash metal and d-beat driven crust punk. Sloppy, sure, but it's scorching, and the fact that every song feels like it's going to fly off the rails at any given moment gives the music a tension that a less chaotically-inclined​ band wouldn't be able to produce. Stream it via Bandcamp here.    

Shores, Leavening (No Idea): Following in the slowcore footsteps of Low and Codeine, the second album by the Michigan band counters that droopy, lugubrious pace with a good dose of heaviness, making for an effective contrast. It takes its own sweet time, but it's a rewarding listen, one that'll take a lot of people back to the indie rock of the early-1990s.
live local music on
Enter your ZIP code to see concerts happening in your area.
Data provided by Zvents
follow msn music