New Releases For January 8, 2013
One gem to be found in a very thin week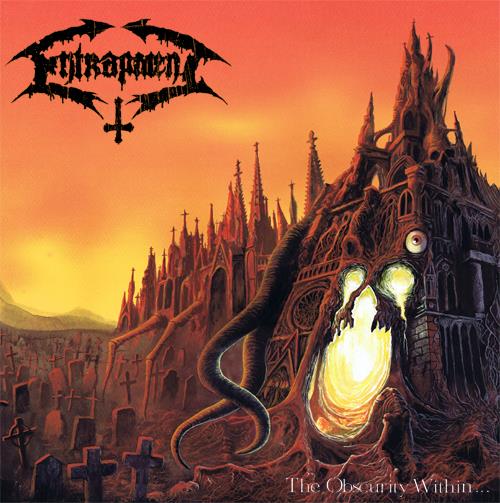 Album of the Week:
Entrapment, The Obscurity Within... (Soulseller):
Originally released in Europe last October, his project by Dutch multi-instrumentalis​t Michael Jonker is easily the best album in a very thin week for new releases. Superbly composed death metal, it feels derived mainly from the style of the great Possessed: simple, unholy, and filthy, crossing over to thrash and doom from time to time, but always making sure the stench of death permeates the music. More primitive than "brutal", it's also a lot more dynamic than most death metal albums these days – another byproduct of being so stubbornly old-school – exemplified brilliantly by such tracks as "Anxiety" and "Shallow Breath". Still, it's all about the attack on The Obscurity Within…, which often has a raw punk rock element to it, and at 32 minutes it's succinct, vicious, and great fetid fun. Highly recommended.
Also out this week:
Black Veil Brides, Wretched and Divine: The Story Of The Wild Ones (Lava): They might look like a cross between Pretty Boy Floyd and E-Z-O (remember them?), but Black Veil Brides are a very lightweight active rock band dolled up as a glam metal band, with more in common with Nickelback than Mötley Crüe. Despite severely lacking edginess, though, at the very least the songs on this self-described rock opera boast some good hooks, as on "We Don't Belong" and "Devil's Choir". The highest praise I can give this record is that it's competent pop music.
Corpus Mortale, Fleshcraft (Deepsend): This is passable, slickly recorded death metal that isn't afraid to be catchy, but the songs by Danish band lacks personality, which ultimately makes it all a pointless exercise.
Kontinuum, Earth Blood Magic (Candlelight): The Icelandic band has been attracting a lot of praise from the European metal press, and on their debut album at times you can hear why. Doom, black metal, post-metal, NWOBHM, goth, and even indie rock all collide, making for an intriguing, eclectic sound, but as the album goes on the more it suffers from a lack of focus. Still, tracks like "Endgame" and "Red" show that the potential for great things is there.
Newsted, Metal (Chophouse): It's great to see Jason Newsted making music again, but the bottom line is that he's always been much better as a supporting player, which quickly becomes obvious when you hear this new four-song EP. His voice lacks range, while the music itself is ordinary at best, often sounding like Load/Reload leftovers. That said, it's a lot better than Echobrain.
Nine Covens, On the Dawning of Light (Candlelight): Good orthodox black metal from the UK, bolstered by atmospheric songs and vocals that remind me a lot of Nachtmystium. The brooding "The Mist of Death" and the propulsive "The Fog of Deceit" highlight a predictable but at times well-made album.
Philip Anselmo and Warbeast, War of the Gargantuas (Housecore): This split CD is an odd one. The charismatic Anselmo is in good vocal form on his two tracks, but while they are plenty aggressive enough, both songs are a far cry from Pantera and Down, wavering wildly with no real hooks for listeners to latch on to. Warbeast, on the other hand, serve up a pair of strong thrash songs that keep things simple instead of trying to do too much.
Wallachia, Shunya (Debemur Morti): The brainchild of Norwegian multi-instrumentalis​t Lars Stavdal, Wallachia isn't afraid to combine straightforward symphonic black metal with touches of progressive metal. Although the tinny production leaves a lot to be desired, it's mildly interesting, and its sound is quirky enough to stand out.
Zatokrev, The Bat, the Wheel, and the Long Road to Nowhere (Candlelight): At times this album by the Swiss band is impressive death-tinged doom – "Goddam Lights" is a keeper – but whereas 35 to 40 minutes would have been a perfect length, this thing plods on and on for 76 spirit-crushing minutes. It's such a long album that by the end you forget what made this record seem so appealing in the first place. Less is more, guys. In this case, a lot less.
live local music on
Enter your ZIP code to see concerts happening in your area.
Data provided by Zvents
follow msn music