Lamb of God Manager Insists Randy Blythe is Innocent
"He did nothing wrong."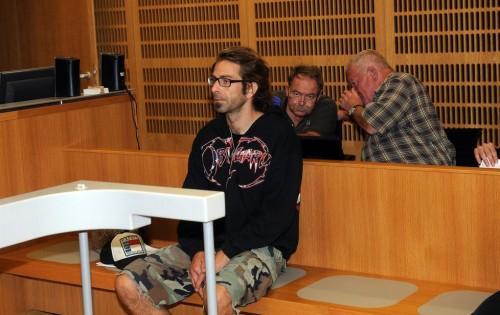 On Tuesday, six days after being charged with manslaughter stemming from a 2010 incident at a concert that left a fan dead, Lamb of God singer Randy Blythe officially posted 4 million Czech Koruna, approximately $200,000, in bail, and it was expected he would remain in custody in Pankrác Prison in Prague until at least this coming Monday because of a two-day holiday in the Czech Republic this weekend.
However, in a new interview with Czech news outlet Blesk.cz, which has been translated by Blabbermouth, Lamb of God manager Larry Mazer is still uncertain when Blythe will be able to go home, saying, "The bail [in the amount of $200,000] was posted Tuesday morning [July 3]. We tried to make bail on Monday, but everything took a bit longer to be processed. Randy should be released immediately. His lawyer told us so on Saturday [during a court hearing]. In the U.S., he would have been. You post the bail and you're free… I was told that it may take up to 20 days - that the investigator may require more time to investigate the case."
Also worth noting is Mazer and the band's amazement that they had not heard of the death of the fan – a 19 year-old musician identified by TheGauntlet.com as Daniel Nosek, who had died of a brain hemorrhage after the incident – two years ago. "Nobody had contacted us in the last two years. My contact information is publicly available, but I never heard from the family [of the deceased fan]. We did not even hear anything about it from the concert organizer. Nobody called us to let us know…The organizer of the concert at Abaton [the club where the 2010 concert took place] now says that the Czech police contacted him three months after the boy died. I do not understand why no one got in touch with us to let us know. The boy was in a coma and then he died, and we never heard from anybody… No one told us anything. Do you think that I would send the band to the Czech Republic to play a concert knowing that something like this could happen? No way!"
Meanwhile, Blesk.cz also interviewed Blythe's attorney Martin Radvan and clerk Tomáš Morysek. Translated again by Blabbermouth, Morysek said, "[Randy] was in complete shock [when he found out about the fan's passing]. For two whole years he never knew that someone had died after the band's concert in Prague and he had no chance at all to deal with it. I am convinced that if he had known about it, he wouldn't have shied away from facing criminal prosecution."
In an interview with Rolling Stone posted today, Mazer says this whole incident will likely result in more efforts made to ensure the safety of bands and audiences at metal shows: "This has got to be a wake-up call to every performer in the world, that what you thought was your safe haven is absolutely – as witnessed by the Dimebag Darrell thing and now this – no longer your safe haven. For some reason, kids feel that the purchase of a ticket enables them to go up onstage. What's Randy Blythe supposed to do? How does he know the guy's not coming at him with a gun or a knife? Let's not forget, a Lamb of God fan did die, which is a tragedy. But having said that, every performer should look at this now and be very concerned about what their rights are on a stage, when someone comes running at you."
[photo courtesy Blesk.cz]
live local music on
Enter your ZIP code to see concerts happening in your area.
Data provided by Zvents
follow msn music