Review: UFO, 'The Chrysalis Years (1973-1979)
Revisiting UFO's glory days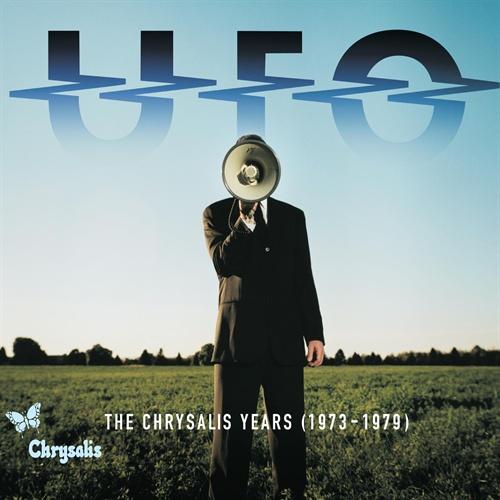 Back in the mid-to-late-'70s several bands rose to prominence in heavy metal and hard rock, in retrospect serving as a bridge between the first wave of metal progenitors and the New Wave of British Heavy Metal explosion: among them Rainbow, Judas Priest, Scorpions, Rush, Van Halen, Kiss (to a lesser extent), and UFO. The latter band, London's UFO, has long fascinated me. Just like Montrose did on their 1972 debut and Van Halen did on their incendiary 1978 debut, UFO brought a swagger that heavy rock sorely needed. Of all the great lead singer/lead guitarist tandem's in hard rock history, UFO's ranked among the best, the soulful, raspy-throated Phil Mogg complemented perfectly by the flashy young hotshot Michael Schenker. The band enjoyed success, even modestly breaking through in the States, but as the years have gone on, despite the fact that they're still motoring along putting out new music, UFO just doesn't seem to be spoken in the same breath as those other bands often enough anymore, especially Stateside.
EMI must have been thinking the same thing, as they've just put out a fantastic little five-disc set devoted fully to UFO's glory days. Titled The Chrysalis Years (1973-1979), the set is just that, covering UFO's output during their time with Chrysalis Records. No fewer than seven albums' worth of material, more than six hours' worth of music. Wait, you're thinking, didn't you say there were five CDs? There's the catch. If you're looking for all the albums stacked neatly alongside each other, then you're better off buying the recent remastered versions of 1974's Phenomenon, 1975's Force It, 1976's No Heavy Petting, 1977's Lights Out, 1978's Obsession, and 1979's Strangers in the Night individually. If you're all for getting maximum bang for your buck, however, then this set is for you. As much space is used on each CD, which means everything's crammed together. For example, at one point Disc Three has Side Two of Force It, then all of No Heavy Petting, then Side One of Lights Out. Everything's in chronological order, but it is a bit of a mishmash, no question, and the versions here are the same as the most recent remasters. But considering the quality of music her, there's no reason to complain.
The Chrysalis Years starts off four years into UFO's history, first with the "Give Her the Gun" single and the Phenomenon album. The band's previous two full-lengths, 1970's UFO 1 and 1971's UFO 2: Flying, aside from minor success in Japan and Europe, fell flat commercially, and it wasn't until they recruited the 18 year-old Schenker to replace guitarist Mick Bolton that UFO started to find itself as a band. While Phenomenon still had the kind of cautious moments that were heard on the first two albums, the breezy rocker "Too Young to Know" and Schenker showcases like "Oh My", "Doctor Doctor", and the incredible "Rock Bottom" were more than enough to show just how much potential this band had. Disc Two is particularly interesting, as we're treated to a previously unreleased live set recorded in Atlanta in November 1974. Although it sounds like UFO is playing in front of a totally apathetic band, with zero reaction during the songs – clearly they were new to America at the time – the band is scorching, Mogg and the shredding Schenker backed up by the solid, groovy rhythm section of bassist Pete Way and drummer Andy Parker.
The brilliant Force It finds UFO truly coming into its own, the four-man unit sounding tight and ferocious – Schenker's guitar tone is wickedly raw, Way's bass more prominent in the mix - the record highlighted by the rampaging "Let it Roll", the Thin Lizzy-esque "Shoot Shoot", the crunching "Mother Mary", and the brooding "Out in the Street". No Heavy Petting feels road-weary by comparison, but in a good way, heavy, more controlled grooves dominating tracks like "Natural Thing", the melancholy "I'm a Loser", and "A Fool in Love". The lugubriousness of that album just sets you up for the majesty of the spectacular Lights Out. UFO's defining album, it's as close to perfect as they ever got on record. Surprisingly diverse for an arena rock album, the energy on Lights Out is palpable to this day. You've got the cocky "Too Hot to Handle", the piano-accented (by then keyboardist/rhythm guitarist Paul Raymond had joined the fold) "Just Another Suicide", a shockingly effective cover of Love's psychedelic classic "Alone Again Or", the explosive title track (which anticipates the ferocity of the NWOBHM), and the coup de grace in the form of the staggering epic ballad "Love to Love".
Although it doesn't match Lights Out step for step, Obsession is a solid follow-up, led by the Schenker-led rocker "Only You Can Rock Me" and the gorgeous melodies of "Cherry" and the bluesy stomp of "You Don't Fool Me". Recorded in Chicago and Louisville in 1978, the following live album Strangers in the Night is so good it completely overshadows Obsession, a spot-on perfect live document of the band at the peak of its power. Featuring 13 of the band's greatest songs, including spectacular renditions of "Doctor Doctor" and "Rock Bottom", it ranks right alongside Motörhead's No Sleep Till Hammersmith and Iron Maiden'sLive After Death as one of the finest live albums in heavy metal history.
Very reasonably priced by EMI and packaged in a minimalist fatboy jewel case, The Chrysalis Years is absolutely essential listening for those who are unfamiliar with UFO. You might be headed back more than three decades listening to these recordings, but it won't take long until you hear just how well the songs have aged, and how ahead of their time UFO truly was.
live local music on
Enter your ZIP code to see concerts happening in your area.
Data provided by Zvents
follow msn music