25 @ 25: Metallica, 'The $5.98 E.P.: Garage Days Re-Revisited'
"I got somethin' to say..."
Metallica have been putting out woefully inconsistent music for so long now – 21 years and counting – that there's now an entire new generation of listeners who are unaware that Metallica actually used to be über-cool. Not only were they unquestionably the best metal band in the world from 1983 to 1988, but they were tastemakers as well. Those of us who followed Metallica closely were turned on to so many great bands we'd never heard of, whether it was from hearing them name-dropped by the band members, the t-shirts they wore, their tattoos, or the songs they covered. Diamond Head, Misfits, Samhain, Faith No More all were bands we got to know thanks to Metallica's influence. They played great music of their own, but back then their taste for outside music was impeccable.
At the start of 1987 I was obsessed with one particular song that Metallica had covered. I had just seen them live for the first time ever in December of 1986, where they had played an incredible tune called "Am I Evil?", which was originally recorded by Diamond Head some six or seven years prior. Although Diamond Head's seminal debut album Lightning to the Nations was impossible to find at the time, I did stumble across a two-dollar cassette copy of their second album Borrowed Time, which had a re-recorded version of the song. That re-done version sounded far too tepid, though, and not long after, I tracked down the record I so dearly wanted: Metallica's "Creeping Death" 12-inch single. Many Metallica fans bought that record strictly for its two b-sides; nostalgically titled Garage Days Revisited, Side B featured two covers of NWOBHM gems, Blitzkrieg's "Blitzkrieg" and that epic recording of Diamond Head's "Am I Evil?" Needless to say, once I got my 16 year-old paws on it, it quickly became one of my most-played records of 1987.
At the same time, Metallica was off the road after an extremely emotional and intense tour in support of the landmark Master of Puppets, which saw bassist Cliff Burton die in a bus crash in September 1986 and Flotsam and Jetsam's Jason Newsted hired as a replacement weeks later. With the band committed to playing on the gigantic Monsters of Rock tour across Europe in the summer of 1987 (alongside Bon Jovi, Dio, Anthrax, W.A.S.P., and Cinderella), it was proposed by their UK label Vertigo that they put something out, just to have a new product to flog. Typical of the band, it took them forever to write new songs ("Blackened" is said to have been the only one written at the time) and guitarist/singer James Hetfield had suffered a broken arm while skateboarding earlier that year, and with the deadline inching ever closer, it was decided to slap together some more covers in a similar manner as Garage Days Revisited.
Recorded over the course of six days after rehearsing in Lars Ulrich's El Cerrito, California garage, the shrewdly titled The $5.98 E.P.: Garage Days Re-Revisited – specifically named to prevent American stores from overcharging Metallica's fans (see, they once did care about their fans!) – might have been put out primarily as a stopgap release between albums, but for fans like yours truly, it was a revelation. Five eclectic tracks, which most of us had never heard before, spanning 25 minutes, ranging from the NWOBHM, to post-punk, to proto-metal, to hardcore punk, every track very different from the other.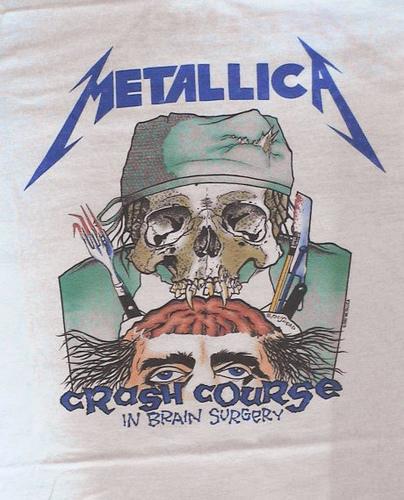 (above: one of the more underrated Metallica t-shirt designs of the 1980s)
From the same classic album as "Am I Evil?", you can tell just how much Diamond Head's "Helpless" influenced Metallica. It's simply a perfect fit. Performed with even more emphasis on speed – those who continually harp on Lars Ulrich's playing forget how great a drummer he was during Metallica's first ten years – and played with such taut ferocity, it remains the best cover Metallica has ever recorded. The next track is even more obscure, Holocaust's "The Small Hours", taken from the Scottish band's 1983 live album Live (Hot Curry and Wine). A creepy, doomy tune with a massive, lumbering stomp of a rhythm riff, it fits in perfectly alongside Puppets' "The Thing That Should Not Be", and eventually "Harvester of Sorrow" from 1988's …And Justice For All. The band could pull off those slower songs exceptionally well back then, and "The Small Hours" was further proof.
The martial beat of Killing Joke's "The Wait" is the most peculiar inclusion on the EP, but it's a track that wriggled its way into the heads of fans, including myself (it was the first time I'd heard a song by the mighty Killing Joke). Kirk Hammett and Hetfield hammer out that distinct, abrasive Geordie Walker riff with force, underscored by Ulrich's insistent, primal beats. Most of us knew even less about Welsh band Budgie at the time, but Metallica's take on 1974's "Crash Course in Brain Surgery" is inspired, the foursome absolutely owning that distinct, slightly psychotic riff and groove that makes up the bulk of the song. And as a hilarious touch, they sidestep the original version's cheesy "Oh baby, I can rock and roll" parts by simply pausing and adding drunken howls.
And of course, capping off the EP is the now-famous medley of the Misfits' "Last Caress" and "Green Hell". For the longest time I had seen the Misfits logo and album covers, yet had never even imagined that the music inside could be so damned catchy, but whether it was the morbid funny "I got somethin' to say / I killed your baby today" or the full-on speed of "Green Hell", this was ridiculously catchy punk rock, given a suitably metallic treatment by Metallica themselves. And for good measure, an intentionally sloppy jam of Iron Maiden's "Run to the Hills" brought the raucous, fun EP to a close.
The way Metallica embraced punk and post-punk sounds on Garage Days Re-Revisited made it as influential as S.O.D.'s crossover classic Speak English or Die, if not more, in that it helped bring even more metal fans to the punk side of the fence than ever. The EP might have been quickly tossed off and assembled, and of course it was bookended by a pair of truly colossal Metallica albums, but in its own quirky way it did have an impact on listeners in 1987, especially among teenagers. We might have been right smack in the middle of the greatest era in heavy metal history in the summer of 1987, but there was a lot of other great older, lesser-known music to discover, and Metallica played a very significant role in showing us that.
The $5.98 E.P.: Garage Days Re-Revisited is out of print, but is part of the 1998 Garage, Inc. compilation. The individual tracks can be purchased individually at iTunes:

"Crash Course in Brain Surgery"
live local music on
Enter your ZIP code to see concerts happening in your area.
Data provided by Zvents
follow msn music