Stream Voivod's new album 'Target Earth'
Full-length to be released January 22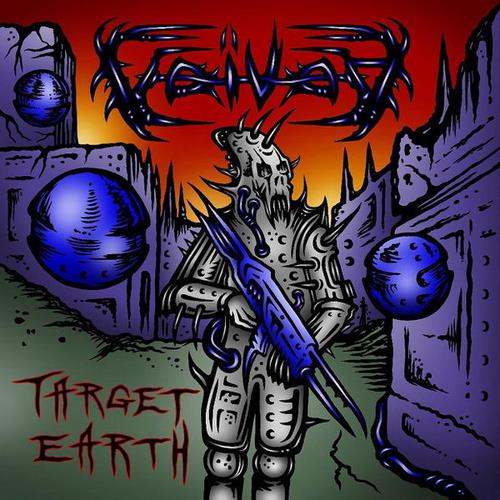 Although it was wonderful to see Voivod put together two very good albums using demo guitar tracks recorded by Denis "Piggy" D'Amour before he died of cancer in 2005, one thing a lot of fans were afraid to admit was that as fun as Katorz and Infini were, it was a shame that the songs couldn't have been fleshed out more, displaying the kind of challenging, progressive sounds the band is renowned for.
A few years ago drummer Michel "Away" Langevin even went as far as to say that he could realistically see Infini being the final Voivod album. However, something changed when the band brought in Martyr guitarist Dan Mongrain to play some shows in 2008. Mongrain, who grew up a massive Voivod fan and modeled his own style off that of Piggy, was not only able to replicate those distinct riffs perfectly, but he breathed new life into the band. In addition, original bassist Jean-Yves "Blacky" Theriault came back to the band - he had left in 1991 – and all of a sudden Voivod was rethinking their future. 2011 saw them surprise many by debuting new songs live, and word spread that they had a new album in the works.
That album, Target Earth, will be released on January 22, and is now streaming online over at CBC Music. And as you'll hear, it's the most exciting Voivod record since 1993's The Outer Limits. The songs, all co-written by Mongrain and Blacky, return to the complex style of that 20 year-old album, yet not for a second does it feel like self-plagiarization.​ Longtime fans of the band have every reason to be elated: Target Earth is a massive return to classic form by a band that feels creatively jump-started, and now you can hear it for yourself.
Stream Voivod's Target Earth in its entirety here.
live local music on
Enter your ZIP code to see concerts happening in your area.
Data provided by Zvents
follow msn music