25 @ 25: Guns N' Roses, 'Appetite For Destruction'
"You know where you are?"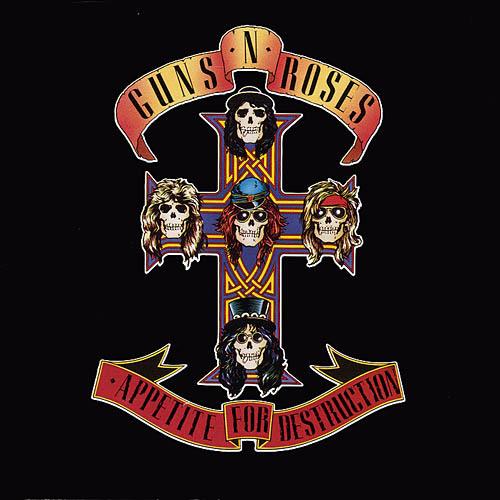 June 1987 was arguably the first real high water mark for mainstream (or "glam", or "pop") metal, with Mötley Crüe's fourth album Girls, Girls, Girls leading the way, peaking at number two on the Billboard album chart. That album had a song called "Wild Side" that was the most perfect encapsulation of what Crüe wanted to be all about: gritty, sleazy, gutter rock 'n' roll. Crüe wanted to sound dangerous, look dangerous, be dangerous, and despite a woefully inconsistent album that nevertheless sold by the bucketload, that gimmick was for the most part working. Then that summer, one cunningly marketed debut album came along and blew all of the Sunset Strip competition out of the water. In one fell swoop, Mötley Crüe was rendered irrelevant, passé. There was a new band in town that captured Hollywood sleaze better than anyone before or since, and that album, which turns 25 years old tomorrow, became an instant rock 'n' roll classic.
Much has been written about Guns N' Roses and the epochal Appetite For Destruction, about how a couple of Indiana boys named William Rose, Jr. and Jeffrey Isbell moved to Los Angeles, changed their names to Axl and Izzy, formed a band called Hollywood Rose, and eventually joined forces with members of another band called LA Guns to form, you guessed it, Guns N' Roses. Throw in a drummer from Cleveland, a guy from Seattle who used to play in the Fastbacks, a ridiculously talented British-born guitarist who was so cool Seymour Cassel gave him his now-famous nickname, a knack for the kind of edgy songwriting the LA scene lacked, and a record deal with Geffen, and you've got the stuff of legend. However, I won't get into the backstory. It's widely known, and besides, that's what Wikipedia's for. I'd like to focus more on the actual songs on Appetite For Destruction, as well as my own personal memories.
What a lot of younger people don't know is that it took quite a while for Appetite For Destruction to break through to the mainstream consciousness; it wasn't anywhere near the overnight sensation some might assume it was. At first it was heavily marketed toward the metal crowd, and if you were a headbanger in 1987 the hype surrounding Guns N' Roses was impossible to miss. Reviews of the famous fake "live" EP Live ?!*@ Like a Suicide surfaced early that year – the first time I ever heard of the band was in a review of the EP in Rock Scene magazine – and that summer full-page ads were prominent in every glossy metal mag. Sucker that I was, I got the album not long after it came out, without having heard a note, and that was it. I was floored by what I heard: the riffs, the sleazy grooves, the hooks, the singer who had a supercool low voice one minute, a strange scratchy squawk the next. I was the first of my circle of metalhead friends to own the cassette, and it wasn't long before everyone I knew was asking to borrow it so they could take it home to make a dubbed copy. One of those magazine ads for the album featured the full, banned Robert Williams artwork, and that earned a place of honor in my Catholic school locker for the entirety of the 12th grade.
When the "Welcome to the Jungle" single and video came out in October 1987, it might have gotten airplay on the metal video shows, but it tanked as a mainstream release. By the end of the year Appetite still hadn't attracted the attention of most people. While the jocks at school still drooled over Girls, Girls, Girls, Bon Jovi's Slippery When Wet, and Judas Priest's Turbo, for us metal dirtbags Guns N' Roses was still our little secret. Those people could have their high-gloss crap to listen to; we had the real deal. It was all we listened to, right through to the spring of 1988. It defined our final year of high school. Even when "Sweet Child O' Mine" and "Paradise City" propelled Guns N' Roses to superstardom in the spring and summer of '88, we'd scoff and claim the real meat of the album could be found in deeper cuts like "It's So Easy", "Nightrain", "Mr. Brownstone", and "Rocket Queen". But we all knew Appetite For Destruction was far too good an album to merely bubble under the surface of middle-of-the-road culture, and as 1988 wore on it soon became the most ubiquitous rock album of that year, so much that its massive popularity became a real turn-off to those of us who were selfishly content with having the music to ourselves. But that's how it went when you were a metal fan at the time. Besides, we'd already moved on to obsess over new albums by Queensrÿche, Iron Maiden, and Metallica anyway.
Appetite might have spawned countless sleaze rock imitators that would crop up for the next four years, but it didn't profoundly influence popular culture like Nirvana's Nevermind would in 1991. Instead it ranks as the only true, indisputable classic work from a scene that yielded an astonishing amount of dreck. Its crassness, its attitude, its lasciviousness outdid all the Sunset Strip bands of the time, but even better was how it countered that arrogant façade with genuine soul and substance in the songwriting, something no other LA hard rock band in the 1980s could pull off. A glorious, rancid sow's ear in a scene littered with silk purses, it remains unquestionably the best display of rock 'n' roll badassery since The Rolling Stones' Exile on Main St.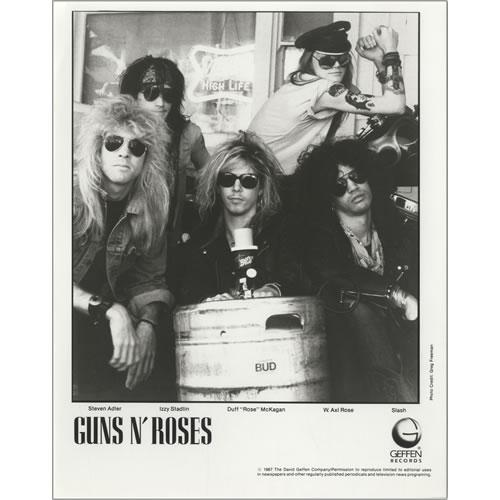 Side One:
"Welcome to the Jungle"
The song that became the soundtrack of a bazillion hockey arenas and football stadiums, the overall impact of "Welcome to the Jungle" has been lessened thanks to its ubiquity, but in 1987 it was an absolutely savage take on the Hollywood dream. While Poison would sing sweetly about their fallen angels, Axl Rose was much more realistic. "You know where you are? You're in the jungle, baby…you're gonna die!" said more in just a few seconds than Mötley Crüe had bothered to do in nearly ten years previous. It remains one of the best opening songs in rock history.
"It's So Easy"
This was the first song that grabbed me by the throat when I first played the album. It had The New York Dolls' trashiness all over it, from the nasty riffs by Slash and Izzy Stradlin to the awesome lower-register delivery by Rose. In an age where bands like W.A.S.P. ostentatiously used the f-word to attract attention, the way Rose so blithely mutters, "It's so f**kin' easy" was so much more effective. Plus 1980s misogyny didn't get any sleazier than, "Ya get nothin' for nothin' / If that's what you do / Turn around bitch I got a use for you / Besides you ain't got nothin' better to do / And I'm bored." Needless to say Tipper Gore was all over that line like chocolate on a Ring Ding.
"Nightrain"
Named after the popular bum wine Night Train Express, this song is dominated by Rose, who snarls such inspired lines as, "Well I'm a west coast struttin' One bad mother got a rattlesnake suitcase under my arm…I got a Molotov cocktail with a match to go I smoke my cigarette with style." All charisma, "Nightrain" brilliantly evokes 1970s Aerosmith, back when Joe Perry and Steven Tyler were at their most toxic.
"Out ta Get Me"
If there's one song that comes perilously close to Sunset Strip cliché, it's this track. But the vicious guitar interplay of Slash and Stradlin, coupled with Rose's palpable rage and defiance ("Lemme see ya try!"), makes this a keeper.
"Mr. Brownstone"
With its inspired use of that unmistakable Bo Diddly beat, "Mr. Brownstone" is one of the cleverest songs on the album, as Slash and Izzy deliver some of their grittiest riffs while Rose, using that awesome low voice again, accurately paints a portrait of heroin addiction: "I used to do a little but a little wouldn't do it / So a little got more and more."
"Paradise City"
This is as ingeniously arranged a seven-minute song as you'll ever hear: it starts off with a pastoral, wistful intro, then that whistle blows, waking you from a reverie, and you're dragged back to reality, Slash and Izzy shamelessly stealing the riff from Black Sabbath's "Zero the Hero" as Rose sings of urban filth and cultural decay ("The surgeon general says it's hazardous to breathe / I'd have another cigarette but I can't see"). Then, right when you think the song's going to fade out, the song explodes into a furious two-minute jam reminiscent of the great Hanoi Rocks. It's no wonder the song is now a classic rock staple; it's a rousing epic.
Side Two:
"My Michelle"
Perfectly timed after the anthemic "Paradise City", its strange, descending intro riff isn't unlike the wonky grooves that Megadeth was coming up with at the time. The song itself is about a friend of the band's who was in serious trouble with drugs, but for all of Rose's bluster ("You stay out late at night / And you do your coke for free / Drivin' your friends crazy / With your life's insanity") there's nevertheless compassion underneath it all.
"Think About You"
This has to be the most overlooked song on the entire album. There's not too much to it, more of that Aerosmith/Hanoi Rocks worship, that is until the chorus kicks in, that acoustic guitar lending the otherwise trashy-sounding song a Replacements-style air of innocence.
"Sweet Child O' Mine"
Slash's cornball intro, initially done as an exercise. Duff McKagan's upper-register bass melody, a little derivative of Peter Hook from New Order. A beat too brisk to be a power ballad. Axl's disarmingly sweet lyrics dedicated to Erin Everly, his girlfriend at the time. Key change from F# major to E flat minor. The single greatest hard rock guitar solo of the 1980s, perhaps ever. A moment of doubt: "Where do we go now?" Some astonishing interplay between Axl and Slash. An ending that's uncertain, and surprisingly downcast. That video. A musical legacy defined in four seconds shy of six minutes.
"You're Crazy"
Another well-timed track, this time shifting the pace by bringing full-on speed. The shortest song on the album, it's also a great example of the dynamic between Slash and Izzy, which can without exaggeration be compared to Keith Richards and Ron Wood. They complement each other perfectly.
"Anything Goes"
One of the oldest songs on the album, dating back to the Hollywood Rose days, "Anything Goes" is a simple blast of Aerosmith-derived fun – dig that talk box by Slash – before the big finale kicks in.
"Rocket Queen"
A song unlike anything on Appetite, "Rocket Queen" kicks into a nasty funk groove – initiated by McKagan - that features the filthiest guitar work on the record, from the rhythm riff to the lead fills. Rose's verses, from the point of view of a sexually aggressive woman, eventually build to the song's notorious instrumental break, over which the sound of a sex act can be heard (which, as would eventually be revealed, was real). After three and a half minutes, though, the song abruptly stops and kicks into a much more upbeat coda, during which Rose shifts the perspective to the woman's male companion. Like on "Sweet Child", it's a moment like this that separates Appetite from every other LA glam album, as Rose shows compassion and vulnerability from the male point of view: "If you need a shoulder / Or if you need a friend / I'll be here standing / Until the bitter end." On an incredibly bold album, the last half of "Rocket Queen" is its most audacious moment.
live local music on
Enter your ZIP code to see concerts happening in your area.
Data provided by Zvents
follow msn music