New Releases For June 5, 2012
One of Sweden's best traditional metal bands returns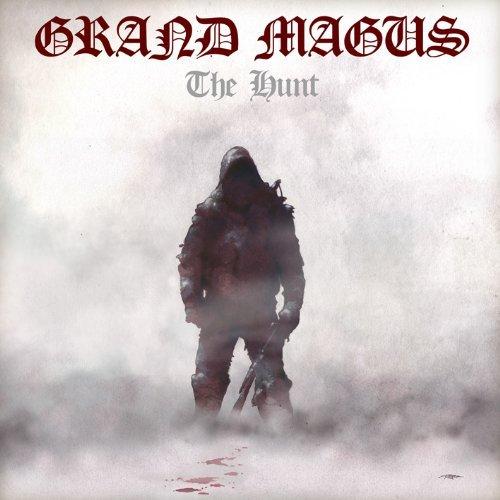 Album of the Week:
Grand Magus - The Hunt (Nuclear Blast)
The fact that Grand Magus isn't a bigger band than they are is a mystery. For years now the Swedish band has been putting out album after album of first-rate traditional heavy metal, emphasizing melody all the while, whether in the riffs, the guitar solos, or the lead vocals. Unlike a band like HammerFall and a lot more like Rage, there's never any trace of goofiness; just simple, impassioned songs about tried-and-true metal topics, singer/guitarist Janne Christoffersson selling it convincingly in a strong, masculine voice, powerful but not flamboyant. And the songs stuck in your head immediately. What's not to like? It's the kind of metal music that should resonate with every single metal fan, young and old. Sadly, they've never gotten the push they deserved, and things got even worse when 2010's excellent Hammer of the North didn't even get a proper physical North American release.
With their sixth album, though, they finally have a big label behind them in Nuclear Blast, and as if knowing this was their best shot yet, Grand Magus has come through with an absolutely rousing, hook-riddled album that ranks as their finest to date. Produced by Nico Elgstrand, the new material is more streamlined, more melodic, and not as heavy as their previous work. While the arrangements are still robust enough, the arrangements are built around Christoffersson's strong singing, and he's never sounded better, whether on the fabulous, Graham Bonnet-esque "Starlight Slaughter", the stately "Valhalla Rising", or "Storm King". The deeper into the album you go, though, the bolder the band becomes, as the epics "The Hunt" and "Son of the Last Breath" show how powerful a metal song can be if a little restraint is shown. Hopefully this album will be the one that connects this truly great band with a larger audience.
Also out this week:
The Agonist, Prisoners (Century Media): First of all, it's nice to see the Montreal band ditching the high-gloss trappings in favor of a more robust, technical/prog-orien​ted approach on their third album. Unfortunately the same old problem remains. Despite boasting a powerhouse vocalist in Alissa White-Gluz, who switches from an authoritative growl to strong clean singing in a heartbeat, the songs here rarely if ever (save for the passable "The Mass of the Earth") give her anything to work with as far as melodies go. Despite the punchier band performance, the songs here are as hookless and patently forgettable as their last two albums.
Architects, Daybreaker (Century Media): The UK music press has always had a soft spot for this Brighton, England band, and are absolutely fawning over their fifth album. Personally, their metalcore has never interested me at all in the past, but there's no doubt they've made some significant improvements on Daybreaker. There's more maturity in the songwriting, more variety, and a much better balance of the band's noisecore influences and their strong post-hardcore melodies. It's not the kind of transcendent album some folks are making it out to be, but it's a big step forward.
At The Skylines, The Secrets To Life (Roadrunner): Remember in St. Elmo's Fire when Andrew McCarthy landed a front page column in the New York Times called "The Meaning of Life"? A terrible metalcore band calling its unlistenable album The Secrets of Life is almost as ludicrous.
Call Me No One, Last Parade (Warner): This side project of Sevendust members Clint Lowery (guitar) and Morgan Rose (drums) is a lot more active rock radio-oriented, not as heavy as their main band, and safe as this album is, the hooks are there, and with an album like this, that's all that matters.
Candlemass, Psalms For The Dead (Napalm): It's hard to believe any time a band declares that their new album will be their last, but if this is indeed the last time we'll ever hear from the great Swedish doom band, they've gone out on a very high note. Just as on 2007's King of the Grey Islands and 2009's Death Magic Doom, Robert Lowe does a stellar job in the lead singer's role, selling the classic, Sabbath-inspired tunes with Dio-like authority. Sadly this past weekend the band announced Lowe is out and will not be performing this summer, and if there's no Messiah Marcolin reunion in Candlemass's future, then maybe it is a good time to hang it up after all.
Carach Angren, Where The Corpses Sink Forever (Season Of Mist): I'm not usually one to quote band bios, but the Dutch band's label says this album "rivals the masterful craftsmanship of Rembrandt, Bruegel and Vermeer in their vivid imagery and depth of detail." Um, no. Not quite.
Circus Maximus, Nine (Frontiers): Five years after the very impressive Isolate, the Norwegian progressive metal band is back with a third album that focuses a little more on the guitars than keyboards, but their melodic, tasteful take on prog is as strong as ever, loaded with gracefully epic compositions and exceptional vocal hooks ("Game of Life" is a perfect example of the latter). They've never put out a bad record, but this is as good as Circus Maximus has ever sounded.
Cory Smoot Experience, When Worlds Collide (Metal Blade): It's tough to knock an album whose release is is a loving tribute, but this solo project by the late Cory Smoot of GWAR it too inconsistent to fully recommend, plus Smoot's lead vocals simply aren't charismatic enough. Still, all proceeds are being donated to Smoot's family, so if you're a fan of GWAR, buying this album goes to a good cause.
Fear Factory, The Industrialist (Candlelight): After releasing the shockingly good comeback album Mechanize in 2010, drummer Gene Hoglan and bassist Byron Stroud have since left, and Dino Cazares and Burton C. Bell have since focused more on the industrial side of the band's music. With its programmed drums and amped-up synthesizers, The Industrialist hearkens back to the much-loved Demanufacture, with Bell coming up with some strong vocal melodies amidst all the screaming. It's not quite on par with Mechanize, but it faithfully adheres to the Fear Factory formula ("Recharger" and "Depraved Mind Murder" are a couple of standouts), and fans will love it.
Felix Martin, Live In Boston (Prosthetic): Here's your ridiculous, Guitar Nerd Album of the Week. This Venezuelan musician is technically dazzling, but it's about as deep as Michael Angelo Batio. For goodness' sake, just look at his guitar.
Kreator, Phantom Antichrist (Nuclear Blast): Kreator has been churning out an admirable string of good albums over the last decade, but on their 13th album the band sounds creatively rejuvenated. Part of the credit goes to producer Jens Bogren, who gives the band their most massive-sounding album in years, but in the end it's all about the songs, and guitarist/vocalist/f​ounder Mille Petrozza has delivered  some fantastic tunes, , from all-out thrashers like "Phantom Antichrist" and "Death to the World", to more varied, melodic outings like "From Flood Into Fire" and "The Few, the Proud, the Broken". Like Destruction's album a year ago, this is another welcome return to greatness by one of Germany's finest metal exports.
Marduk, Serpent Sermon (Century Media): The Swedes' 12th studio album continues right where 2009's outstanding Wormwood left off with another album that's heavy on atmosphere yet deceptively simple in structure. As usual the instrumental arrangements are stubbornly traditional black metal with an uncanny knack for dynamics, but once again it's the vocal work of the charismatic Mortuus that makes this album so memorable, as he growls, spits, and grunts his blasphemous lyrics, imbuing each song with his distinct, inimitable personality.
Melvins Lite, Freak Puke (Ipecac): First off, when Buzz Osborne and Dale Crover say "Melvins Lite", they sure as hell mean it. This is not the current, pulverizing edition of the Melvins that includes Big Business boys Jared Warren and Coady Willis. Instead, King Buzzo and Crover have teamed up with bassist Trevor Dunn (of Mr. Bungle and Fantômas notoriety) to create a subtler, groovier version of the band we've loved for so long. Not only does it succeed mightily, with Dunn adding some quirky depth with his double bass, but this sucker never forgets to rock from time to time, which the trio does on "Leon vs. the Revolution"), "Baby, Won't You Weird Me Out", and an inspired reading of Paul McCartney's "Let Me Roll It". Just like any other Melvins album from the last decade, Freak Puke is weird, it's charming, and it's a total must-buy.
Nachtblut, Dogma (Napalm): The usual polished, melodramatic, German-sung goth metal from the quintet. Neither atrocious, nor exemplary. Just…there, doing its pancake-faced thing.
Panopticon, Kentucky (Handmade Birds/Pagan Flames): Last month I spoke highly of Horseback's Half Blood, praising how it blended Americana and raw black metal, but Panopticon's new album Kentucky just might be even better. And interestingly enough, the blend of disparate styles is a whole lot less subtle. Multi-instrumentalis​t Austin Lunn alternates between bluegrass ("Bernheim Forest in Spring"), traditional American folk ("Which Side Are You On?"), and blazing black metal ("Bodies Over the Falls") each song from the point of view of the Kentucky coal miner, and at first the way the album veers from banjo and fiddle to straight-up black metal is jarring. As it goes on, however, it somehow feels cohesive, thanks primarily to the way Lunn unifies each song with the same theme of struggle, defiance, unity, and honor, to the point where by the end it comes as a staggering realization just how moving this album is. Like Liberteer's Better to Die on Your Feet Than Live on Your Knees, Kentucky is an extraordinary examination of and tribute to American culture channeled through extreme metal. This is a must-own, another knockout release from Handmade Birds. Order the vinyl LP here.
Rise To Remain, City Of Vultures (Century Media): Best known as The Band With Bruce Dickinson's Kid In It, Rise to Remain might specialize in fairly straightforward metalcore, but already on their first album they show they're no slouches when it comes to strong songwriting, and this is some of the catchiest metalcore to come along in a while. If there's one problem with this album it's that young Austin Dickinson relies too much on his growl when he's inherited a very good singing voice from his dad, but one can imagine he and the band drifting away from that gimmick the more they mature. As it is, City of Vultures is a solid debut that hints at even bigger things.
Spider Rockets, Bitten (P Dog): The New Jersey band's Godsmacky, '90s riff rawk is suitably sludgy (the cover of Golden Earring's "Twilight Zone" is a nice touch), but it's a shame they don't fully embrace the sleaze of the 1980s instead and give singer Helena Cos a better backdrop against which to sing.
Ulver, Childhood's End (Kscope): This is the weirdest Ulver album I have ever reviewed, and coming from a band as unpredictable as Ulver, that's saying something. Essentially what they've done on this album is cover 16 songs from the 1960s psychedelic era, including songs by such bands as The Byrds, The Pretty Things, Jefferson Airplane, and The Troggs. What makes this album so weird is how immaculate and straight-faced these covers are. For once, Kristoffer Rygg and his mates are more reverent than experimental, and while that's perfectly fine, some of these songs are so by the book that they start to lack soul, which considering Rygg's wonderful singing voice, is very surprising. Still, the good outweighs the bad, as a song like "I Had Too Much to Dream Last Night" shows how much fun these guys are having performing these old tunes.
live local music on
Enter your ZIP code to see concerts happening in your area.
Data provided by Zvents
follow msn music