Chips & Beer magazine looks back at the "Satanic Panic" of years ago
New issue a must-buy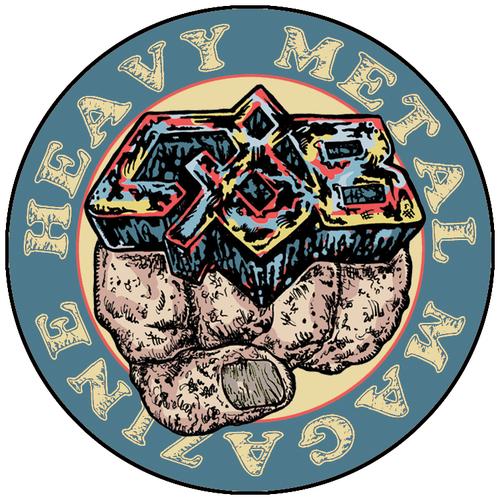 Whenever you finish reading an issue of Chips & Beer magazine, your hands are covered in the black ink that's rubbed off its newsprint pages, which serves as a welcome reminder that when it comes to heavy metal music, you'll have to get your hands dirty every once in a while. All the good print metal mags are still going these days because they have their own niche, and over the past year or so Chips & Beer has done just that. While the other publications have broadened their focus to accommodate the ever-expanding boundaries of heavy and extreme music, Chips & Beer steadfastly sticks the definition of heavy metal that its creators, and the rest of our X-labeled generation, remember from the 1970s and '80s: attitude, blasphemy, adherence to formula, and catharsis through escapism.
At first, without having read the magazine I was a little skeptical about how the its blend of classic heavy metal music, aesthetic, and comic book art reminded me of the outstanding Chromium Dioxide zine in Canada. It wasn't until I read Issue Three's astonishingly detailed guide to New York heavy metal, and when I finally saw Issue Two's massive King Diamond primer, that I realized just how valuable a metal voice Chips & Beer had become in such short time.
Issue Four has just come out, and it's outstanding. Centering on the theme of "Satanic Panic", it gleefully delves into metal's connection - whether intentional or implied - with Satan (Possessed's classic Seven Churches is given a thorough dissection), Satanic themes in cinema, and famous cases of occult-linked crimes and the growth of Devil-fearing paranoia in the 1980s, with an inspired comic book retelling of the McMartin Preschool case spread throughout the magazine. The kicker, though, is one of the most revealing interviews former Ozzy Osbourne and Rainbow bassist Bob Daisley has ever given, as he goes into great detail about his time with Ozzy, the songs he co-wrote for him (those memorable Ozzy lyrics from '81 to '83? All Daisley's), and his falling out with Sharon Osbourne, who continues to refuse to pay he and drummer Lee Kerslake royalties for their work.
Needless to say, this is a must-read yet again. Buy it, delve in, and embrace the filth.
Purchase Issue Four of Chips & Beer here.
live local music on
Enter your ZIP code to see concerts happening in your area.
Data provided by Zvents
follow msn music