KEN Mode Wins Canadian Juno Award For "Metal/Hard Music Album of the Year"
Canadian nominees included Devin Townsend and Anvil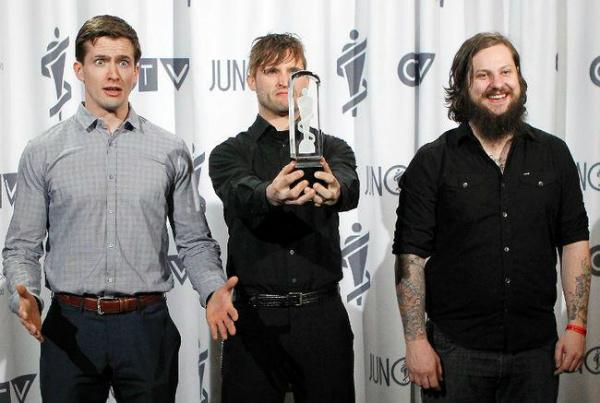 Allow this Canadian a moment of self-indulgence to say a big, "Hell yeah!" to Winnipeg trio KEN Mode for winning the Juno Award – Canada's version of the Grammy – for Metal/Hard Music Album of the Yearthis past weekend. Their fourth album Venerable beat some stiff competition, including Devin Townsend'sDeconstruction, Cauldron'sBurning Fortune, F**k the Facts'Die Miserable, and Anvil'sJuggernaut of Justice. Unlike the bulk of the awards show, which has become a sales-rewarding farce instead of a celebration of artistic merit (a Christmas album beat out Drake's critically acclaimed Take Care for Album of the Year), the new "Metal/Hard Music" category was created with the intention of celebrating the best of Canadian metal and extreme music, and the selection of the noisecore-derived Venerable over the prog metal opus Deconstruction – the odds-on favorite - was a bold, deserving choice. Although I personally listed Deconstruction and Burning Fortune higher on my 2011 list, I'm also an admirer of Venerable, and I couldn't be happier for the hard-working guys in KEN Mode.
Guitarist/vocalist Jesse Matthewsonrecently told the Canadian Press of his band's nomination, "I thought, well, that's kind of cool, but I didn't really take it that seriously because I just assumed it'd be treated more like the Grammys where it's only the very, very big bands that could ever have a hope in hell of getting nominated. And then when I saw the list and it's like ... what is going on here?
"It's nice that Canada's finally waking up to appreciate some of the darker arts…It's cool that hopefully we'll start getting more recognition on a grander scale."
With KEN Mode winning in Canada, Årabrot winning in Norway, Graveyard taking the honor in Sweden, and Children of Bodom in Finland, it's been fun to see some eclectic metal bands rewarded for their efforts this year. Now if only the Grammys would ditch the "hard rock" in the "Best Metal/Hard Rock Performance" category.
In the meantime, if you haven't heard KEN Mode'sVenerable yet, you can stream and order the album on their Bandcamp page, or just buy it on iTunes.
And here's a great example of how intense they can be live, as they tear through "Obeying the Iron Will" at Hellfest in France last summer:
live local music on
Enter your ZIP code to see concerts happening in your area.
Data provided by Zvents
follow msn music