An Introductory Woods of Ypres Mix, By David Gold
Late musician's list of six essential songs by his band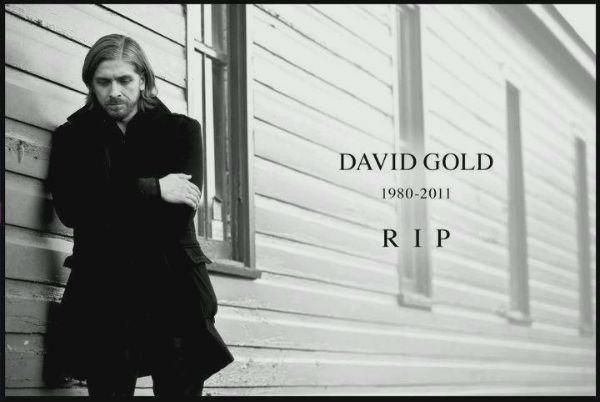 Back in December 2011 I conducted what would wind up being the final interview given by David Gold, singer/guitarist/dru​mmer for Woods of Ypres, which was published in Terrorizer magazine early this year. Because Woods of Ypres was still a band with a small cult following I asked David to email me his suggestions for a "Woods of Ypres primer", a mix of tracks that would serve as the best introduction to the band's large body of work to a new listener. The sidebar never made it into the issue – Gold's death a few days after the interview compelled us to expand the length of the feature – but with the band's final album Woods 5: Grey Skies & Electric Light (Earache) being officially released in North America this week, this is a perfect time to post David's suggestions and commentary, along with iTunes links. If you're new to Woods of Ypres, you can't go wrong with this little mix. It's six bucks well spent, and hopefully it'll help give you a good idea of what made this Canadian band so special.
"A Meeting Place and Time" from Woods I: Against the Seasons - Cold Winter Songs from the Dead Summer Heat (2002). "The original doom-ballad, I consider this the purest expression of WOODS OF YPRES. It's catchy, sad, epic, long and about that first real heartbreak that's so important for everyone to go through." (Purchase at iTunes) 
"Allure of the Earth" from Woods II: Pursuit of the Sun & Allure of the Earth(2004).
"Another doom-ballad, this one about summer depression and longing for the shade and cool earthen walls of a grave. It has since been
covered
by an Australian cello quartet who created a version that surpasses the original."
(Purchase at iTunes)
"Your Ontario Town is a Burial Ground" from Woods III: Deepest Roots & Darkest Blues (2007). "This was meant to be an Ontario rock anthem to be covered by every metal garage band in the province until garage bands became fewer and everyone moved into the cities. It's still one of my favourites." (Purchase at iTunes)
"I Was Buried in Mount Pleasant Cemetery" from Woods 4: The Green Album (2009). "I guess this will in time be considered a must-hear classic for the band, being the epic doom ballad at track 4 (Metallica style) on the fourth album, factoring in the reach that the music video has had in introducing a modern WoY to a wider audience." (Purchase at iTunes)
"You Were the Light" from the Woods IV.5 "Home" 7-inch (2011). "This was another song about pining for the love of Woods 4 that pushes more Woods-pop with a bright catchy chorus amongst guitar dirge. I still hear, and hope for, someone with style to eventually grab this and made a dark-pop-goth-dance remix. Listen to that chorus!" (Purchase at iTunes)
"Traveling Alone" from Woods 5: Grey Skies & Electric Light (2012). "This song was inspired my experience in Kuwait our questions and beliefs about spirituality. It's clean, catchy and traditional with an intro, verse, pre-chorus, chorus, double chorus with an alternate lyric, a meaningful spoken word part and crushing rock outro. An accessible little dark rock track boxed up nice and tight!" (Purchase at iTunes)
Here's what Gold also had to say about "Traveling Alone": "The verses are like dialogue with a customs agent in the airport or even a cab driver who asks questions with a foreigner, usually about religion and family. Kuwait is a very religious and family focused country so if you're a Canadian guy like I was, single at 30 years old, people feel sorry for you as if you missed out on everything that life is supposed to be about. I was actually traveling alone, and had nothing to declare at the airport, as the lyric says, but that also makes reference to my beliefs about life, existence and my thoughts on spirituality that we're all "traveling alone" in our lives. Basically, being a Canadian guy going to Kuwait to work who doesn't believe to have experienced 'God', I understood why the belief in God was so strong in Kuwait because they lived in abundance, referencing the line 'When I look around you, I understand why you believe.  I see your evidence of God all around me. You have so therefore you are, but I have not.  You are too rich for hate and I'm too poor to love.' I was frustrated and felt alone in my frustration."
live local music on
Enter your ZIP code to see concerts happening in your area.
Data provided by Zvents
follow msn music