25 @ 25: Sacrifice, 'Forward to Termination'
A thrash classic from The Great White North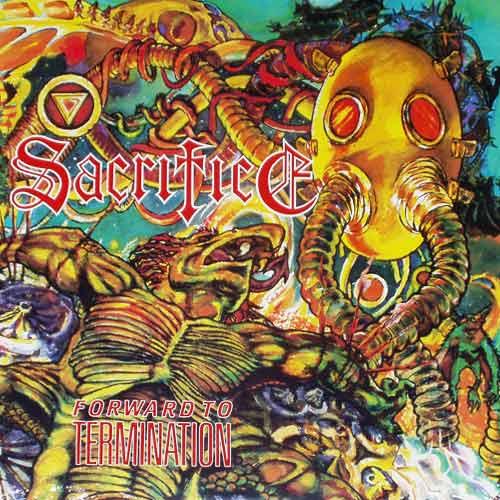 While thrash metal was exploding in the United States and Europe, Canada's own take on the burgeoning genre was strange, to say the least. Before the internet made the world so much smaller, Canadian metal musicians didn't have the benefit being united in a strong community. They were prisoners of their own geography. Because great distances separate Canada's major cities across the massive country, the Canadian metal "scene" wasn't a scene at all, but rather a string of tinier scenes scattered across the country. And thanks to that isolation, the bands that did try to play something outside the post-NWOBHM or glam metal realms were left to their own devices, and always wound up sounding very quirky. Ontario produced some eclectic bands, from the proto-thrash sounds of Exciter, to the outrageous Piledriver, to the hardcore-tinged Razor, to the charmingly sloppy Infernal Majesty, to the very primitive (and death metal precursor) Slaughter. From the West Coast, Annihilator was hyper-technical to the point of sounding tetchy. And over in Quebec, Eudoxis were unintentionally hilarious, and Voivod sounded like thrash metal as interpreted by aliens.
Also because of the lack of unity in Canadian metal, few thrash bands were able build much of a fan base across the country. In the 1980s the way to do it was through the music video. MuchMusic, the Canadian version of MTV, played a monumental role in building the Canadian scene. Because federal "CanCon" laws force broadcasters to air a certain percentage of Canadian content every day, the music channel needed Canadian videos to play on its weekly metal show the Power Hour. At first, pickings were very slim, with clips of kimono-wearing Rush and a bell-bottomed Triumph filling out the CanCon every week. Slowly, though, the Canadian thrash bands caught on. Voivod videos broke the band in Canada in 1985. Razor scored a huge hit with "Evil Invaders" the same year, which to this day I regard as the greatest Canadian metal song of all time. But in 1987, it would be a new young band from the Toronto suburb of Scarborough that would score the biggest Canadian thrash hit of that year, and arguably ever, thanks to a very popular, constantly played video for a song off their second album.
Formed in 1983 by guitarists Rob Urbinati and Joe Rico, Sacrifice slowly made a name for themselves as the decade went on, eventually releasing the debut album Torment in Fire in 1985, on the Toronto indie label Diabolic Force, and on Metal Blade and Roadrunner in 1986. For all its speed and intensity, the album sorely lacked an identity of its own, the sound of a band still honing their chops. And without a video to promote it, it failed to make much of an impression to Canadian metal fans.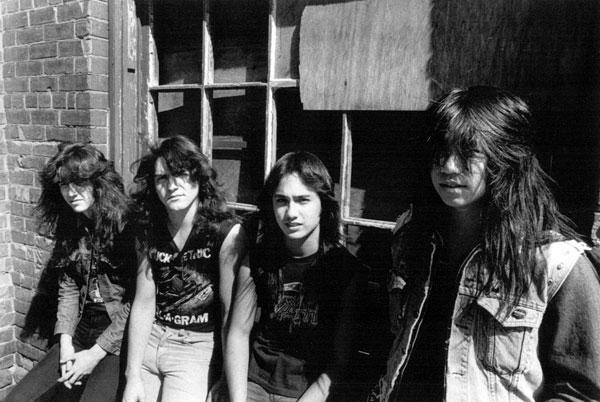 In 1987 Forward to Termination was that big breakthrough Sacrifice needed, a thrash classic that has sadly become a somewhat underrated gem outside Canada. The growth the foursome showed on that record compared to Torment in Fire was astronomical. Not only were the production and the performances a huge improvement, but the songwriting was a lot smarter. Instead of being preoccupied with sounding as fast and primal as possible, there was a melodic sensibility to the music that remains extraordinary, yet it still felt very much like an underground thrash record. Instead of drawing from all the great thrash bands from south of the border, it seemed Sacrifice cast their gazes across the Atlantic, as Forward to Termination had a lot more in common with the intricacy of Kreator and the ferocity of Destruction than, say, Anthrax or Metallica.
Led by the taut, nimble, and flashy rhythm riffs by Urbinati and Rico, and propelled by drummer Gus Pynn and bassist Scott Watts, this remains one scorching yet deviously catchy record. "Terror Strikes" brilliantly alternates between full-on speed and a wicked mid-tempo break, "Cyanide" tinkers with lurching rhythms similar to what Megadeth were doing at the time but with the savage delivery of Venom, while the nearly eight-minute epic "Flames of Armageddon" is a revelation, mixing the flamboyance Mercyful Fate with the progressive tendencies of early Rush and the towering presence of Slayer.
However, for most Canadians, Forward to Termination will forever be all about "Re-Animation". It's an ingeniously dynamic thrash song that sounds accessible without compromising its metal credibility whatsoever, possessing a great little groovy hook ("Synthetically revived to regain control / The spirit world sends back my soul"), a nearly four-minute epitome of everything that's good about thrash: fast, catchy, technically proficient, and violent. However it was the video for the track that broke the band in a big way across the country. Simple by today's standards, the low-budget clip by a young MuchMusic employee named John Zytaruk was a straightforward black and white performance shot in the apartment of Diabolic Force head Brian Taylor, but it was well-made enough to be put in regular rotation on the network. As a result "Re-Animation" became the most ubiquitous Canadian metal song of 1987, making Sacrifice the country's hottest Canadian metal band in the process.
Sacrifice would put out two more albums, 1991's Soldiers of Misfortune and 1993's Apocalypse Inside before splitting up, eventually reuniting in 2009 for the excellent comeback album The Ones I Condemn. Despite the strength of their entire discography, Forward to Termination remains the go-to Sacrifice album for a generation of metal fans, in Canada and beyond (Canadian hardcore band Propagandhi cite Sacrifice as a major influence, and Warbringer's John Kevill created his own vocal style from listening to Sacrifice repeatedly). At a time when headbangers in Canada needed a band to rally around, Sacrifice came into their own at just the right moment, and took full advantage of the situation. In their own way, as far as Canadian metal went, they were groundbreakers.
Purchase at iTunes, or better yet, get the reissued vinyl LP from War on Music.
live local music on
Enter your ZIP code to see concerts happening in your area.
Data provided by Zvents
follow msn music