Roadburn 2012, Revisited Part 2
Eleven performances that had to be seen to be believed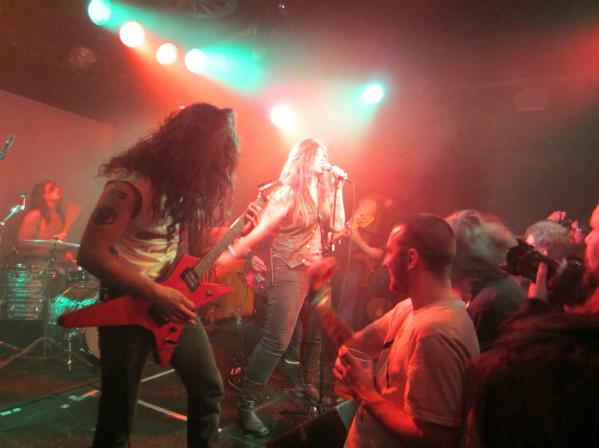 As I mentioned in my previous post, there were far too many cool performances at Roadburn 2012 to go into great detail about without risking repeating myself horribly, so I've narrowed it down to eleven that deserve special mention. That said, I'd be remiss not to at the very least acknowledge the superb live sets by Horisont, Agalloch, Killing Joke (even though Geordie's hissy fit cast a negative vibe on the otherwise friendly fest), Hammers of Misfortune, Black Breath, The Obsessed, Necro Deathmort, Coroner, and Black Cobra.
At any rate, here are the ten most memorable performances I saw at Roadburn 2012, in alphabetical order:
40 Watt Sun, Saturday, April 14, Main Stage:
The UK band's debut album The Inside Room was one of my personal faves from 2011, so their Roadburn set was one of my most anticipated. And they didn't disappoint, either.  Compared to a lot of the artsy overtones and doom metal swagger that was on display, this was something completely different, the bearded Patrick Walker looking like a hippie dad, barefoot onstage, plaintively singing his emotional laments more like a folk singer rather than a metal act. His long, sustained chords resonated comfortably throughout the theater during that afternoon set, which was highlighted by a gorgeous rendition of "This Alone".
Celeste, Friday, April 13, Green Room:
I'd always liked French black metal band Celeste – their album Misanthrope(s) blew me away in 2009 – but I wasn't expecting the spectacle that I witnessed late Friday night. The small venue was filled with smoke, so much you could barely see five feet in front of you, and all you could see of the band were four furiously bobbing red lights from the headlamps they were wearing, a strobe light punctuating the songs. It might sound silly describing it, but it was a truly psychotic, intense 45 minutes of music that left a massive impression on those who witnessed it.
Christian Mistress, Thursday, April 12, Stage 01:
As you might know I'm a big fan of the Olympia, Washington band, and their new album Possession is one of the better metal releases of 2012, but word was that the new material sounds even better in a live setting. It turns out that's indeed the case, as the band played a scorching set heavy on the new material. Singer Christine Davis is an engaging frontwoman, spitting out her lyrics venomously, yet at the same time winning over the crowd with her unpretentious persona, songs like "Pentagram and Crucifix" and "Haunted Hunted" sounding especially strong on this afternoon.
Nachtmystium, Friday, April 13, Main Stage:
A highlight of the Voivod-curated Au-delà du Réel day at Roadburn was the first ever performance of Nachtmystium's psychedelic black metal classic Instinct: Decay in its entirety, and the band took full advantage of the setting to turn in a surprisingly swaggering set. Leader Blake Judd was in full rock star mode, clearly relishing the big stage, lights, backdrop, and exceptional live mix, and the band was ultra-slick throughout, tight yet groovy on tracks like "Circumvention", "Here's to Hoping", and the great "A Seed For Suffering", with producer Sanford Parker adding some valuable keyboard work, clearly enjoying being onstage instead of twiddling knobs in a studio.
Sleep, Saturday, April 14, Main Stage:
Without question the performance of the festival, the reunited stoner/doom kings turned in an epic, gloriously draining two-hour set in front of an absolutely jam-packed, hazy – both physically and metaphorically - theater. From the second the trio of bassist Al Cisneros, guitarist Matt Pike, and drummer Jason Roeder launched into "Dopesmoker", the collective blazing in the crowd commenced, heads bobbing with the continually hazy beats, the favorite "Dragonaut" generating an ecstatic response, not to mention the mass flaring of more doobage. Some are already calling this the greatest Sleep gig ever, and though this was my first time seeing them, such ('scuse the pun) high praise seems justified.
Sólstafir, Friday, April 13, Het Patronaat:
Iceland's Sólstafir is one of the more fascinating post-metal bands out there, capable of huge, sweeping waves of riffs as well as some disarming melodies, and a big crowd showed up to see them do their thing in the beautiful, stained-glass confines of Het Patronaat. As much as I admire last year's sprawling double album Svartir Sandar, the impact of Sólstafir is much more powerful in person, a fact driven home when they played the gorgeous "Fjara", singer/guitarist Aðalbjörn Tryggvason leading the way with his powerful voice.
Spiders, Thursday, April 12, Green Room:
For all the doom and stoner acts at Roadburn, it was nice to have a little old-fashioned rock 'n' roll tossed in as well, courtesy Swedish band Spiders. Featuring Witchcraft guitarist John Hoyles, Spiders' approach is simpler than the bluesy jams of Graveyard and the psychedelia of Horisont, drawing more from the garage rock of early Alice Cooper and the Nuggets bands of the 1960s, and it went over exceptionally well, gregarious singer Ann-Sofie Hoyles – who's a dead ringer for Suzi Quatro – leading the charge through such spirited tunes as "Nothing Like You" and "Fraction".
Voivod, Friday, April 13, Main Stage:
Curators of Friday's Au-delà du Réel lineup, Voivod was feted all weekend at Roadburn, especially drummer Michel "Away" Langevin, who provided the festival with its main poster artwork and merch designs, and also hosted an outstanding exhibit of his artwork at the nearby Gust van Dijk gallery. After a Friday performance that saw them play the usual standards as well as a new song, Saturday was the really special event, as the Canadian foursome played their seminal 1988 album Dimension: Hatross in its entirety for the first time. Needless to say, for those of us who grew up with Voivod and adore that particular record, it was a dream come true seeing them play such deep cuts as "Chaosmöngers" and - my personal all-time favorite Voivod track - "Psychic Vacuum" in person. Toss in a surprise performance of the 17-minute 1993 epic "Jack Luminous" and an encore of "Astronomy Domine" for Piggy, and you've got a concert a Voivod fan will never forget.
Year of the Goat, Thursday, April 12, Stage 01:
The tiny Stage 01 room was packed to overflowing to see these Satanic Swedish upstarts. Last year's Lucum Ferre EP was the best metal debut since Ghost's 2010 album, and much like Ghost, Year of the Goat combines those deliciously blasphemous themes with some mighty appealing rock 'n' roll hooks. However, what Year of the Goat lacks in theatricality is made up by a sensational live sound, the twin guitars impeccably performed and mixed, and the singing of guitarist Thomas Erikkson – which resembles that of Muse's Matt Bellamy - as powerful and nuanced as on record. They were the fourth band I saw on the first day, and their performance stayed with me the entire weekend.
YOB, Friday, April 13/Sunday, April 15, Main Stage:
To see the best band in doom metal today perform at Roadburn was a pleasure, but to see the Oregon trio play twice, including two classic albums, was an honor. Led by guitarist Mike Scheidt, YOB is without a doubt the heaviest band I have ever heard live, and the theater was full for both of their performances. While it was great to see them play 2005's The Unreal Never Lived, their Sunday set, which centered on the 2003 album Catharsis, turned out to be even better. Scheidt admitted at the beginning that he was a little trepidatious playing songs they barely had time to rehearse, but "Aeons", "Ether", and "Catharsis" all sounded spectacular during the hour-long set. Seeing YOB, especially in a venue as perfect and splendid as the 013 in Tilburg, is truly a transcendent experience.
Honorable mention:
Church of Misery, Saturday, April 14, Main Stage:
The Japanese foursome might be normally a cult band, playing tiny clubs, but at Roadburn they're superstars, and the main theater was filled with well over a couple thousand people – probably 90 percent of their entire European fanbase – to take in the spectacle. And what a spectacle it was, too. I've seen many bands try to replicate the jazzy groove and swing of Black Sabbath's Tony Iommi, Geezer Butler, and Bill Ward, but Church of Misery is the closest I've seen any band get to perfecting it. No matter how many times you hear them on record (if you haven't heard Master of Brutality yet, go get it at once), it doesn't prepare you for their towering live presence. They are a stunning live band, and even though bassist Tatsu Mikami had some extended problems with his bass rig, when all systems were clicking, the results were mind-blowing.
live local music on
Enter your ZIP code to see concerts happening in your area.
Data provided by Zvents
follow msn music