25 @ 25: King Diamond, 'Abigail'
Stepping out of Mercyful Fate's shadow with a classic concept album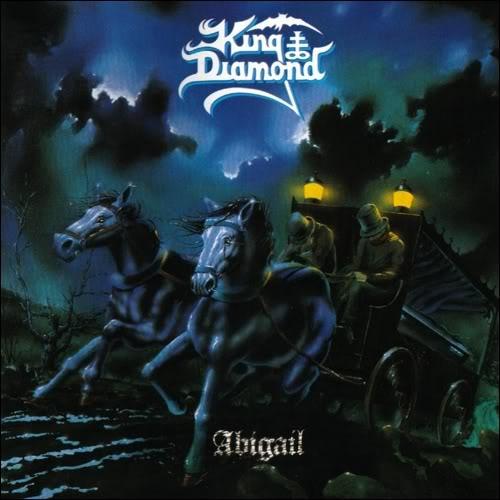 When last we left King Diamond in this 25 @ 25 series, he had released his 1986 debut Fatal Portrait, and while it was not without its share of enthralling moments, it was still very uneven and especially tentative compared to his groundbreaking output with Mercyful Fate. However, half of that album, the conceptual piece that the album was named after, showed enormous promise as King Diamond proved to be supremely skilled not only when it came to creating highly theatrical European heavy metal, but coming up with engrossing storylines as well instead of the Satanic shtick he played to the hilt with Mercyful Fate. For the follow-up, he and his band, which went by the name King Diamond went all-out, and came up with what would turn out to be the Danish singer's most popular solo album, one that's revered almost as highly as Fate's Melissa and Don't Break the Oath.
After feeling their way around on Fatal Portrait, the quintet of King Diamond, guitarists Michael Denner and Andy LaRocque, bassist Timi Hansen, and drummer Mikkey Dee feel much more like a band on Abigail. Unlike Melissa and Don't Break the Oath, which Denner and Hansen were a part of along with Diamond, what the King Diamond band does so well on this record was take the personality of those classic albums, which so brilliantly complements Diamond's own inimitable persona, and simplify the songwriting, making it less riff-based and complex and playing more of a supporting role to the overall storyline. So while a song like "Arrival" carries itself in more controlled fashion than, say, "The Oath" or "Satan's Fall", the flamboyant riffs and solos by Denner and LaRocque nevertheless feel directly related to Mercyful Fate.
And the musicianship on this record is phenomenal. Denner and LaRocque might be playing more of a supporting role in their rhythm guitar work, but the melodies they come up with on such standout tracks as LaRocque's compositions "A Mansion in the Darkness" and "The 7th Day of July 1777", or the longtime fan faves "Black Horsemen" and "The Family Ghost", are phenomenal in the way the so effortlessly combine dexterity, aggression, and ornateness. With Hansen and Dee creating as formidable a rhythm section as there ever was in 1980s metal, the backing foursome created a musical backdrop for Diamond that, for all its extremity, was more sublime and theatrical than anything else.
With a band like that behind you, how could you not go nuts with an album concept like King Diamond does on Abigail? Of course, horror and heavy metal have gone hand in hand ever since Arthur Brown first sang about fire, Geezer Butler confronted that figure in black that stood before him, and Alice Cooper took on the persona of Dwight Fry. But when it came to pure horror storytelling on a metal concept album, no one had succeeded as mightily as King Diamond does on Abigail. Delving into its Rosemary's Baby-style theme and lyrics, the story is chilling to this day, and for a 40-minute album its attention to detail is remarkable.
What a story, too: in 1845 newlyweds Miriam Natias and Jonathan LaFey move into an inherited mansion where the ghost of the late Count de LaFey confronts Jonathan and shows him the dead body of the stillborn Abigail, whose spirit is being carried by the pregnant Natias. There's only one way to stop this all from happening, of course, and things build to a spellbinding climax, and…well, if you don't know what happens, you'll have to find out for yourself.
What's particularly interesting is that King Diamond's lyric writing, while not the most poetic you'll ever read, nevertheless is incredibly vivid on these songs. A songwriter more skilled in the English language might have tried so hard with character exposition and plot development that it might have derailed the whole thing, but Diamond is much more direct, cutting straight to the chase ("So, there they stood at the top of the stairs / Miriam in the mood…Jonathan was scared"). Because he eschews subtlety and wordplay for simple, direct storytelling, it feels all the more chilling as a result, like hearing a tale told by a weird old relative rather than literature. And even though Diamond's narrator can't bing himself to finish his sentence – "Oh, I cannot tell you," he teases – that last mental image of Abigail, which he forces listeners to come up with themselves, is unforgettable. Overall the story of Abigail is right on par with the Hammer Films, which is about as high praise as you can give it.
Abigail would prove to be the catalyst for King Diamond's post-Mercyful Fate career.  He'd go on to release ten more concept albums, including, in true horror movie fashion, Abigail II: The Revenge in 2002. Although 1988's "Them" would quickly follow in 1988 and feature one of Diamond's greatest songs in "Welcome Home", Abigail remains the best album of his solo career, not to mention one of the most oddly effective concept albums in heavy metal history.
live local music on
Enter your ZIP code to see concerts happening in your area.
Data provided by Zvents
follow msn music