New releases for February 12, 2013
Texas grindcore leads a slow week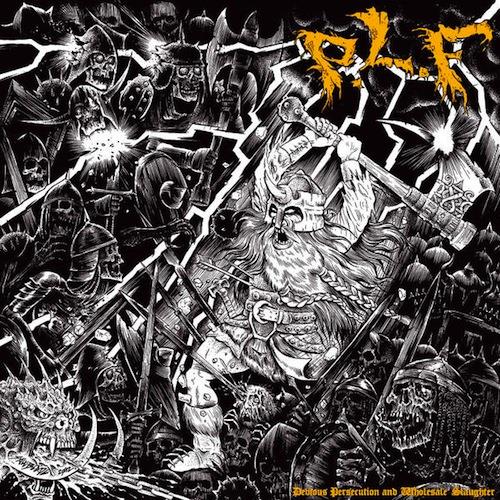 Album of the Week:
P.L.F., Devious Persecution and Wholesale Slaughter (Six Weeks)
They might be categorized as grindcore, but a very strong thrash influence permeates the Houston trio's music, a big reason why this album is so appealing. Suitably fast, violent, and relentless, it's highlighted by slyly accessible riffs amidst the chaos, and is propelled by the mind-blowing drumming of Bryan Pajardo. With the longest song clocking in at 107 seconds, not a moment is wasted, a crisp, tautly executed assault that is far and away the best thing to come out this week. 
Listen to "Blistered Dejection" here.

Also out this week:
Bullet For My Valentine, Temper Temper (RCA): If the popular Welsh band continues to water their music down any more, there won't be anything left. While a song like "Scream Aim Fire" was borderline credible, Bullet For My Valentine's desire to streamline their sound has stripped it of any power or emotion whatsoever ("Riot", "Livin Life (On the Edge of a Knife)", and "Leech" are hilariously impotent). It's children's metal, too safe for its own good, devoid of punch, passion, and integrity.
Expurgate, Dementia Tremens (Comatose): Yet another title to add to the perpetually growing pile of otherwise well-made death metal albums ruined by "pig-squeal" vocals.
Hatriot, Heroes Of Origin (Massacre): Former Exodus frontman Steve "Zetro" Souza is back with a new band, this time formed with his two sons, bassist Cody and drummer Nick, and it turns out to be a very solid thrash record. Much like Exodus, the band keeps things simple and catchy, the economy of the songs giving Souza plenty of room to deliver his distinct vocals. This one's a pleasant surprise, although thanks to my Decibel colleague Jeff Treppel, I'll forever read the band's name as "hat riot".
Logic Of Denial, Atonement (Comatose): Slickly recorded death metal from Italy that does everything listeners expect it to. What it lacks in originality is made up thanks to the blue-collar ferocity of the performances.
Mothership, Mothership (Ripple): These NWOBHM throwbacks from Texas throw in a big helping of Molly Hatchet-style Southern rock into the mix, making for quite a raucous debut. It's a bit rough around the edges, but this music swings enough to convince you that even better things are in store from the trio. Stream the album at Bandcamp.
Psychothermia, Fall To The Rising Sun (Self): This debut by the San Diego band is an interesting one. Finding a unique middle ground between progressive metal and active rock, it bridges the sounds at times very well, as on "Slash and Burn" and "Warbly". That's not to say there aren't missteps, though, "Here's to the Angels" slipping into a lame Rage Against the Machine imitation. Still, it's promising stuff – singer Johan Maldonado can really belt out those vocals - and is well worth investigating. Listen to the album via Bandcamp.
Sink, Holy Testament 2 (Svart): The fact that the Finnish band's latest project is described as an "Infinite drone ritual," should be enough to send yours truly running in the opposite direction. As it turns out, this is some effectively moody black metal that, when it does delve into drone, is atmospheric to the point of haunting. Packaged as a double CD with last year's Holy Testament, this is a surprisingly moving record that rewards listeners' patience.
Spoken, Illusion (eOne): Surprisingly affable post-hardcore that plays down the harsh vocals and trite breakdowns in favor of some good upbeat, pop-infused melodies. A good album for the Warped Tour set.
live local music on
Enter your ZIP code to see concerts happening in your area.
Data provided by Zvents
follow msn music