Interview: Dave Mustaine
Win a copy of the "Peace Sells" Super Deluxe Boxed Set!
I recently interviewed
Dave Mustaine
about the 25th anniversary of Megadeth's second album, 1986's
Peace Sells...But Who's Buying?
, which is being given the deluxe reissue treatment on Tuesday, July 12. The ultra-elaborate boxed set version of the album (pictured below) includes: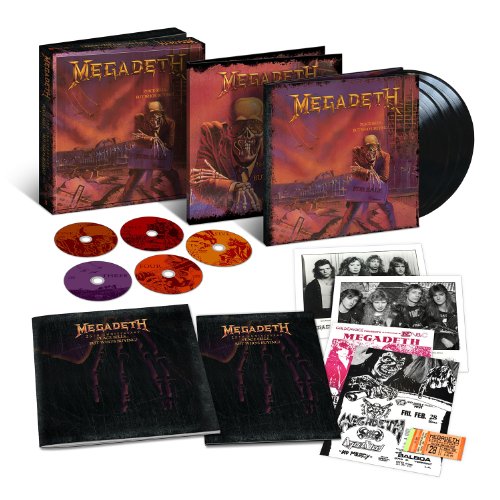 • 5 CDs, including three versions of the album (the 2011 remaster, the version reissued in 2004, and remasters of the mixes by original producer Randy Burns, which were never officially released in toto, but some of them were included as bonus tracks on the 2004 reissue), a complete live show from 1987, and a disc of .wav files of all the audio just described
• The 2011 remaster on vinyl
• The 1987 live show on double vinyl
• Reproduction promo photos and show flyers from 1986
• A reproduction ticket stub from a Japanese concert
• A big booklet, including essays by Mustaine and Lars Ulrich
• A really nice 3-D-looking version of the cover art on the outside of the box
And guess what? I'm giving one away! (I'm also going to be giving away two versions of the 2CD semi-deluxe edition, also out July 12, which has the 2011 remaster on one disc and the live show on the other.)
How can you win this awesome stuff? Simple. Send me an email at
msnmetal@gmail.com
, with the subject line "
MEGADETH CONTEST
." Include your
full name
and
mailing address
. Winners will be chosen at random on Monday, July 18, so you've got till then to enter. Good luck!
Now, a few questions for (and answers from) Dave Mustaine. Enjoy!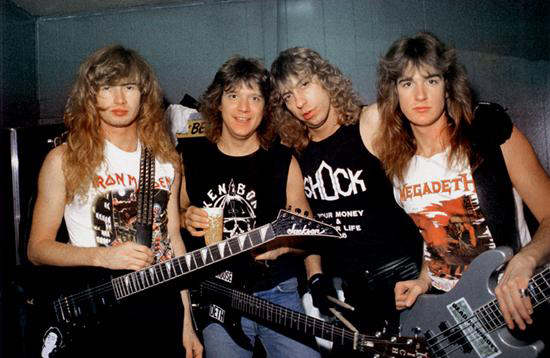 Megadeth circa 1986 (l-r: Dave Mustaine, Chris Poland, Gar Samuelson, David Ellefson)
What's your most vivid memory of the Peace Sells sessions?
Well, there's a lot of stuff that was very vivid. I mean we're talking about us starting to make money and having four functioning heroin addicts in the band. We would roll up to the studio and one of the band members would be slouched in the doorway waiting for us to take him to the methadone clinic—or downtown, as the case may be. Listening to the songs it's amazing, cause I listen to Chris Poland's guitar playing and his rhythm playing and it's so staccato, so perfectly picked and stuff like that—it almost borders on not cool, but mixed along with the sloppiness of my guitar playing, it really has a dangerous element to it. And then listening to a lot of the guitar solos, man, we were really a dangerous band back then.
As someone who doesn't do drugs, I'm genuinely curious from a physical standpoint how you could do a high-level opiate/depressant and play as fast as you played. Could you explain?
Here's the thing. Your body normally excretes endorphins called dopamine. You have it, I have it too, except that when I was introduced to it, I was introduced to it in excess, and it felt really enjoyable to me. I had complete understanding of the ramifications, of what would happen if I started doing it routinely, and I did, and that's when I ended up becoming addicted to the stuff. Now playing fast—you can play as fast as you want to [on heroin]. It's not something like Thorazine, where you're gonna be chewing your tongue up and wetting your pants. It was just basically putting the same enzymes or whatever back into your body, the dopamine, the endorphins. And in this type of work, it's a very bohemian kind of thing, when people know people who do heroin or sell it or whatever, they usually know people who have stimulants, too. So not to have this conversation go totally terrible, but usually when people have to play fast and they can't, they'll cheat. For me, I was always playing fast. I played fast when I was in Metallica, before I was even introduced to any of that stuff.
Nowadays thrash is a codified style of playing guitar, but when you were doing it in the '80s, you were inventing it as you went along. Were you a conventional hard rock/metal guitar player when you started out, and how did you begin to put together your speed metal style?
Well, the stuff that I liked growing up was AC/DC, Led Zeppelin, but I also liked the Beatles and guys like Cat Stevens and Elton John. The music I liked was very eclectic. A lot of it was from the British Invasion. The guitar influence that affected my songwriting came from the New Wave of British Heavy Metal. So I would have to say my whole style is supported around the whole blues thing, and going into making a thrash style…I guess because I had such a horrible life growing up, going from place to place not knowing what I was gonna do and ending up being homeless, there was a lot of pain and a lot of anger that was coming out through my guitar playing. I listen to other people play guitar, and when they play it, they can make it sound beautiful and write real pretty songs and stuff like that. I'm just incapable of doing that. I have this built-in governor that when the song gets a little too happy, something in the back of my head just goes, "Crap," and just stops it. I can't proceed with it. I don't know why.
Tell me about the version of "I Ain't Superstitious" that's on the album—what were you thinking throwing a blues-rock song in amid all that ultra-precise thrash, and how do you think it turned out, overall?
That was a very interesting experiment for me, because I didn't know very much Jeff Beck. I knew who he was, and I knew he was a great, but I was not a fan of his at all. Not because he's not good, I just wasn't a fan. And what happened was, a manager of ours at the time said, "You know, dude, you gotta do this song by Jeff Beck. You need to do 'I Ain't Superstitious.'" So I listened to it, and what I keyed into was the two drum hits at the end of the [riff]. And then what I did was my typical thing; what I like to do a lot with my arranging is, the first half of the song will be one thing and then the second half will be a completely higher gear we can drop it into. And with "I Ain't Superstitious," it started off having the normal riff that the song had, kind of a bastardized blues-rock progression, and then at the end it totally steps up to a thrash progression, and to me, that's what makes the song really exciting, how it just kicks into that whole new level. And again, that showcases Chris Poland's guitar work. I think that he excels the most when he gets to play jazz, because his playing is more jazz-oriented. But in that song, he really shone.
The song "Peace Sells" is the only really politically or socially conscious song on the record—how did it wind up becoming the title track?
I don't really know—probably because it was the strongest title. The title actually came from me; I was homeless at the time, living in a warehouse that we were doing our rehearsals in, and there was a girl who took pity on me and every once in a while would call up and ask me to come over, and we would spend the night together and she'd feed me and I'd get cleaned up and stuff like that. And I woke up one morning and I saw a magazine on her nightstand and it said, "Peace sells, but nobody's buying it." And I went oh my God, I gotta write a song about that. So I changed the words around a little bit and I started writing the song, but of course I was living at the rehearsal building like I said, so I had no paper, and I took a pen and wrote the lyrics on the wall there. To this day I still wonder if the lady who had that rehearsal building was smart enough to cut that wall out and immortalize it.
When you were making the record, were you already trying to get off Combat? And did you talk to other major labels before signing with Capitol?
I think we were trying to get off Combat from the moment we were on Combat. When we went there, we told them what our plan was, and they gave us money to do Killing is My Business, and the budget was such an offense to us—to make a record, you need to have a certain amount of money, and they gave us eight thousand dollars. Add to that the fact that the guy who was managing us had taken one of the band members off to score and spent half our recording budget. He bought four thousand dollars worth of drugs and food, and came back to Indigo Ranch, where we were working, and said "Look, I got everything, here we are and here's our food, let's go." I was like, are you out of your mind? So that already put us in a bad way. And when it was time to do the second record, we had already got the album cover back for the first record, and it's got this plastic skull head on it, and I was really mad. Yeah, we wanted off that label. So when Capitol asked us to come on board, we were definitely happy. Now there was another label that was courting us at the time, and that was Elektra. But they had Metallica, and another band, Metal Church. And I thought it would be great to be there, but I just didn't see it working out, because the guys in Metallica were there, and I'm smart enough to know that if you have two big stallions in a barn, one of 'em is gonna get all the mares. That kind of mentality, in the natural world it just doesn't work. Somebody gets their feelings hurt, somebody gets more attention than the next person, it just doesn't work. So we decided we didn't want to be with that label, and when Capitol came their offer was better anyway, so we said, Good, we're going here, thanks, nice to know you, see you later.
You guys already had something of a reputation as drinkers and general troublemakers in '86, so did Capitol sign you with the album already complete, or did they give you money to make an album? How much trust did they have in you?
We'd finished Peace Sells, and we even actually had the album with the cover, and in Combat fashion, the album cover was utter trash. It was cardboard with black bullets stenciled onto it, and I looked at it and thought, you've gotta be kidding. I've seen crap before in my life, but this was the absolute lowest and most offensive thing I've ever seen in our career. To this day, it still stands as the worst piece of artwork that's ever been officially presented to us. And they really, honestly thought that it was good. And I thought to myself, God, you poor guys, I can't believe that you are that daft that you don't know that this isn't good. So we just kinda moved on. Now when we went into the studio, we had recorded it with a guy named Randy Burns, who had done Killing is My Business, but we'd developed a kind of funky habit that started after that first record. We started with a guy named Karat Faye, changed horses mid-stream, and finished with Randy Burns. We started Peace Sells with Randy Burns and finished it with Paul Lani. We started So Far, So Good…So What? with Paul Lani and finished it with Michael Wagener. We started Youthanasia with Mike Clink and finished it with Max Norman. So we ended up getting into a bad habit where we'd be working on records, and the guys we were working with just weren't cutting it, and we'd have to change them. I won't get into all the details and stuff, but when we had Peace Sells finished and Capitol bought it, they said "We want you to have this guy named Paul Lani mix it." I said OK, cool, and they had him mix it. Now, Paul had finished mixing our record, and it was on the shelves—imagine my horror when I asked, so what has Paul done besides Megadeth? And they said "Oh, Rod Stewart." You could hear my ass hit the ground. I was so mortified.
Are you sure you want to delete this comment?
live local music on
Enter your ZIP code to see concerts happening in your area.
Data provided by Zvents
follow msn music