25 @ 25: Iron Maiden, 'Seventh Son of a Seventh Son'
Capping off a spectacular seven-album run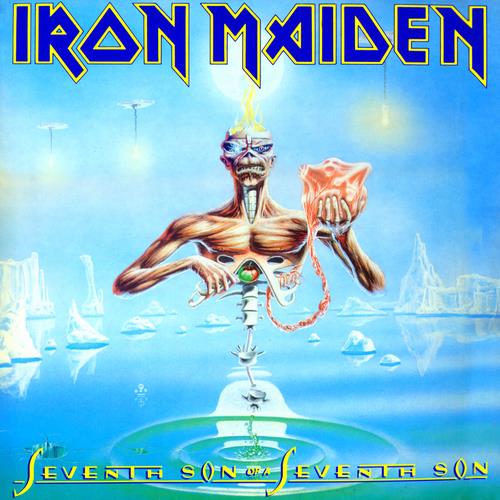 Bruce Dickinson once described Iron Maiden's 1982 album The Number of the Beast as being like that moment when you reach the top of that first big climb of a roller coaster. You climb and climb, and once you finally reach that apex, you're off and running. The momentum carries you on a mad course, and you have no choice but to hang on for dear life.
That third album set Iron Maiden off on a course so crazed and demanding that it's a marvel all five members survived it as long as they did: album, tour, album, tour, the music increasingly ambitious and popular, the shows becoming more and more extravagant, the world tours becoming longer and longer. From 1982 to 1988 no heavy metal band has as much worldwide impact as Iron Maiden did, so it's no surprise those of us who witnessed that run firsthand look back on those days with tremendous fondness. For the band, however, the pressure had to have been unfathomable by the end of the decade, and indeed, that bubble would burst, but not before Maiden would complete one last classic album.
While 1986's Somewhere in Time was a huge success for the band, it was admittedly a step down from the staggering quality of Maiden's first five studio albums. Guitar synthesizers had been brought on board to broaden the band's sound, the songwriting was more grandiose, the artwork lavish, but it seemed to sag under the weight of so much ambition, let alone the expectations of millions. While it was a good try – I'm still fond of the record to this day – it was clear the band had to settle down a bit and show more focus.
One glimpse at Derek Riggs' mind-boggling cover artwork of 1988's Seventh Son of a Seventh Son, and you know immediately that it's the product of a saner collective mind. It's simpler in concept, it's less busy, the sky blue color bold yet pleasing to the eye. Dig into the album itself, and you'll sense that feeling reflected in the music, which sounds more focused, concise, and hook-oriented, all while showing a little experimentation.
It probably didn't hurt that the eight songs on Seventh Son followed one singular concept, however muddled it may be. Bassist Steve Harris read Orson Scott Key's 1987 fantasy novel Seventh Son prior to the writing of the new record, which gave him the idea to base an album on a tale of a seventh son of a seventh son, which according to folklore is given special powers. By being thematically set from a lyrical standpoint, it forced the band's songwriters to show more economy, advancing the story rather than flying off in arbitrary directions.
It also helped greatly that singer Bruce Dickinson, who who did not contribute to the songwriting of Somewhere in Time, was included in the writing of Seventh Son. Along with Harris, guitarist Adrian Smith – who was responsible for several of the band's most successful singles by this time – and sporadic contributor, guitarist Dave Murray, this album was a far more democratic process, and the end result is a vibrant, inspired piece of work.
Being a concept album, the best way to approach Seventh Son is in sequence. Written by Smith and Dickinson, the Aleister Crowley-inspired "Moonchild" is a stark change from the opening salvos of Somewhere in Time, the overture featuring keyboards rather than guitar synths, which instantly lends the record a strong progressive rock feel, which remains throughout. When it gets going, though, "Moonchild" is a prototypical, rampaging Maiden opening track, built around speed and Dickinson's gigantic voice, taking on the form of the Devil in a first verse that's as portentous as anything the band had ever written:
I am he the bornless one

The fallen angel watching you

Babylon, the scarlet whore

I'll infiltrate your gratitude

Don't you dare to save your son

Kill him now and save the young ones

Be the mother of a birth strangled babe

Be the devil's own, Lucifer's my name
Steve Harris has always been the most predictable songwriter in Iron Maiden, his songs so identifiable you can spot them instantly. "Infinite Dreams", though, is one of his most creatively adventurous songs, a six-minute track that relies less on bombast and more of a contemplative feel. The lyrics, while a touch wordy – the verses Dickinson has to sing are veritable paragraphs – but the song flows beautifully, much like the equally pensive "Still Life" from 1983's Piece of Mind.
A top three UK single primarily because of the band's popularity and the anticipation surrounding the new album, "Can I Play With Madness" remains a peculiar moment in Maiden's discography. It's a strange mish-mash of three parts: a central riff and melodic chorus by Smith that's surprisingly playful, Dickinson's fantasy-themes lyrics – with all his talk of prophets and crystal balls – that are hardly pop-oriented, and a very Steve Harris bridge so obviously tacked on, the whole shebang crammed into three and a half minutes. It shouldn't work, but somehow it just barely does, that chorus getting into your head quickly. Bolstered by a video featuring Monty Python's Graham Chapman, one of his final appearances on film before dying of cancer in 1989, it's become one of Iron Maiden's most enduring songs, one they still enjoy playing to this day.
Another collaboration between Harris, Smith, and Dickinson, "The Evil That Men Do" is far more successful, built around that classic Maiden gallop, featuring a powerful, Shakespeare-paraphra​sing performance by Bruce, and featuring a chorus that stadium crowds could sing along to. It's a song that quickly become a live staple, and for good reason: after that 30 second intro, drummer Nicko McBrain counts off, the song explodes out of the gate, and the crowd goes nuts. It never fails.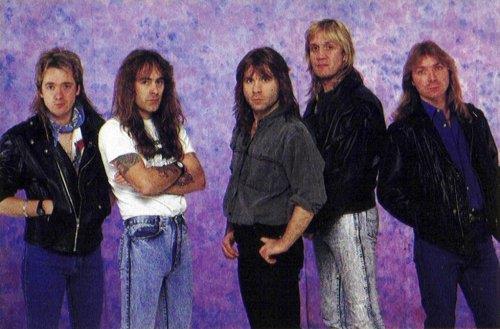 The centerpiece of the album is its title track, a ten-minute epic that sees Harris's progressive rock tendencies rise to the surface more than any song he'd written previously. Still Iron Maiden-like in structure, its use of keyboards hearkens back to mid-'70s Genesis, giving the song an even more bombastic feeling than it already had. Although it's Harris's baby, "Seventh Son of a Seventh Son" is made great by Dickinson, as he puts in a commanding performance, whether narrating the tale of good versus evil with flamboyance, or singing those soaring vocal melodies that are echoed by guitar. It's classic Dickinson, and classic Maiden for that matter, climaxing with a brilliantly timed, brooding middle section led by Harris's upper register bass melody, operatic string synths, and those taut crunches by Smith and Murray adding tension before kicking off into a climactic instrumental section (like Helloween's "Halloween", you can practically sense a thousand power metal bands forming in the wake of this song). Echoing such classics as "The Phantom of the Opera", "Hallowed Be Thy Name", and "Rime of the Ancient Mariner", there's a level of theatricality to "Seventh Son" that makes it exhilarating rather than tedious.
If there's a minor song on Seventh Son, it's "The Prophecy", a murky song whose purpose is to provide exposition of the plot, but it does so well enough, featuring an uncharacteristically​ dark riff and a starkly contrasting acoustic coda. "The Clairvoyant", on the other hand, sees Harris working that Maiden songwriting formula perfectly. Structurally it's no different than anything he'd ever written before, but when the track kicks into that stomping gallop – McBrain deserves a huge amount of the credit – it becomes irresistible. Even when they were at their most formulaic, during their peak years Maiden could do no wrong.
The album reaches its denouement with "Only the Good Die Young", a song that's become one of those ignored, never-performed tracks alongside "Back in the Village" and "Invaders". It's a shame, too, because it boasts some of the strongest melodies on the record, from the twin guitar harmonies to Dickinson's poignant chorus. Capped off by a reprise of the album's acoustic intro ("Seven deadly sins…seven ways to win…") it brings everything to a fulfilling conclusion.
Most fans like to make a lot out of the lyrical concept of Seventh Son, but personally the story has always felt too vague to have much of a visceral impact. In the end, though, what's most interesting about this album is that its emotional punch is felt in the music, not the lyrics. The plot might be frustratingly ambiguous, but because the songwriting follows that story arc, the music does so as well, and you feel that more. As a result, the way the album flows from song to song is remarkable, which is why Seventh Son has always been one of the most satisfying front-to-back Maiden albums of them all.
After the release of Seventh Son in April 1988, Iron Maiden set off on another massive world tour – including a whopping 59 arena shows in North America – going from April to mid-December with minimal breaks. It was another very successful run yet again, but afterwards, the fractures in the band started to show. Smith and Dickinson each started to work on their own musical projects outside the band, with Smith eventually leaving the band. Dickinson would stick around for a few more years, but the loss of Smith was significant. The bulk of the songwriting would now fall on Harris's shoulders, and Maiden's music quickly became more tired than predictable, and even worse, bloated and unfocused. The "classic lineup" of Dickinson/Harris/Murray/Smith/McBrain would in 1999 – with Smith's replacement Janick Gers in tow – but not before sinking deep into a creative mire that would see Dickinson leave in a huff, four abysmal albums come out, and the band's popularity sag so badly they would be reduced to playing clubs and theaters in North America in the mid-'90s.
Today, Iron Maiden is more popular than they ever have been, their global audience expanding to an astonishing degree in the digital age, with a new generation of young fans emerging as well, but ask anyone who was there, 1988 was Iron Maiden's zenith, creatively and commercially. That careening roller coaster was about to come to a crashing halt, but Maiden by then was so reliable, and Seventh Son was so good, so close to many of us fans, that we hardly saw the end of the ride coming.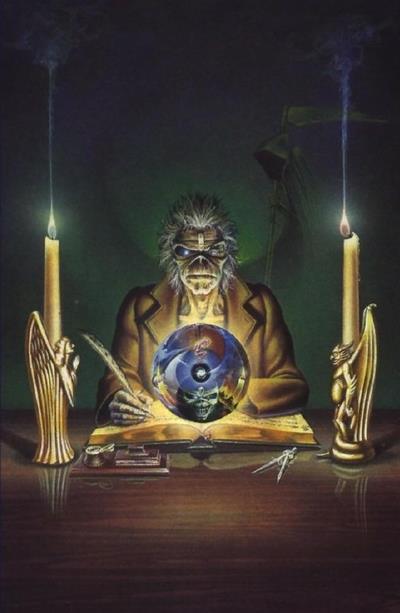 live local music on
Enter your ZIP code to see concerts happening in your area.
Data provided by Zvents
follow msn music