Barge To Hell Cruise Announces Its First 16 Bands
24 more to follow for December cruise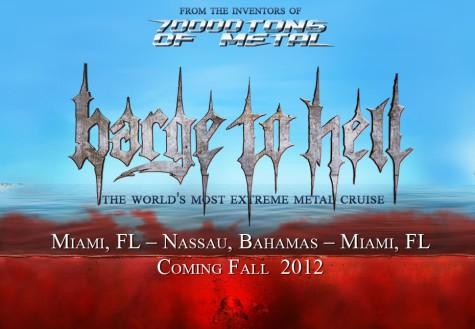 After two very successful trips, the creators of the 70,000 Tons of Metal cruise are now getting ready for the inaugural Barge to Hell cruise, a five-day journey starting December 3, from Miami, to Nassau, Bahamas, and back, featuring 40 bands and several thousand fans aboard a lavish Royal Caribbean ship.
So what's the difference between Barge to Hell and 70,000 Tons of Metal? While 70,000 Tons knows no subgenre restrictions, booking everything from Blind Guardian to Marduk, Barge to Hell will focus more on the extreme side of metal. The first 16 bands have been announced, which gives you a good indication of what to expect:
Artillery
Enslaved
Hackneyed
Hypocrisy
Krisiun
Loudblast
Moonspell
Paradise Lost
Morgoth
Possessed
Rotting Christ
Sacred Reich
Sanctuary
Sepultura
Six Feet Under
Sodom
Overall, it's pretty impressive start, and should only get better once the other 24 bands are announced.
Having gone on the first 70,000 Tons of Metal cruise in 2011, I can say it's totally worth it. Not only is it on par with any other metal festival out there, but it's wonderfully self-contained: you're mingling with the bands as well as other metal fans from around the world, your bed is a minute away from the venues rather than some tent out in a field in Germany, the crew of the ship are extremely helpful, and best of all, it's all happening on a boat in the middle of the Caribbean Sea. I wouldn't be surprised if this sells out as quickly as 70,000 Tons, so if you're interested, head over to www.bargetohell.com for all the details.
live local music on
Enter your ZIP code to see concerts happening in your area.
Data provided by Zvents
follow msn music