Year of the Goat Releases Single "This Will Be Mine"
A preview of the Swedes' forthcoming full-length debut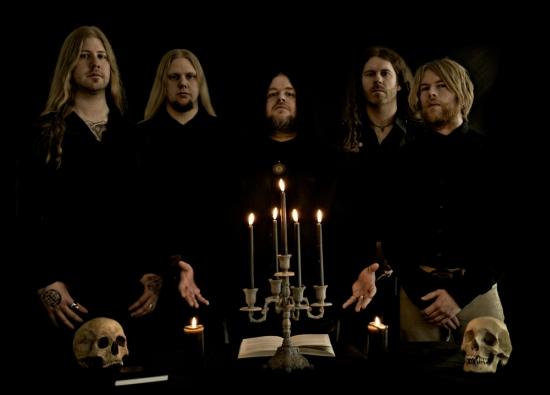 You might have noticed I'm a big admirer of Swedish Satanic retro rockers Year of the Goat. Their 2011 Lucem Ferre EP was one of last year's best releases, not to mention the most impressive metal/hard rock debut since Ghost's 2010 album Opus Eponymous. When I saw them at Roadburn 2012 a couple weeks ago they turned out to be even more impressive live, a taut, slick-sounding act with one hell of a lead singer in Thomas Eriksson.
The Norrköping band has a full-length album in the works, which is due out in late summer or early fall, and as a teaser their label, the always-fascinating Ván Records out of Germany, has released a special seven-inch single featuring one of that record's tracks, "This Will be Mine". Compared to the murky songs on Lucem Ferre, "This Will Be Mine" is a big step forward for the band, an upbeat psychedelic rocker whose catchiness counters the dark menace of Eriksson's lyrics. Like Ghost, Year of the Goat chooses to be a little more subversive in their Satanic proselytizing, wooing the listener with melodies first, then revealing the darker underbelly of the band's aesthetic once the hooks are in. It's a tremendous track, and bodes very well for the rest of the album.
In a neat little twist, the single's B-side is the near-six-minute mood piece "Missa Niger" (Latin for "Black Mass"), an enigmatic little composition that feels like a soundtrack piece, and which features Saturnalia Temple's Tommie Eriksson (no relation to Year of the Goat's Eriksson) providing chanted vocals. If you want to hear that, you can order the single from Ván, but if you want to hear "This Will Be Mine" – and believe me, you should check it out - it's available for streaming via Soundcloud below.
Listen to Year of the Goat's "This Will Be Mine" here.
Order the seven-inch single here.
(above photo by Valentin Mellström)
Are you sure you want to delete this comment?
live local music on
Enter your ZIP code to see concerts happening in your area.
Data provided by Zvents
follow msn music