Revisiting Andrew WK's 'I Get Wet'
Tenth anniversary deluxe reissue out August 28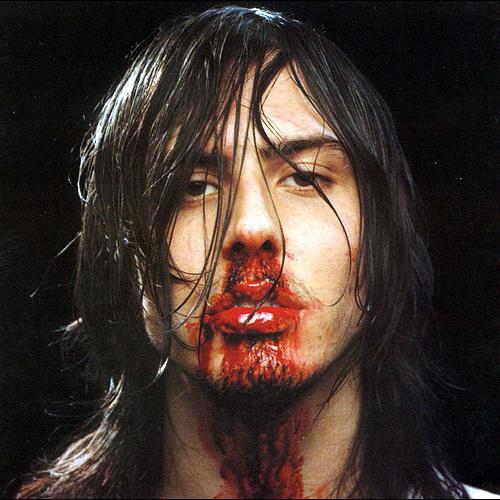 Back in late 2001 a lunatic from Michigan named Andrew Wilkes Krier endeared himself to the UK music press with a raucous album of pop-infused hard rock that featured an unforgettable image of him with a bloody nose. With a website that initially combined a bizarre manifesto with unmistakably fascist imagery and the incredibly idiotic music on the 35-minute album I Get Wet, needless to say it was a muddled message, rendering it hard to make any sense of what Andrew WK and Island Records were trying to achieve. The UK public responded immediately to the single "Party Hard", propelling it to number 14 in 2001, but the album's sales in America after its April 2002 release failed to live up to the enormous hype.
At the time it was easy to see why some of us music critics who were well beyond our teens put far too much thought into assessing the album, yours truly included. Looking back at my 2002 review (read at your own peril) of I Get Wet, it was a horribly wishy-washy piece, clearly evident that I was reluctant to fully embrace the party rock goofiness of the record. I eventually caved about a year later and brought myself to admit that yes, it's a great little album, and as the years went by, more people seemed to be drawn to I Get Wet, to the point where people were declaring it one of the better rock record of the decade. Even the writers of tastemaker Pitchfork, whose founder had slammed a scathing 0.6 rating on it, one-upped their boss and placed it at number 144 on their list of the top 200 albums of the decade.
Now that the initial wave up hype is long forgotten, the music is what remains, and I Get Wet is still as endearing as ever, and Century Media has just released a special two-disc 10th Anniversary Special Deluxe Edition. In addition with the album a bevy of bonus tracks have been tossed in, from live performances, to special mixes, to alternate versions (including his theme song for the Arizona Sundogs minor league hockey team), to b-sides. For all the bells and whistles, though, the idea of revisiting the original album remains the real draw. Completely devoid of dynamics, the songs are unrelenting, pulsating, and about as subtle as a brick to the face. Yet for all the invocations of, "IT'S TIME TO PARTY!", "PARTY HARD!", "FUN NIGHT!", there's a goofy charm to it all, as WK comes across as that guy who goes around giving random people noogies. You're dazed, maybe a little annoyed at first as you un-muss your hair, but you see the dude carrying on relentlessly giving everyone else noogies, and you can't help but smile.
Musically, the songs on I Get Wet are part hair metal at its slickest, part Jock Jams-style arena pandering, part early-'70s glam rock, with a little Ramones-esque succinctness thrown in. The kick drum goes non-stop, the guitars buzzsaw away with their slick tone, tinkly synthesizers add just the right enough melody to rope in pop-oriented audiences, and WK hollers like a joyously inebriated Captain Caveman. The obvious highlights remain the more ebullient tunes like "Party Hard", "Ready to Die", "She is Beautiful" (the hook in that song is undeniable), "Party Til You Puke", and "Fun Night", but the deeper cuts help make I Get Wet hold up so well. "Girls Own Love" and "Got to Do It" hearken back to the days when Slade churned out single after gloriously inane single. While the rich boys in The Strokes were snidely singing about New York City cops, WK came along like a goofy tourist, eyes ablaze at the tall buildings and Times Square lights and simply shouted, "I LOVE NEW YORK CITY! OH YEAH! NEW YORK CITY!" How can you not love that?
Loud but not obnoxious, in your face but not belligerent, aggressive but not for a second negative, there's nothing to dislike on this album, and to this day I wish I hadn't so awkwardly panned the album ten years ago. Andrew WK loves life, loves fun, and is hell bent on making everyone have just as much as fun as he is. And good for him. The energy of I Get Wet remains palpable to this day, and if you don't own it yet, this reissue is a must-buy.
The 10th anniversary reissue of I Get Wet will be released on August 28 via Century Media.
live local music on
Enter your ZIP code to see concerts happening in your area.
Data provided by Zvents
follow msn music