Nightwish Part Ways With Singer Mid-Tour
Anette Olzon replaced by former After Forever singer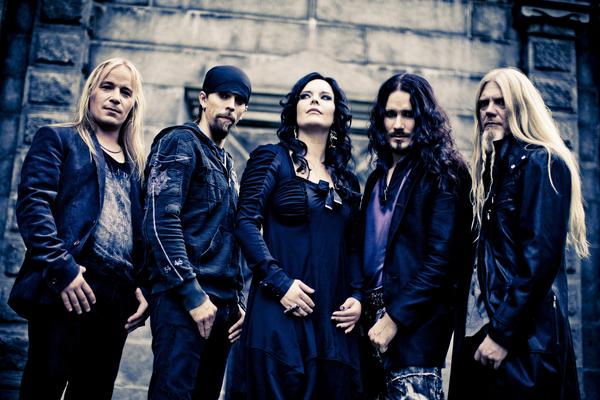 Stuff like this always happens when I'm gone. While I was away for four days covering the Noctis V Metal Fest, among other events, Nightwish just happened to have one of the flakier weekends we've seen from a band in quite a while.
On Friday night in Denver, singer Anette Olzon had apparently taken ill and was hospitalized. While she was being treated for dehydration, the rest of the band decided to go through with the show anyway, with Kamelot backing singers Alissa White-Gluz (also of The Agonist) and Alize Ryd (also of Amaranthe). A noble but odd decision by band leader Tuomas Holopainen, it didn't sit well with Olzon at all, who on Saturday blasted the band on her personal blog – never a good idea – saying, "I was never asked if it was OK they used Elize and Alissa in the show [Friday] night. I don't think it's a good decision they made…Like life, sometimes we get ill and shows do get canceled. Rihanna wouldn't ask Britney Spears to sing for her if she was ill."
Most of us thought that was just another hissyfit by a lead singer, but Nightwish's problems clearly went deeper than that, and yesterday they made the shocking announcement that Olzon and the band had parted ways. Here's Nightwish's official statement:
Another chapter of the Nightwish story has ended today. Nightwish and Anette Olzon have decided to part company, in mutual understanding, for the good of all parties involved.

 

In recent times it has become increasingly obvious that the direction and the needs of the band were in conflict, and this has led to a division from which we cannot recover.

 

Nightwish has no intention of canceling any upcoming shows, and as a result we have decided to bring in a substitute vocalist starting in Seattle on October 1. Her name is Floor Jansen (ex-After Forever, ReVamp) from the Netherlands, and she has graciously stepped in to help us complete the 'Imaginaerum' world tour.

 

We are all strongly committed to this journey, this vehicle of spirit, and we are sure that this will lead to a brighter future for everyone.

 

We forever remain excited about the adventures to come, and we are extremely proud of the two beautiful albums and the wonderful shows we shared together.
While some fans weren't thrilled that Nightwish had replaced publicly fired frontwoman Tarja Turunen with such a different singer in Olzon in 2006, but as their latest album Imaginaerum has proven, it was a smart musical decision. The best power metal album in the last five years or so, it benefits immensely from Olzon's versatility as a singer. Sure, she couldn't nail "Wishmaster" like the operatic Turunen can, but Turunen could never pull off songs as charismatic as "Storytime" or "Slow Love Slow". Imaginaerum was built around Olzon's singing style, and turned out to be a great record as a result.
Jansen is a terrific singer, and she will be able to not only fill in capably, but give fans some of those soaring arias they've been craving as well. However, although those of us outside looking in have no real idea of what the situation was like within the band, this latest bit of Nightwish drama doesn't help erase the perception that they're one of the most dysfunctional bands in metal.




You said it: 
"although those of us outside looking in have no real idea of what the situation was like within the band"  
 
this is my problem to, whenever there's a problem within a band, us "mere mortals"  can't do or say much about it, i wish i could.  And what ever everybody thinks, i think it sucks for Annette, now everybody is spitting on Annette as if she's the culprit in all of this. And fire her when she's in hospital? That's  a low blow...  Thomas could have waited until the end of the tour.  
  
But like you said "outside looking in have no real idea of what the situation was"  so if this was a good or bad decision, i don't know.... 
 
André 
Netherlands
Are you sure you want to delete this comment?
live local music on
Enter your ZIP code to see concerts happening in your area.
Data provided by Zvents
follow msn music