Review: Lamb of God, 'Resolution'
The much-anticipated follow-up to 2009's 'Wrath'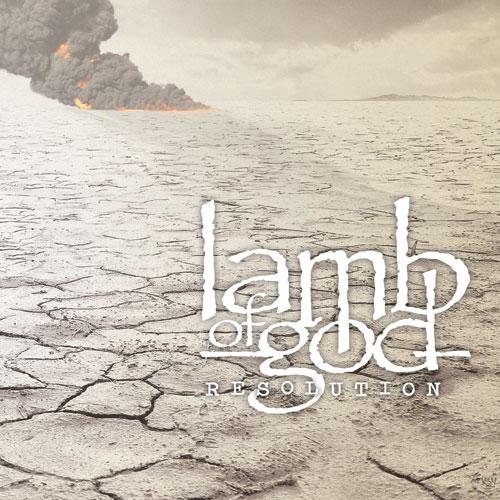 Back in 2003 when Lamb of God released their third album As the Palaces Burn, in addition to the critical plaudits people started to declare the Richmond, Virginia band as the next big thing in American metal. Skip ahead nine years, and popularity-wise, that's for the most past true. Although the sales numbers aren't as stratospheric as they were in the late-1990s, Lamb of God are unquestionably a force, having churned out fan-pleasing albums with regularity and touring extensively. By playing anywhere and everywhere they've rightfully earned the rabid fan base they now have, and these days you can expect a new album to debut near, or at the top of the chart every time the band puts one out.
From a musical standpoint, though, it's a different story. It's partially the fault of those of us writers who romanticize the meteoric rise of Metallica in the 1980s, thinking that a band like Lamb of God had the potential to release a genre-altering record in the vein of Master of Puppets. You throw unrealistic expectations on a band like that, and you're bound to be disappointed. The fact is Lamb of God are perfectly content sticking to their well-honed formula of Southern-tinged, Pantera-style groove metal, elements of dexterous, Megadeth-derived thrash, and touches of metalcore. It's catchy, it goes over well live, and the fans love it. It's predictable, it's comfortable, and the band has shown no signs of trying anything different.
That said, there are times Lamb of God come off as complacent. After 2004's excellent Ashes of the Wake, the one album that will probably go down as their defining moment, the two records that followed, 2006's Sacrament and 2009's Wrath, felt like the band was on cruise control rather than going full-throttle. Sure, there moments of inspiration ("Dead Seeds", "Set to Fail", the wildly popular "Redneck"), but too often the band was guilty of recycling riffs and ideas that had already been done many times before. Although there's nothing wrong at all with being predictable, some of the deeper cuts on those two albums were starting to blur. With the band's seventh album Resolution now upon us, it's interesting to see whether Lamb of God is going to continue to sound complacent or they'll actually show some ambition again.
Ironically, compared to the shorter Sacrament and Wrath, the 14 track, nearly hour-long Resolution feels like the tighter album, and there's a level of aggression, a bite to the music that the last two sorely lacked. Typical of any Lamb of God album, it's very top-heavy as far as sequencing goes, the most immediately engaging tracks stacked on the first half of the album, and here the tactic works very well. The massive, Eyehategod-like bluesy sludge riff of "Straight For the Sun" is a welcome curveball, serving as a doomy overture and segueing effectively into the rampaging "Desolation", which sees the band pushing all the right buttons: guitarist Mark Morton and Willie Adler delivering nimble, swaggering riffs, drummer Chris Adler adding his unique blend of groove and taut fills, vocalist Randy Blythe spitting his lyrics venomously. "Ghost Walking" plays the Pantera card, but it does it well, Blythe's presence dominating the track ("Obliteration never looked so divine"), while "Guilty", the gang vocal-tinged "The Number Six", and the mid-paced thrash of "The Undertow" – palm-mutes instead of pinch squeals, imagine that - are certain to ignite the ubiquitous mosh pits.
However, it's the strength of its second half that makes Resolution Lamb of God's strongest front-to-back album since Ashes of the Wake. "Cheated" echoes the intensity of "Desolation", with Blythe turning a famous Johnny Rotten line into a contagious chorus. "Insurrection" features the best use of dynamic, melodic riffs by Morton and Adler we've heard from the band in years, "To the End" adds some welcome swing to the album, while "King Me" brings things to a grandiose conclusion with its surprisingly effective use of strings. There are a couple throwaways along the way, as "Visitation" and "Invictus" feel superfluous, but as a whole Resolution sees Lamb of God returning to their form of 2003-2004 after years of coasting. They might not transform American metal like some had hoped, but if they're going to be predictable and formulaic they might as well make it as enjoyable as this album is.
Resolution
will be released January 24th on
Epic.
Are you sure you want to delete this comment?
live local music on
Enter your ZIP code to see concerts happening in your area.
Data provided by Zvents
follow msn music