25 @ 25: Death, 'Scream Bloody Gore'
The classic album that kicked off the American death metal explosion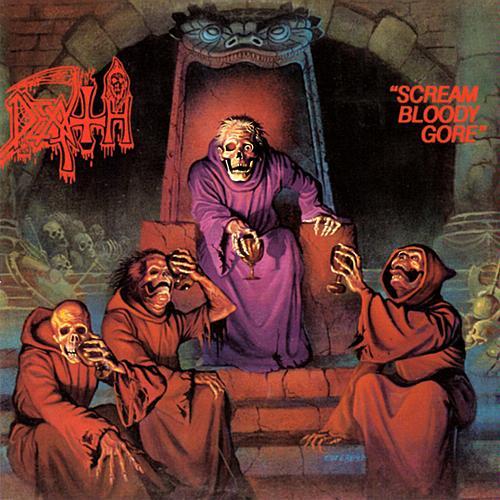 In 1986, a 20 year-old Chuck Schuldiner, who had a brief stint in Canadian band Slaughter before heading back to his hometown of Orlando, Florida, made the move to San Francisco in search of musicians who shared his musical vision, that being his new project Death. He eventually came into contact with a 17 year-old drummer named Chris Reifert, and the duo wasted no time recording a new three-song demo called Mutilation that year. That demo landed Death their first ever recording deal with an upstart metal label called Combat Records, and Schuldiner and Reifert headed back to Florida to record the band's first proper full-length, with Schuldiner handling all the guitar, bass, and vocals. However, Combat was dissatisfied with the end result, and in November 1986 the pair headed back to the West Coast to start from scratch with a new producer in Randy Burns. The end result would be the epochal Scream Bloody Gore, and just like that, a new genre would be born.
That might be a bit of an exaggeration, as what would come to be known as death metal was just starting to gestate in the wake of Possessed's highly influential 1985 debut Seven Churches. Fellow death metal progenitors like Morbid Angel and Obituary were already honing their own sounds, but Schuldiner, who himself was impacted by Seven Churches, beat everyone to the punch with Scream Bloody Gore, a daring album that took the thrash-influenced sound of Possessed into an altogether more extreme new realm, in instrumentation, vocal style, and subject matter.
In 1987 it felt like lines were being drawn into the sand, as metal was in the beginning stages of the branching off that would kick into high gear in the early 1990s. The pop side of metal was peaking obviously, but underneath the mainstream, bands were heading into more extreme territories. Helloween was taking melodic metal into an entirely new, faster, bombastic direction. Thrash metal was becoming even more tautly executed than ever. Hardcore was starting to infiltrate the genre more than ever. Candlemass and Saint Vitus were slowing things way the hell down. Celtic Frost and Voivod were breaking new ground. And there was no mistake that metal was also getting a lot more unrelenting, first with Possessed and Bathory, then with Slaughter, and eventually Death. And for the longest time that nascent death metal subgenre was heavy metal's ugly, obnoxious kid brother, largely ignored by glossy American magazines at the time, relegated to the underground, where it grew a healthy following.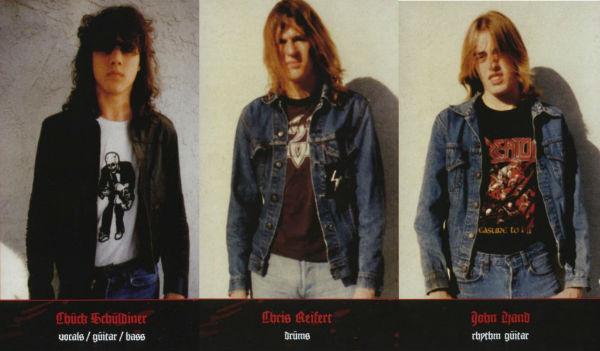 It's interesting listening to Scream Bloody Gore 25 years later, because as far as extreme metal goes, by today's standards it's relatively tame. Even in the early-'90s Schuldiner was the first to admit that Death was a far more controlled-sounding death metal band than others who were incorporating the blastbeats pioneered by Napalm Death. Hell, back in the 1980s I still stubbornly thought of Death as simply thrash, so straightforward were their tempos, so derived the music was from Possessed and Slayer. But listen to this album without thinking of how much more extreme death metal has become in the years since, and you'll hear not only a truly primal piece of music, but one with a lot more technical skill than most thrash bands at the time.
Even at such a young age Schuldiner was a masterful composer, and for all the horror movie lyrics and brutality at hand – exceptionally captured on tape by Burns - Scream Bloody Gore is an ingeniously dynamic album. The ferocity of Possessed and Bathory is discernable, but underneath all the density is a musicality to Schuldiner's riffs and leads. At such a young age his rhythm riffs were already on par with the likes of Jeff Hanneman and Kerry King, and he was far more expressive a soloist than Kirk Hammett, and it all makes for some ridiculously catchy tunes, such as "Infernal Death", "Zombie Ritual", "Sacrificial" (you all know what the second word is), and "Regurgitated Guts". Several of these songs are holdovers from previous Death demos, while others are new, but one in particular, "Evil Dead", dates back to Schuldiner's first band Mantas, and it remains one of the best songs on the album, its Mercyful Fate-derived intro giving way to pure, speed-addled thrash, made all the more ferocious by Schuldiner's barely decipherable growl.
The Schuldiner-Reifert collaboration would be short-lived, as a desire to stay close to home in California led to Reifert leaving the band, and he'd eventually form Autopsy in late 1987 (in an interesting quirk, guitarist John Hand, who was briefly in the band, is pictured on the back cover despite never playing on the album, or live with the band for that matter). Meanwhile, Schuldiner would form a proper four-piece band with three members of Tampa, Florida band Massacre, including guitarist Rick Rozz, bassist Terry Butler, and drummer Bill Andrews, which yielded the 1988 album Leprosy. Personally, I consider Death's best work to be their last three albums - 1993's Individual Thought Patterns, 1995's Symbolic, 1998's The Sound of Perseverance – but the power of Scream Bloody Gore is undeniable. It's an album that had fun with gory lyrics, heaviness, and speed like any teenaged headbanger would, but one that also showed incredible musical maturity, and most importantly, prescience.
"Scream Bloody Gore", live in Tampa, 1987
live local music on
Enter your ZIP code to see concerts happening in your area.
Data provided by Zvents
follow msn music