An Interview With Municipal Waste
'The Fatal Feast' out April 10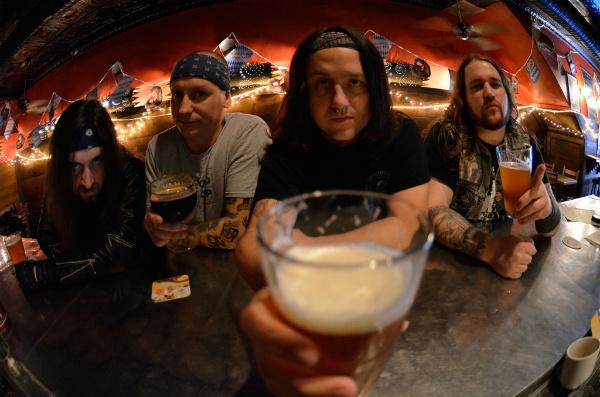 Of all the recent traditional thrash metal bands, none is as popular as Richmond, Virginia's likeable Municipal Waste. Three years have passed since their last album Massive Aggressive, a record that set aside the "party metal" gimmickry in favor of darker, often more serious topics. Which was all well and good, but for many it was the fun-loving aspect of an album like 2007's The Art of Partying that endeared the band to people, and it's nice to see the more humorous side of Municipal Waste return on the rousing fifth album The Fatal Feast, the band's first for Nuclear Blast. Highlighted by the blazing speed of "Unholy Abductor", the old-school horror vibe of the title track, and the uproarious, soon-to-be-classic "Covered in Sick – The Barfer", The Fatal Feast has the foursome of vocalist Tony Foresta, guitarist Ryan Waste, bassist Land Phil, and drummer Dave Witte sounding re-energized after taking more time to write and record a new album. It's their best work in five years, a must-buy when it comes out on April 10.
I caught up with guitarist Ryan Waste a couple weeks ago to chat about the new album:
I understand you spent some time apart before putting this record together. How important was it for the band to recharge?
Ryan Waste: We're normally on the road most of the year, and recording was somewhat rushed before. With this album we decided to take the time off the road to write the record. We didn't really spend time apart from each other because we practiced every day of the week writing material. Being on the road will wear you down. We just kept the focus on this record, it's the first time we've done that. That was amazing for me, and I think I can speak for everyone else as well. So you can tell that some time got put into it.
How burned out were you after touring for Massive Aggressive?
Waste: I get back up there and do it every night, but I always feel burned out on the road. [laughs] I push myself to the limit every night. Waking up, getting up onstage, you gotta pretend you're having a good time even though you feel like dog s**t. But you can say we were pretty burned because we came straight out of the studio, straight on the road, and toured all year.
There's a lot of pure speed on this album.
Waste: We even played some of them faster than they're supposed to be. When we got back in and laid this stuff down it was like hyper-speed for some of it. I mean, we've always been a fast band, we always will be a fast band, but it's never a conscious effort to be like, "This is going to be faster than the last one," it just kind of comes out. A couple of them are just relentless, and I'm pretty proud of that speed factor.
How much of that was a product of being re-energized after your little break?
Waste: I never looked at it like that, but I think in retrospect, yeah, we did recharge. It showed in the music for sure. Sometimes we were just like, "Let's write a blistering fast one just to see what happens." Just bust it out. I think "Unholy Abductor" might be the fastest one on there. Relentless. We just wrote it on the spot, and went into hyperspeed.
That's the one that caught me off-guard when I heard it, I couldn't believe how fast it was. [laughs]
Waste: That's why we put it up front on the album, just to hit you. You're expecting these certain structured songs, and it just hits you like an old-school hardcore-sounding song, done as fast as possible.
"Covered in Sick – The Barfer" sounds like it's going to be a real fan favorite. [laughs]
Waste:  [laughs] That was the first one we wrote, we wrote that one almost two and a half years ago. We always come back wanting to write a big chunky, mid-paced rock song, and that was it. We'd been sitting on that one forever, man. That's fun to play, I'm still not sick of it. It's that old and we're still not sick of it, so it must be a hit. I think we might even do a video for that, but I don't want to give anything away.
One thing I like about that song is how you use the sample from River's Edge in it.
["Listen, I can't sell you guys beer after two o'clock in the morning."
"Well" (cocks gun) "I'm here to turn back time."]
Waste: You know what, that got axed. MGM wouldn't let us have that.
No way. It's on my advance copy.
Waste: Yeah, I was banking on that quote, I always wanted to use that. I taped on my iPhone off my VHS and took it to the studio. It's not going to make the record, man, which is a real shame. We were just talking about it last night, we shouldn't have even asked them, the never would have found out. That kind of copyright stuff…we got away with that Phantasm sample on Hazardous Mutation just because we never asked permission. When you start asking permission people start shutting stuff down.
That's too bad, that's one of my favorite movies of all time.
Waste: Me too, that's my favorite movie of all time. Hands down. Great soundtrack, too. Crispin Glover, man. He's the man in that one. I can relate. [laughs]
I understand you worked with Eric Rachel from Skid Row on this.
Waste: Funny you say "from Skid Row", I took a photo of the platinum record for the first Skid Row album on the wall, I was pretty impressed. But yeah, Eric Rachel, man, amazing to work with, just so laid back, knows his s**t. I would definitely work with him again. Really cool, down to earth guy. We did the drums out there, and went back up to Richmond just for comfort purposes, did the guitars and vocals right in the neighborhood that I live in, then sent it back there for him to mix it. We thought he had the best grasp of everything.
The sound of the album really has more of a bite to it.
Waste: I wanted it to sound more natural, kind of like how we sound. We never want anything triggered, we want it to sound like natural drums, kind of like how we sound live. That's what we were going for, and I think it turned out good.
Do you see yourselves working with Eric more in the future?
Waste: I would, man. Dave's the one who suggested him, because he said he got his best drum sound ever with Eric from before, and I just heard good things. Sure enough, he came through, and I would definitely work with him again.
It's really cool how you got John Connelly to sing on the title track.
Waste: That's really special for all of us. Obviously we're all Nuclear Assault fans. We just put it out there, he did his stuff [goes into a dead-on John Connelly imitation that makes us burst out laughing]. I couldn't be happier with that. We're shooting a video for that song right now while we're in LA. It's going to be set inside a spaceship, like Alien style.
Right, you have a bit of a space theme going on this.
Waste: Yeah, if you see the record cover, the set we're going to be using looks just like the cover. So we'll be inside, living it.
Along that line, the intros on the album feel like dead-on horror movie themes.
Waste: Yes. The two key words were John Carpenter. Luckily another Dave hook-up, he knew Steve from Zombi, and I gave him the key that we were playing in the songs that would follow, I was just like, "Man, just make it sound like an old John Carpenter movie." And nailed it.
I didn't know Steve did it, but now that you mention it you can hear that Zombi sound.
Waste: Yeah, you can hear that now. He's the man. We paid him in beer. [laughs]
What are some of your favorite horror movie scores that might have influenced what you wanted?
Waste: It's not necessarily horror, but Escape From New York. They Live of course is also one. My all-time favorite movie score is Profunda Rosa by Argento. That's the creepiest one for me, the Goblin soundtrack. I have all the Goblin compilations with all that.
Are there any other songs that are personal favorites at the moment?
Waste: I really like "Authority Complex". I like the pace of that, I'm a big Motörhead fan, so it's kind of cool to have that tempo, which we didn't really tackle that much before. I really like the guitar solo I came up with. "Residential Disaster", I got to write the lyrics for that one, so I was kind of pumped to do that. I like doing the solos on this album, I never really went overboard with solos, so I'm starting to do a little more stuff like that. Sprinkling a little of that was fun.
So are the drinking songs on this album are based on personal experiences?
Waste:  "The Barfer" is based on something that happened to Tony. [laughs] His house got trashed or something and was all pissed off the next day, and his roommate was, "Man, you did that." It wasn't necessarily puke in that case, but it definitely spawned the idea of blaming everyone for all of this, trying to find out, and in the end it's you, you're the culprit. I think "You're Cut Off", everyone in the band can relate to it, last call always seems too early. People were worried that we'd quit partying so much, so we went and gave the people what they want, the party anthems.
Did you think it was important to bring that back after the serious topics of the last album?
Waste: Yeah. With writing it wasn't a conscious thing, like "We need two party songs." It's never like that. We had a concept album about it, and we needed to move away for a little while, so it was about time to bring back the age-old Waste topic of getting hammered.
How difficult has it been trying to convince people that you're a lot more serious than some novelty act?
Waste: We don't take ourselves so seriously, but we take our music and what we do very seriously. I look at it as entertainment. You want to go see a band where everyone's awkward and just standing around, or do you want to laugh and just rock out? So we're with the latter part of that.
When The Art of Partying peaked in popularity, a lot of people jumped on that, the media especially. Did you ever feel like you painted yourselves in a corner with that at all?
Waste: Yeah, it was kind of s**tty for us because we'd do this promo stuff and they'd bring us all this wacky party gimmicky s**t to hold, and we were like, "Dude what is this? This is lame." We'd be in England and there'd be streamers and silly string, all this stuff. It was so forced, it wasn't our idea. But we did name the album The Art of Partying, so I guess we asked for it a little bit. It just got old, man. But I think we've gotten away from it at least.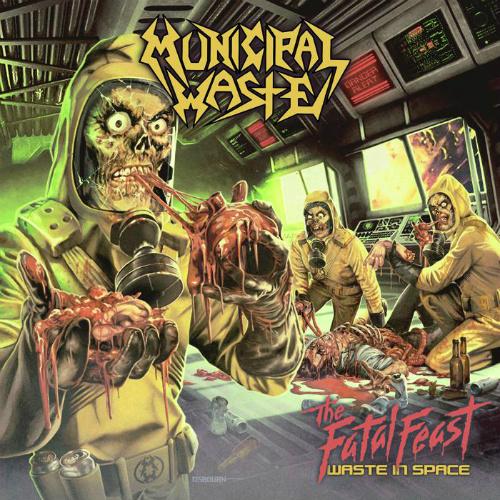 live local music on
Enter your ZIP code to see concerts happening in your area.
Data provided by Zvents
follow msn music