Little monsters roar at the US debut of Lady Gaga's Born This Way Ball
A wild and outlandish concert that could have only been delivered by Gaga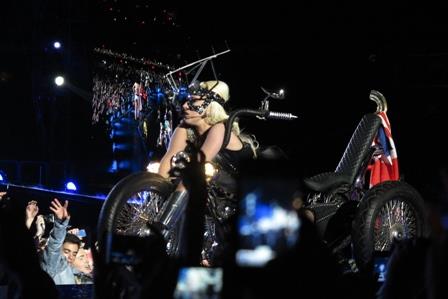 By Travis Hay
MSN Music staff
TACOMA, Wash. – The little monsters came out to play Monday night.
Lady Gaga brought her Born This Way Ball to the Tacoma Dome for the first date of its U.S. leg, and it was spectacle in every way imaginable. Of course, spectacle is what's to be expected when dealing in all things Gaga, and, for her part, Mama Monster delivered with an energetic and captivating concert experience.
The two hour and 15 minute show featured an impressive 25-song set list, which included every song off "Born This Way," and enough costume changes to make Cher proud. The Born This Way Ball's visuals ranged from jaw-dropping to head-scratching, with sights such as Gaga going through a meat grinder while wearing her infamous meat dress, and the superstar giving birth to herself onstage through a pair of giant inflatable legs and womb. It was a wild and outlandish concert that could have only been delivered by a pop icon as imaginative as Lady Gaga.
The show got off to a start with "Highway Unicorn," which saw Gaga enter the stage riding a mechanical black unicorn escorted by dancers dressed as evil knights. During the following song, "Government Hooker," she seduced a dancer while dressed in an outfit that made her resemble a Xenomorph from the Alien films. "Heavy Metal Lover" found Gaga mimicking the "Born This Way" album cover when she entered the stage as a motorcycle and sang most of the song with her body melded to the machine. She also hatched out of an egg, similar to the way she arrived at the 2011 Grammys. Yes, the visual bombast was indeed in full effect throughout the evening.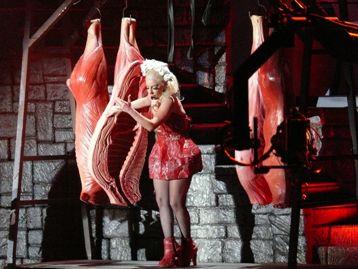 Some sort loose narrative that involved themes of government control, self-expression and empowerment was part of the show, but the story was very difficult to follow. The only time the story line aspects of the concert were distinguishable happened when a disembodied head named G.O.A.T. appeared on a video screen and acted as the foil to Gaga's rebellious heroine, but whatever story was being told didn't connect well at all. It was the concert's only major misfire.
But attending a Lady Gaga show for the story is akin to reading Playboy for the articles. The attraction of a Lady Gaga concert is as much about the music as it is the multitude of outlandish costumes and celebrity of Gaga herself. There were 14 costumes in all, designed by big names like Armani and Versace. Two highlights, aside from the meat dress and motorcycle getup, were the horned, white facemask and dress she wore during "Bad Romance," and a pink dress that featured a lower half with sharp-angled, origami-style folds that appeared during "Fashion of His Love."
Sometimes it looked like the bulky costumes and facemasks might have obstructed her singing, but that's forgivable considering the scope of the production. Backing vocal tracks, which are common allies to pop stars nowadays, were used almost the entire show, but at no point were Gaga's vocals in question. When she sang, she came across clear, and her voice sounded as good as it does on record.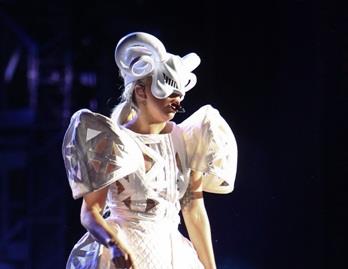 And speaking of records, "Born This Way" wasn't the only album represented. Early hits like "Just Dance" and "Love Game" made the set list and were two of the more fun songs of the evening. They were delivered without much fanfare aside from choreographed dance routines, which allowed their pop goodness to shine instead of being overpowered by stage theatrics, which is what happened with "Telephone" and "Black Jesus."
But Gaga wasn't strictly about fancy dance moves and eye-popping clothing the entire show. She showed her sentimental side multiple times between songs. After "Heavy Metal Lover," Gaga took some time out to thank her mother, who was in the crowd watching the show from the soundboard. She said when her career was first getting off the ground, her mom would call to make sure she wasn't taking the criticism for some of her eyebrow-raising actions too hard.
"I said Mom, I may not look like the other pop stars, and my music may not sound like the other pop stars, but at least I know who I am," Gaga said with pride.
Gaga didn't just reach out to her mother while onstage. She also reached out to one lucky fan in the crowd. After singing "You and I" Gaga picked up a cellphone and surprised a fan with a phone call.
The shocked fan, who was so surprised that he couldn't manage to remember the name of his best friend, told her that he had a very tough childhood and that he found inspiration in "Born This Way."
"You're as equally an inspiration to me," she said.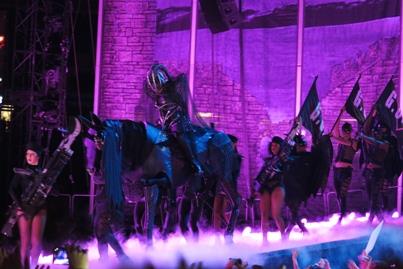 Gaga told him that because he picked up his phone, her Born This Way Foundation would donate $5,000 to a local homeless shelter and invited the fan and his friend backstage after the show to share some whisky. She then proceeded to serenade him with "Born This Way" on piano, a gesture which moved him to tears. It was a genuinely moving and emotional moment that showed Gaga's connection and commitment to her fans.
While the night was filled with hits, noticeably absent from the show was Gaga's notorious gun bra. The wardrobe piece was recently the center of controversy after gun control groups claimed Gaga wearing the bra in the aftermath of Newtown, Conn., shootings was insensitive. Gaga made no mention of the bra or the controversy while onstage. Instead, when she addressed the crowd she continually preached her message of empowerment and acceptance. 
She is an artist who is known for spreading positive messages to her fans and she managed to take that message one step further on the U.S. leg of her tour with the Born Brave Bus. The bus was parked outside of the venue and served as a tailgating type of experience for fans. Along with providing areas where fans could make signs and take photos, the bus also offered a safe environment where youth could get information on local resources in their communities, including counselors, mentorships, volunteer opportunities and bullying and suicide prevention resources. The Tacoma show marked the first tour stop for the bus, and Gaga surprised fans before the concert when she stopped by and said hello.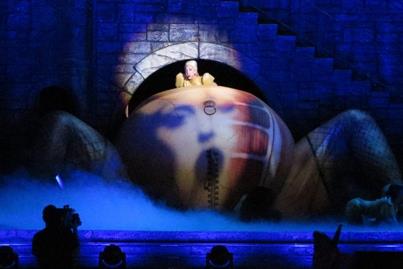 As interesting as it was to watch the onstage happenings, it was equally as entertaining to scope out the crowd, which ranged in age from seven to 70. There were tweens sporting leather studded jackets and tutus, grown men dressed as unicorns and countless Gaga imitators who copied every incarnation of Lady Gaga imaginable. The little monsters proved to be a lively, diverse and accepting crowd, and Gaga thanked them for their support several times.
During one of her thank-you speeches, she delivered a statement to her fans that perfectly summed up the Born This Way Ball experience:
"When they ask you who is Lady Gaga, you tell them I am you."
Lady Gaga set list:
"Highway Unicorn"
"Government Hooker"
"Born This Way"
"Black Jesus"
"Bloody Mary"
"Bad Romance"
"Judas"
"Fashion of His Love"
"Just Dance"
"Love Game"
"Telephone"
"Hair"
"Electric Chapel"
"Heavy Metal Lover"
"Bad Kids"
"The Queen"
"You and I"
"Americano"
"Poker Face"
"Alejandro"
"Paparazzi"
"Scheibe"


Encore
"The Edge of Glory"
"Mary the Night"
* Photo credit: WENN.com

GOOD, STARTING TO GET RID OF THE DISEASE THAT IS PLAGUING AMERICA, SHE IS LOW LIFE SCUM, BRAIN WASHING KIDS INTO THINKING THEY ARE GAY, 12 YEARS OLD'S SHOULDN'T BE THINKING ABOUT SEXUAL THINGS, MAYBE KISSING ON THE CHEEK AND HOLDING HANDS, KIDS SHOULD NOT BE LISTENING TO THIS TYPE OF MUSIC AND MUCH LESS VIEWING HER IN THE WEIRDEST AND SLUTTY COSTUMES SHE WEARS, YEAH, "BORN THIS WAY" WHAT?! MENTAL?! LOL, SHE IS NOTHING BUT A PIECE OF TRASH WE NEED TO THROW OUT IN THE DUMPSTER, NO TALENT, LOOKS LIKE A SLOTH, DISGUSTING PLAIN DISGUSTING!!!

the show is an out right flop....there are tens of thousands of tickets unsold.....she is soooooooo over, and cliche and passe and cringe worthy at this point......a cheap, tragic,
oportunistic,unorigi​nal,
wanna be..the seattle show was so undersold they were busing people on for free. she constantly lies about her ticket sales..in peru she sold 17000 tickets and goes on twitter and lies that she sold 500000 tickets ,she brags how she had two sold out back to back shows in Vancouver , but in reality ticket master had plenty of tickets available...tickets are discounted to as low as 13 dollars........she is playing San Francisco area thursday the gayest city in america and one show isn't even sold out...you can get tickets for 13
dollars.............​..so
long sucker

Hopefully she will use her connection with ALL her admiring little monsters to spread peace, not violence and hate. Sharon Osborn has been trying to be very low key and contact Mother Monster, but the monsters she can't seem to control are OUT of control and threatening!!!!
If anyone can bring peace between the two it's Gaga....She Was Born This Way!!!
Are you sure you want to delete this comment?
live local music on
Enter your ZIP code to see concerts happening in your area.
Data provided by Zvents
follow msn music