Bonnie Raitt: 'Red' Rocks Red Rocks
The soulful singer, songwriter and guitarist shines on her current tour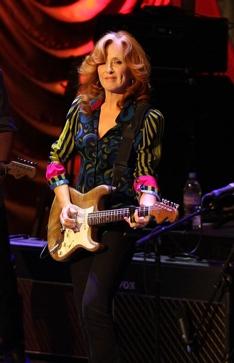 By Mark Brown
Special to MSN Music
Hey, Bonnie. Great to see you again.
And it seems the feeling is mutual. Even though she was here just three years ago, Bonnie Raitt is out on an 80-date concert tear this year, her longest in a great while. Surrounded by her band members, most of who have been playing with her for decades, Raitt made an emotional and joyous return to Red Rocks on Aug. 26. Bawdy, rocking and in tremendous voice, she dished up the hits, the new songs and the classics with a beaming smile and sassy attitude, telling concertgoers she was so happy to be there she should change her name to "Grateful Red."
Maybe in part that's because it wasn't easy to get back here. "Slipstream," her first studio album in seven years, comes after a well-chronicled rocky patch in her personal life, including the loss of her parents and friends.
Now she's back. Not only was it one of the best double-bills of the summer with Mavis Staples (more on that to come), but it was a show that flowed, and the capacity crowd adored it.
The hits came early and often as Raitt joked about not bothering to save dessert for last. The songs that started her career and then revitalized it were well represented – "Angel From Montgomery," "Thing Called Love," "Something to Talk About," "Love Sneakin' Up on You" and plenty more. Even with the modern hits it was very old-school, with Raitt playing her trademark stinging slide guitar and Mike Finnigan producing gorgeous solos out of a genuine Hammond B3 organ as well as some modern-day keyboards.
Bing: Bonnie Raitt songs, videos and more
She was in slightly husky voice as she told stories – she drank a lot of water between songs – yet every tune was impeccably sung, with bluesy bravado when it was called for, and subtlety when it wasn't. Bob Dylan fans will find this to be sheer heresy, but her new version of the "Time Out of Mind" blues song "Million Miles" was better than Dylan's. That's rare. Her cool but intense delivery of the line "I feel like talking to somebody, but I just don't know who" sealed the deal. "You Can't Fail Me Now," a cover of a Loudon Wainwright III and Joe Henry song, was just as heartbreaking and lovely.
She was generous with her songs and with her praise, not only talking up her band, but her sound man and various crew members by name from the stage. I honestly can't say when that last happened.
Mavis Staples' opening slot reflected more generosity from the headliner: The gospel and soul veteran got a nice long set, joined by Bonnie for "Will the Circle Be Unbroken?" Most songs were covers and incredibly fitting, from the opener of "For What It's Worth" to a wonderful take on "The Weight," dedicated to the late Levon Helm. It concluded, of course, with an extended version of "I'll Take You There," her timeless hit with the Staple Singers, ending with the singers all exiting the stage and leaving a killer power trio to close the song down. At 73, Staples showed more high-altitude stamina than young bands just starting out; she was a pure treat.
live local music on
Enter your ZIP code to see concerts happening in your area.
Data provided by Zvents
follow msn music