Live Music Report Card
Winners, losers and no-shows on the concert and festival trail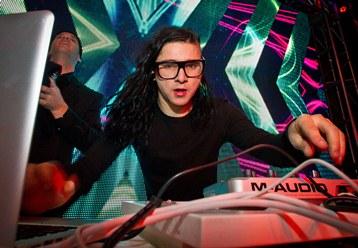 By Mark Brown
Special to MSN Music
As politicians try to assure you the economy is either fine or in shambles, rock fans are tuning them out, dipping in their wallets and turning out to see concerts, some in record numbers.
Granted, it's a good year to be a fan. Ticket prices continue to drop -- an average of $6 each this year -- while artists are playing multiple nights in smaller venues and asking for less money up front. It works:  Radiohead played smaller places than Madonna yet sold more tickets worldwide. So did the Black Keys.
As a result, concert attendance is up 1.2 percent over last year, according to Gary Bongiovanni of Pollstar magazine.
But as Neil Young once said, numbers add up to nothing. What's rocking the world out there, in a year when hoped-for blockbuster tours by the Eagles, Rolling Stones, Adele and more never materialized? Here's our midyear report card – not just the biggest earners, but the ones doing better (or worse) than expected.
EDM
Grade: New kids on the block.
Comments: Electronic dance music is to 2012 what jam bands were to the late '90s: the next thing that's getting the younger set out night after night. Bassnectar, Skrillex, Deadmau5, David Guetta and more are racking up the sales.
MSN Music feature: In Focus: Madonna
Grade: Showing potential.
Comments: The breast-flashing and gun-toting antics in Europe seem like calculated controversy to goose U.S. ticket sales. The cheap seats are all gone, but in many markets you can still buy the $300-plus seats up close to the stage. It's up to her to back up her boast of "I'm worth it."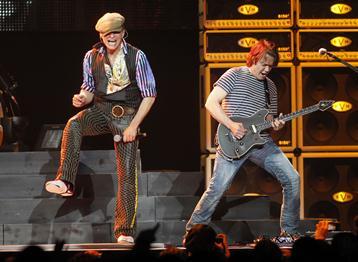 Van Halen
Grade: Incomplete.
Comments: The boys had such potential. Theirs was the No. 3 tour in the nation – till they pulled the plug on the rest of the dates. The industry consensus is the band overpriced and overreached in the late-summer rock arena traffic jam.
Roger Waters – "The Wall"
Grade: He don't need no education.
Comments: With "The Wall" being the No. 1 tour worldwide, Waters recently said he doesn't want to stop. He has for the moment as the enormously elaborate and expensive production takes a breather, but like U2's big productions, Waters will take a hit in the pocketbook for giving fans such a high-tech experience.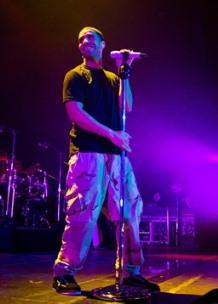 MSN Music News: The Who fans redeem 1979 tickets 33 years later
Grade: Winner by default.
Comments: After a steady climb, 2012 is Drake's breakthrough year. He's selling 14,000 tickets a show – numbers that most rock bands would kill for. Like country singers Eric Church and Miranda Lambert, he paid his dues and earned his way, even in a year admittedly light on urban tours.
Eric Church and Miranda Lambert
Grade: Movin' on up.
Comments: Relentless touring has finally made both artists headliners in their own right, just two years after having to team up with each other to draw crowds. Now they're the big guns, with younger acts vying to be their openers.
Grade: Most improved.
Comments: With a 50-song set, the band is thrilling fans all over the world, and Bongiovanni calls it "the best tour they've ever done and the first real tour in decades." Coming in at No. 30 may not seem like a big deal until you remember that fragments of the band had been doing sparsely attended free concerts not so long ago.
Cirque du Soleil - "Michael Jackson, The Immortal"
Grade: Thrilling.
Comments: For the first time ever, a Cirque show is the No. 1-grossing tour in North America, powered by Jackson nostalgia and his undeniable hits. "It's really a worldwide phenomenon," Pollstar's Bongiovanni said. No wonder the Jackson family is in such a vicious fight over control of his estate.
MSN Music News: Springsteen plays record four-hour show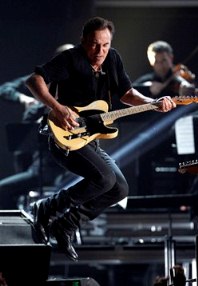 Bruce Springsteen & the E Street Band
Grade: He's The Boss – he gives out the grades.
Comments: With sold-out stadium shows on the East Coast and Chicago, Springsteen and crew make a triumphant return from Europe. Happily, the Springsteen camp just unveiled additional U.S. and Canadian dates that will extend the tour into December.
Grade: Who knows?
Comments: A late surprise entry into the game, and promoters are nervous. Will fans still accept Pete Townshend and Roger Daltrey as truly the Who? Will they pay to see "Quadrophenia" in its entirety – especially given the band did that exact tour in the late '90s with the now-deceased John Entwistle?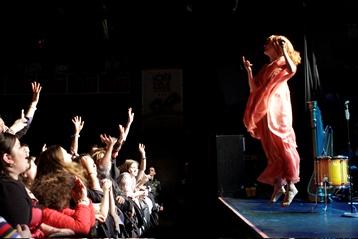 Grade: Top of the class.
Comments: They're having to add extra dates and, as of July 1, sold more tickets worldwide than touring machine Elton John. Along with Mumford & Sons, they're the biggest new act around.
Grade: The boys most likely to succeed.
Comments: After years of solid headlining on their own, they took a chance, teamed up and hit the stadiums, with most tickets at fan-friendly prices, yet up-close sections in Madonna-pricing territory. Fan loyalty has paid off, with shows routinely pulling in 48,000-plus fans – that's 10,000 more per night than Madonna.
I am surprised that there is no mention of Mayhem Fest. Yes, Slipknot and their antics aren't for everyone, but considering that this is an article about some concerts and festivals I was disappointed to not see it on the list. Especially considering that the 5th annual Mayhem Fest is 1) The most successful Mayhem Fest to date, 2) Slipknot's tour after the loss of Paul Gray (# 2), and 3) has a classic line up that includes Anthrax; Motorhead; & Slayer.
Really in an article about summer shows it really should have been mentioned along with Jimmy Buffett (as Don D. pointed). I mean, honestly, you went out of your way to mention Skrillex - a musician with little to no air play and a ton of internet hype.
For the future if you are going to make an article like this, you should cover everything and do a little research beforehand.



Ummm has anyone ever heard of Jimmy Buffett ?? ....Seriously. Considering he blisters most of these so called performers in fan base/ticket sales/sold out shows consistently year after year after year, without the benefit of  mainstream radio or written articles like those from this under-informed wanna-be. Phins up Mr. Brown ....do a little research on that one too my friend :)
Are you sure you want to delete this comment?
live local music on
Enter your ZIP code to see concerts happening in your area.
Data provided by Zvents
follow msn music