An epic night of classics with Paul McCartney
Sir Paul delivers a 37-song set filled with surprises, deep cuts and plenty of hits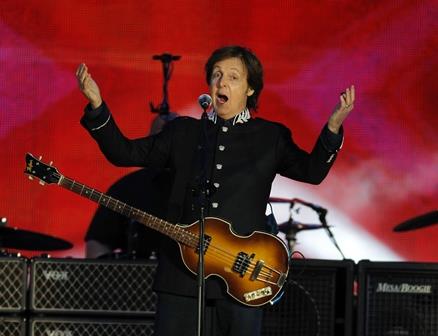 By Adrien Begrand
Special to MSN Music
It's incredible to think that in his 50-year career there are still major cities where Sir Paul McCartney has not played, but for folks who live in Edmonton, Alberta, the northernmost city of more than 1 million in North America, it had been a long, long wait to see the former Beatle make his first appearance in their hometown. Judging by the ecstatic response that greeted the 37-song, 160-minute concert at Rexall Place, not to mention the sea of very happy faces at the end of the show, it was every bit worth the wait.
It goes without saying just how towering a figure McCartney is in the history of popular music. We all know his influence and staggering songwriting talent, but the sheer depth of his back catalog truly hits you when you see him perform live. Aside from a couple of recent songs, at this stop on his short, four-city North American tour – he also hit Houston, St. Louis, and Vancouver, B.C. – it was a constant, awe-inspiring barrage of classic, after classic, after classic, and the thing is, you knew that was only scratching the surface when it comes to his body of work. It's a case where as a critic you feel compelled to use phrases that when applied to other artists would be mere hyperbole, but in McCartney's case, it's indisputably true. His shows leave you breathless.
As talented of a man the 70-year-old master is, his live show would be much less impressive without a good band behind him, and his current band, which has been backing him since 2001, is the most versatile group of musicians he's had in his solo career. Along with longtime keyboardist Paul Wickens, the younger trio of guitarist Rusty Anderson, guitarist-bassist Brian Ray, and drummer Abe Laboriel Jr. brings so much richness and energy to McCartney's shows. All experienced session musicians, they're tremendous at mimicking the arrangements of old Beatles tunes – the way Laboriel Jr. replicates Ringo Starr's unique drumming style is remarkable – and providing tremendous three-part backing vocals. On the other hand, when given the freedom to let loose, they can dish out the stadium rock with the best of them, whether on the thunderous "Live and Let Die" or the soaring, U2-esque Fireman tune "Sing the Changes".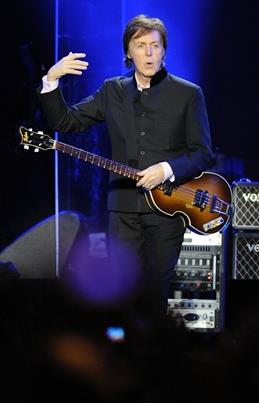 The professionalism of that band makes McCartney's own performances even better, and on this night he seemed tireless, constantly switching from his Hofner bass, to acoustic guitar, to electric guitar, to grand piano, to upright piano. The minimal stage setup, flanked by two gigantic oblong video screens, smartly emphasized the man and his music rather than arena rock gimmicks. Yes, the staples were all there: "Let It Be," "Hey Jude," "Yesterday," "Blackbird," "Get Back," "Maybe I'm Amazed," "Band on the Run" and "Jet," but the real treats were the surprises. "The Night Before," "I've Just Seen a Face," and "And I Love Her" were wonderful mid-'60s selections. "Back in the USSR" and "I've Got a Feeling" were reminders that Sir Paul can rock mighty hard when he wants to. Wings' "Band on the Run" album got some extra attention, with "Mrs. Vandebilt," "Let Me Roll It" and "Nineteen Hundred and Eighty Five" all dusted off. The glam rock-derived early '70s nugget "Junior's Farm" was a fun surprise, while "Mull of Kintyre," always a very popular song in Canada, was performed with a police bagpipe band.
All the while McCartney was in splendid vocal form. The one member of the Beatles who loved playing live, he's truly at home onstage, warm, engaging, and, seeing how often he was content to bask in the adulation of the 14,500 fans after nearly every track, with a good helping of ego. He's the ultimate crowd-pleaser, and even at 70, McCartney proved he still sounds as vital as ever.
Setlist:
Magical Mystery Tour
Junior's Farm
All My Loving
Jet
Got to Get You into My Life
Sing the Changes
The Night Before
Let Me Roll It
Paperback Writer
The Long and Winding Road
Nineteen Hundred and Eighty-Five
My Valentine
Maybe I'm Amazed
I've Just Seen a Face
And I Love Her
Blackbird
Here Today
Dance Tonight
Mrs. Vandebilt
Eleanor Rigby
Something
Band on the Run
Ob-La-Di, Ob-La-Da
Back in the U.S.S.R.
I've Got a Feeling
A Day in the Life/Give Peace a Chance
Let It Be
Live and Let Die
Hey Jude
Encore:
Lady Madonna
Day Tripper
Get Back
Encore 2:
Yesterday
Mull of Kintyre
Golden Slumbers
Carry That Weight
The End
* Associated Press photos
live local music on
Enter your ZIP code to see concerts happening in your area.
Data provided by Zvents
follow msn music