Mumford & Sons bring the new folk-rock movement to Los Angeles
The British quartet put on an exhilarating show at the Hollywood Bowl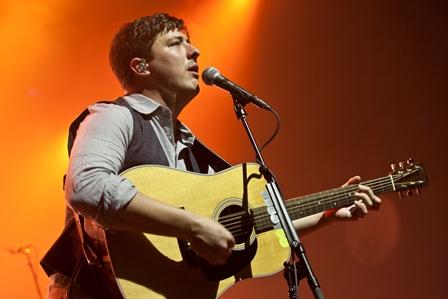 By Melinda Newman
Special to MSN Music
In less than three years Mumford & Sons have become the standard -bearer for the new folk-rock movement that combines largely acoustic instrumentation with an aggressive playing style.
The British quartet accomplished the feat via two top-selling albums: 2010's "Sigh No More,"  and ther new release, "Babel," which so far has been bested by only Taylor Swift's "Red" for the highest opening-week sales tally on the Billboard 200 this year.
But above all else, Mumford & Sons have built their reputation on their exhilarating live show, which is why their two concerts at Los Angeles' Hollywood Bowl sold out quickly. Their love of playing is so great that even after they finish a headlining performance, they often pop into a local club unannounced to continue what they started earlier in the evening.
MSN Music: Folk troubadours rise again
That undeniable loose-limbed joy of being onstage was evident from the first note of show opener "Babel." Ben Lovett hunkered over his keyboard like a mad scientist, conjuring up magical musical spells, playing with such vigor throughout the evening that he knocked over his microphone. Band namesake Marcus Mumford strummed his acoustic guitar so furiously that at times, it seemed like it would break — or at least cry for mercy.
Mumford sings lead, but all four members, including bassist Ted Dwane and banjo player Winston Marshall contribute harmonies, and they swirled around Mumford like satellites in his orbit, both vocally and physically, never remaining static for long. Marshall, particularly, rarely stayed rooted, dashing around the stage and even lifting his banjo to a vertical position while he played like a rock god.
That the quartet, often augmented on Saturday night by a small but mighty horn section and an extra guitarist, can make such a solid-sounding, roof-raising racket, especially without a drummer on most songs, is a testament to how well the tunes are structured and robustly played. The songs, such as the embittered "Broken Crown," often start softly before bursting into explosions of cascading melodies, wrapped around Mumford's appealing rasp. The common lyrical themes of the search for grace, whether found in a lover or a higher power or not at all, plus the lines of naked low-watt yellow bulbs strung high above the stage into the audience gave the Bowl the feel of a tent revival meeting.
As well as they do loud, Mumford & Sons also knows how to quiet down, especially on the largely acapella, somber "Timshel" or the spare, lovely "Lovers' Eyes," performed primarily in the dark.
After a short stretch where the pacing and energy lagged, the main performance ended with an increasingly unhinged version of "Dust Bowl Dance," with Mumford bashing the drums (the kit behind the quartet remained unused other than for three songs), until a wall of sound exploded into a cacophonous conclusion before a transfixed audience that stood throughout the 105-minute show.
That adrenalin-jolting change of pace was all the band seemed to need to get their groove back for their three-song encore that included an intense take on "The Cave," delivered with the same fervor as the two opening numbers.
Southern California folk rockers Dawes, who share a similarly stripped down aesthetic with Mumford & Sons, opened the show before an adoring local crowd. They joined Mumford & Sons for a ragged "Awake My Soul," and then returned for the evening's final tune, a raucous, wild and woolly take on Joe Cocker's slower version of the Beatles' "With a Little Help From My Friends."
Retna Ltd. photos
live local music on
Enter your ZIP code to see concerts happening in your area.
Data provided by Zvents
follow msn music