Little Big Town's Music Row Show
Group unfurls 'Tornado' tracks for peers, press, publishers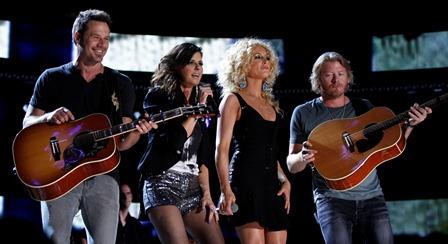 By Phyllis Stark
Special to MSN Music
The elegance of Nashville's Schermerhorn Symphony Center seemed, at first, like an odd setting for a country music concert. But once Little Big Town took the stage there on Aug. 22, the venue quickly began to feel like a smoky bar, helped along, in no small part, by the band's five smoke machines, which were used intermittently during their performance.
This wasn't a regular tour date, however. With a new album, "Tornado," due to be released Sept. 11, the band staged this special show to preview the project for the Nashville music industry, including many of the songwriters who contributed songs to it. The room was packed with Music Row's top executives, music publishers, journalists and even some fellow artists. On hand to show their support were Little Big Town's current tourmate Jay DeMarcus of Rascal Flatts, as well as at least one of the Warren Brothers, plus newcomer Eric Paslay, who shares a label home with Little Big Town at Capitol.
The band's Karen Fairchild told the crowd, "We have been a band for 13 years, and it has been the most amazing ride. ... We just want to say thank you to Nashville for believing in us the whole time."
The group ran through the album's 11 songs in order, stopping only briefly a few times to give each of the band's four members — Fairchild, Kimberly Schlapman, Phillip Sweet and Jimi Westbrook — an opportunity to address the crowd and offer their thanks. After a quick break, they finished up the show with an encore featuring their best-known hit, 2006's "Boondocks."
Addressing the crowd after the fourth song, Schlapman declared the band to be "crazy-excited about playing this music for y'all," adding, "We hope you love this music as much as we loved making it."
Backing the group was a five-piece band that included "Tornado" producer Jay Joyce (playing electric guitar, keyboard, synthesizer and celesta at various points through the night), as well as Jedd Hughes, a onetime MCA Nashville artist, on acoustic and electric guitar and mandolin. Hughes co-wrote the new song "Self Made" with the band, a title Fairchild said has become the group's mantra.
In addition to their current hit single, "Pontoon," which is on track to top the country radio charts in the next few weeks, standout performances included opener "Pavement Ends"; the song "Sober," featuring Schlapman in an rare turn on lead vocals; the up-tempo "On Fire Tonight"; and the album's title song, which is similar in its revenge theme to Carrie Underwood's "Blown Away."
Introducing that title song, Fairchild said, "We cut this record in seven days, which is crazy of us. ... It felt like a whirlwind, like a tornado, so that's why we named the album 'Tornado.'"
Also effective was the ballad "Your Side of the Bed," in which married couple Fairchild and Westbrook took the lead. They performed on opposite sides of the stage, evoking the song's theme of emotional distance, but came together at the end, standing face to face to finish the song center stage.
The men of the band played guitars throughout the show, and Westbrook took a turn on mandolin during "Pontoon," during which Schlapman donned sunglasses and Fairchild a hat to help evoke the hit song's summer feel. The women of the band, meanwhile, focused on their vocals and traded tambourine duties, although Schlapman also played melodica on "Tornado."
The whole event was filmed by a professional camera crew, giving rise to hopes it could emerge as a TV or Web special at some point.
Veteran entertainment journalist Phyllis Stark has been reporting extensively on the music industry for two decades. As a freelance writer, her work appears regularly in numerous publications and sites, including Radio-Info.com, where she authors the newsletter Stark Country. She previously was Nashville bureau chief at Billboard magazine.
live local music on
Enter your ZIP code to see concerts happening in your area.
Data provided by Zvents
follow msn music