Solange sets the Bowery Ballroom ablaze
With her first new record in four years, the other Knowles sister shines in New York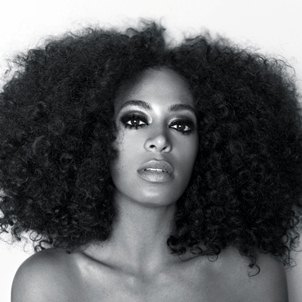 By Danielle Cheesman
Special to MSN Music
The phrase "due to popular demand" is usually misspoken and largely overused, but when it comes to Solange, it's exactly what led to a second show -- added at the last minute on Tuesday, Dec. 18 -- for New York's Bowery Ballroom, where she had performed just a week earlier, and it was all spurred by the release of (but mostly wildly excited reaction to) her new EP, "True."
If the way the crowd impatiently shifted their stance and strained their necks in an attempt to see the woman (who could have been Solange) standing at the stage's side entrance is any indication, it's clear Solange was welcome and wanted — not just in that moment, but in music.

Groove blog: Read the review of Solange's "True"

And so, seemingly shocked and flattered by her arguably "newfound" fame as an indisputable favorite, Solange first addressed the screaming crowd with hands clasped, a bow of the head, and a thank-you before launching into "Some Things Never Seem to F---ing Work," during which she employed a finger snap and a dramatic hip swing (intensified only by the thigh-high split of her patterned green-and-orange dress) during the spoken-word breakdown, courtesy of collaborator and bandmate Dev Hynes. He and the rest of her backup kept their choreography in sync with Solange during "Don't Let Me Down," too, doing "Smooth Criminal"-like leans whenever she stretched a note. 

After reaching to receive a fan-made painting, Solange announced, "I want to bring out an old friend." But it wasn't her sister, nor her mom, Tina (who sat up in the balcony); it was "T.O.N.Y.," the third and final single from her sophomore effort, "Sol-Angel and the Hadley St. Dreams." Her shoulder shakes and struts were only further rallied by a resounding singalong from the crowd on the chorus.


"I'm gonna play one of my favorite songs," Solange said before effortlessly alternating between her lower register and breathy falsetto, all within the first verse of "Lovers in the Parking Lot." But she was at her sexiest on "Bad Girls" when she threw her head back, closed her eyes, straddled the mic stand, rolled her hips slowly and smirked, like a seasoned diva, a la Donna Summer. The lust wasn't lost on whispery interlude "Look Good With Trouble" either.

MSN Music: More on Solange
But Solange's playful personality and professionalism were no more evident than when, upon embarking on "Cosmic Journey," a tune off her last album, she shot her backup singers a look, tore the earbuds out of her ear and admitted, "All right, this isn't working. I'ma keep it real: We tried to learn this s--- during soundcheck. I knew my part, though! So f--- it, let's dance!"

And that's what we all spent the rest of the night doing. During "Locked in Closets," Solange whipped her body (and big hair) with every cymbal-thrashing. For "Losing You," she asked us to lose our "f---ing minds," and we obliged most when her simultaneously adorable but unconventional dance moves were on display. And when she jumped into the crowd during the "Sandcastle Disco" closer, no one contested.
Whether Solange actually desires to be as big a star as her sister remains unknown, but if she keeps this up — you know, the irrefutable star quality matched by, yes, a solid, unassuming and naturally sexy voice — she won't have a choice. 
live local music on
Enter your ZIP code to see concerts happening in your area.
Data provided by Zvents
follow msn music