'Love This Giant' Looms Large Onstage
David Byrne and St. Vincent expand their horn-driven studio collaboration into a lively concert event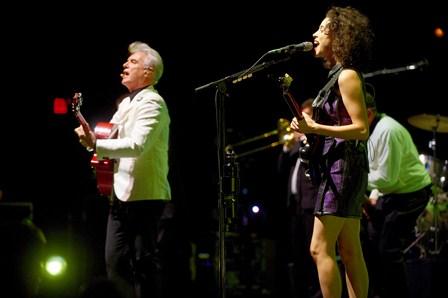 By Rick VanderKnyff
Special to MSN Music
Two David Byrnes appeared in Seattle this past week. At the Uptown, a local repertory cinema, Byrne and his big suit were on the big screen for a revival run of "Stop Making Sense," Jonathan Demme's classic 1984 live document of Talking Heads at the height of their powers.
Meanwhile, on Wednesday, Oct. 17, the 2012 model of the rock iconoclast was on stage at the 5th Avenue Playhouse, in one of the final dates of his tour with Annie Clark (who records and tours as St. Vincent) and their brass-heavy 10-piece band.
At 60, Byrne looks fit and downright dapper. With his all-white suit, shoes and suspenders (and hair), occasionally playing a white Stratocaster, Byrne was truly the Man in White, an untormented anti-Cash. Where once his jittery stage persona could be simultaneously wide-eyed innocent and almost disturbingly intense, now he exudes a more genial eccentricity.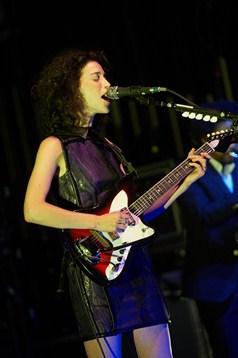 At half his age, Clark plays the edgy up-and-comer in this musical partnership, to Byrne's still-restless musical explorer. They've been touring in support of their joint album, "Love This Giant," which grew out of what was initially intended as a one-off musical pairing. The impetus: Write and record a song for a brass backing band.
As Byrne has noted in his new book, "How Music Works," his M.O. has always been to strip music down to its basics and build it back up again, discarding or subverting rock tropes and conventions along the way. Byrne and Clark dove into their project with the zeal of true experimenters, deploying their mini-orchestra of traditional brass instruments (trombone, trumpet, sousaphone and more) to a variety of effects on what became an album's worth of material.
"Love This Giant" is a solid album that shouldn't disappoint fans of either artist, but may not thrill them either. A democratic affair that's equal parts Byrne and Clark, it has that slightly schematic feeling that "project" albums sometimes have.
Live, however, the songs had room to breathe, and the players – eight horns, plus drums and keyboard –played on Wednesday like they've been living with this material for a while, loosening into some real grooves. The sounds that Clark and Byrne coax out of the ensemble range from chamber-like precision to funk to edgy dissonance. The players tackled it all with aplomb, like a New Orleans brass band that spent a few semesters slumming at Juilliard.
Concert highlights from "Love This Giant" included the album lead-in "Who," a duet, along with "I Am an Ape" (a Byrne showcase) and "Lightning" (featuring Clark's singing). They also tackled brassy reworkings of some of their respective solo songs, with an arrestingly percussive "Marrow" from Clark providing a dramatic high point.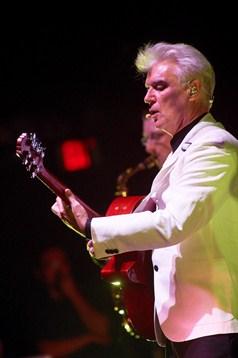 Clark's big, expressive voice and bursts of electric guitar were delivered mostly from center stage, while Byrne and the rest of the band were in almost constant, choreographed motion around and behind her. Byrne's quirky dance and movement were only slightly less energetic than in younger days, and he even executed a look-at-me-Ma-I'm-da​ncing, soft-shoe at one point.
And yes, there were Talking Heads songs, quite faithfully delivered despite the instrumentation (and Clark offered a brief tale of how she first became aware of Talking Heads: on the soundtrack to the 1984 film "Revenge of the Nerds").
The lovely, lilting "This Must Be the Place (Naïve Melody)" was part of the opening set. "Burning Down the House" closed the first encore. "Road to Nowhere," complete with snaking conga line, closed the show. An appreciative audience was on its feet for all three.
Photos by Tony Nelson/Retna, Ltd.
live local music on
Enter your ZIP code to see concerts happening in your area.
Data provided by Zvents
follow msn music